How the Weather Impacted BTS' 'Dynamite' Performance on the MTV Video Music Awards
Their performance might've been historic and iconic, but Suga shared that the New York City backdrop wasn't the first choice for BTS' performance at the MTV Video Music Awards. (He still thought it turned out great, though.) Here's what we know about BTS and their record-breaking song, "Dynamite."
BTS performed their song 'Dynamite' at the MTV VMAs
Their Map of the Soul world tour might've been postponed, but this boy band is still trying to make fans happy with new music and new performances. Most recently, that includes a cameo at the MTV Video Music Awards, where the group did their rendition of the song, "Dynamite."
This performance took place in Seoul, South Korea, due to the coronavirus (COVID-19) pandemic and social distancing precautions. That didn't make it any less special or magical for fans of the K-pop group. Each of the idols wore suits with colorful ties, matching perfectly with the retro, disco feel.
The boys performed in front of a number of different backgrounds, including a Times Square lit up with "Dynamite" themed Billboards. Another background showed the iconic Empire State Building, along with the rest of the New York City skyline.
The background for 'Dynamite' was the second choice of the K-pop group, Suga said
During one interview with Billboard, the boys were congratulated on their performance and asked what it was like to perform for fans virtually. One of the rappers in the group, Suga, shared that the changing backgrounds weren't their first choice.
"We were actually unable to go ahead with our initial stage plan due to a lot of rain here in Korea. So, we changed things and proceeded with an alternative option, but luckily we were still able to adhere to our initial ideas of connecting Seoul and New York. I think it turned out great," Suga said.
RELATED: Could Halsey's 'Suga's Interlude' Surpass the Number of Streams Currently Held by BTS' 'Boy With Luv'?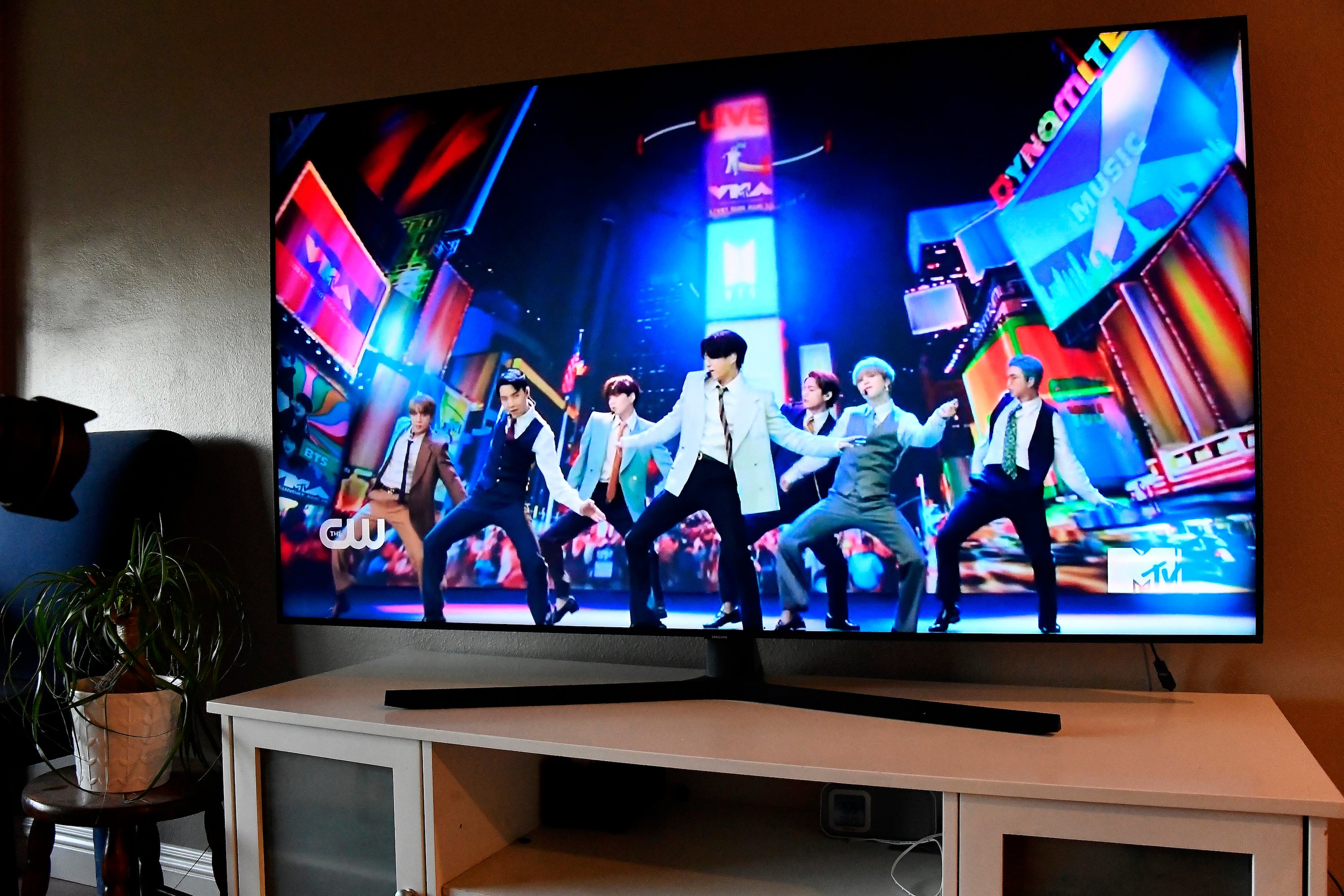 This was a historic performance for BTS
Although this boy band was nominated for a handful of VMAs last year, this was the very first time they performed at the award ceremony. They also swept the competition in terms of awards, earning the VMAs in every category they were nominated for.
That includes Best Choreography (for their song off of Map of the Soul: 7, "On,") Best Pop Video (for the same song,) and Best Group. "Dynamite" also became a historic song for BTS, earning the group their first No. 1 on the Billboard Hot 100 music chart. It even broke a few YouTube records, earning over 100 million views in less than a day.
Fans can see BTS perform live on their now-postponed Map of the Soul tour. Music by BTS, including their recently released single, "Dynamite," is available on Spotify, Apple Music, and most major streaming platforms.
RELATED: Jungkook's Stage Name Was Almost 'Seagull' — Here's Why He Decided to Keep His Real Name for BTS Performances