'Wednesday': Christina Ricci Gives Her Stamp of Approval – Making Fans Hopeful for the Series
Fans got their first look at Jenna Ortega as the infamous macabre teen, Wednesday Addams. The actor will star in Tim Burton's directorial TV debut in the Netflix series Wednesday. Seeing as Wednesday has been a pop culture icon since the live-action movie in 1991, Ortega has big shoes to fill. But her castmate Christina Ricci praises Wednesday and Ortega's upcoming major role in the series.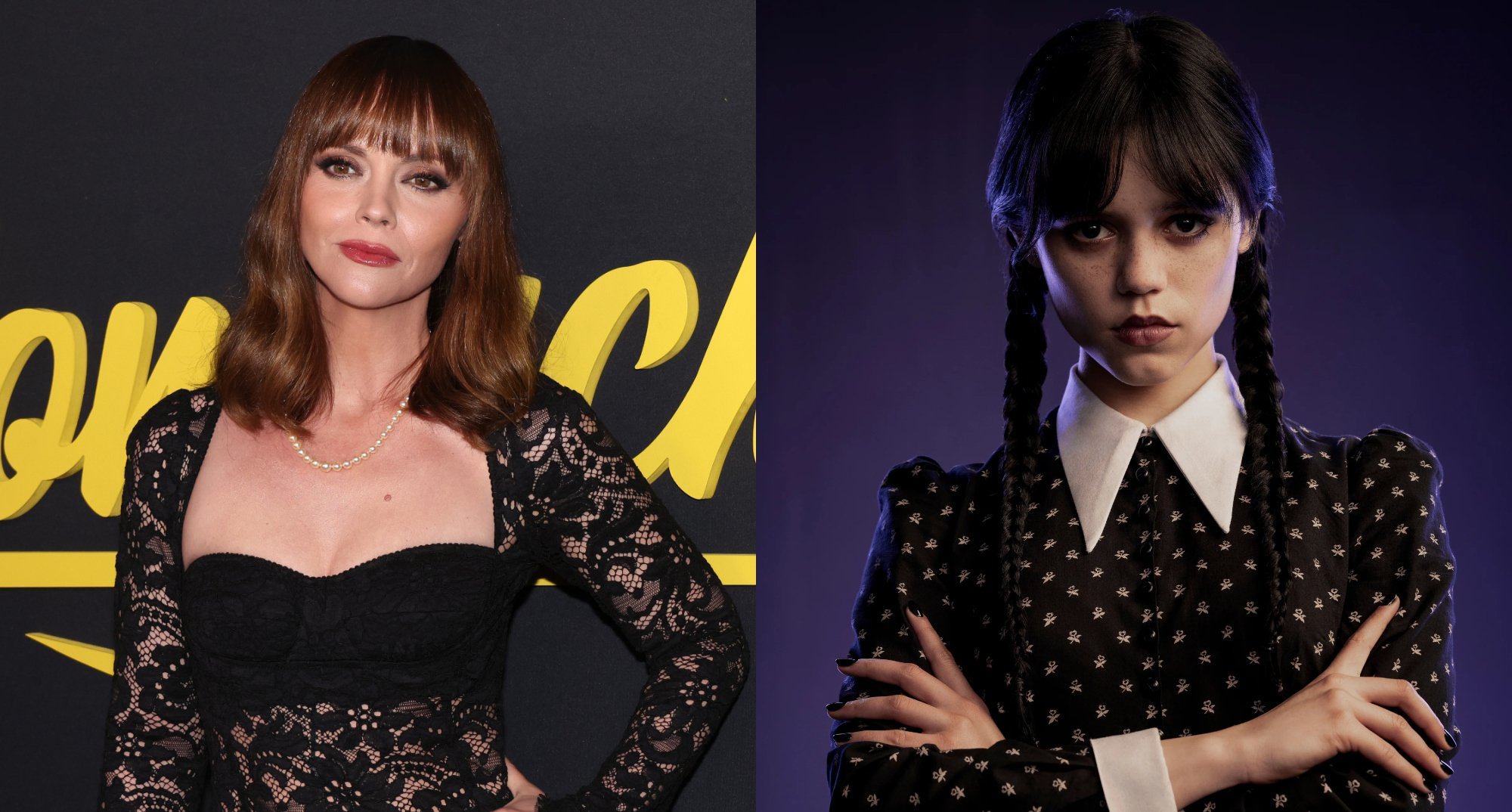 Christina Ricci joins 'Wednesday' in an unknown role alongside Jenna Ortega
With a snap of the fingers, fans get a new Addams family story to explore. Unlike previous renditions of the spooky family, the Netflix series focuses on Wednesday Addams as she attends Nevermore Academy. This time, she has psychic abilities she is learning to harness. She helps solve a local town murder spree and her parents' mystery from years ago.
Do not worry, as Wednesday will include major characters like Morticia, Gomez, and Pugsley, played by an impressive Hollywood cast. Ortega took center stage as Netflix released during Geeked week an official first look of her as the macabre teen. It is safe to say that Ortega embodied the role perfectly.
Ortega has previously revealed she was nervous about taking on such a famous and iconic character. But the first look proved she was spot on in her rendition. From the pigtails, dark lip, and the black dress to the sunken-in eyes, Ortega is a new welcome addition.
But the stakes are high as Wednesday brings back Ricci, the actor who made the character an icon in the first place. Deadline reported in March that she was cast in an unknown character role after the departure of another actor. Seeing as Ricci is the OG when it comes to Wednesday, she already has high praise for the series and Ortega.
Jenna Ortega gives Wednesday Addams a new mature solo story
RELATED: 'Stranger Things' Season 4: Jamie Campbell Bower Doesn't See Vecna as a 'Villain' – Here's Why
To Teen Vogue, Ortega expressed her nerves about taking on her leading role in Wednesday. In a coming-of-age story, Wednesday is now a teenager. She is in a stage of life fans have never seen before. Ortega explains, "some of her harsh mannerisms may come off as hilarious when she's younger, but as you get older, how much of that can you get away with? Or how do you keep that at the forefront of her personality without people growing to dislike her or find her annoying?"
The actor is right to worry, but her co-star Ricci has nothing but praise for the actor, her version of her infamous character, and the Wednesday series as a whole. "It's super fun. I loved working with Tim [Burton]. I worked with Gwendolyn Christie, it was amazing. And Jenna is incredible," said Ricci, according to Variety.
Ricci promises Wednesday will be a welcome modern take. "I saw some of the wardrobe photos before I went [to set] so I knew [what she looked like in character] and I was like, it's such a great modern take on Wednesday. It's so true tonally to the heart and soul of [the original], but it's then it's incredibly modern and it's great," said the actor.
Fans show their interest in the series but still have some concerns
RELATED: 'Stranger Things' Season 4: The Series Paid Homage to Freddy Krueger With Victor Creel and Small Easter Eggs
Ricci's approval of the series and her involvement have given fans hope that Wednesday is worth watching. Fans were first invested thanks to Ortega's casting as the actor has proven herself in You and Scream 5. A fan on Twitter commented, "Talk about a perfect casting huh?"
Another fan keeps an open mind to the series, commenting, "Christina ricci will always be the OG Wednesday for me ,but I'm excited to see what Jenna Ortega is going to do with the part." On Reddit, fans are excited but show their concern about how the storyline will play out.
"Everything that I've seen Jenna Ortega in I've loved her performance, so I will definitely check it out. But I am worried that this might just be another thing like The Chilling Adventures of Sabrina or Riverdale," said one fan. The Addams family has always been about the inexplicable, the dark, the cooky, and the mysterious.
But fans put their faith in Ortega alongside Tim Burton, with one fan commenting, "I'm all in for this. Burton was born for an Addams project."
Wednesday will premiere this Fall.
RELATED: 'The Witcher': Did Emhyr Kill Pavetta? Book Explanation Ahead of Season 3