'Wednesday' Is Coming to Netflix in Fall 2022: First Look at Jenna Ortega as the Macabre Teen
Jenna Ortega takes center stage as a new live-action version of Wednesday Addams in Tim Burton's Netflix series Wednesday. Fans of the franchise get to see the macabre teenager venture into her own solo story riddled with mystery and the supernatural. Netflix Geeked Week has officially announced a premiere time fame and the first look at Ortega in her role.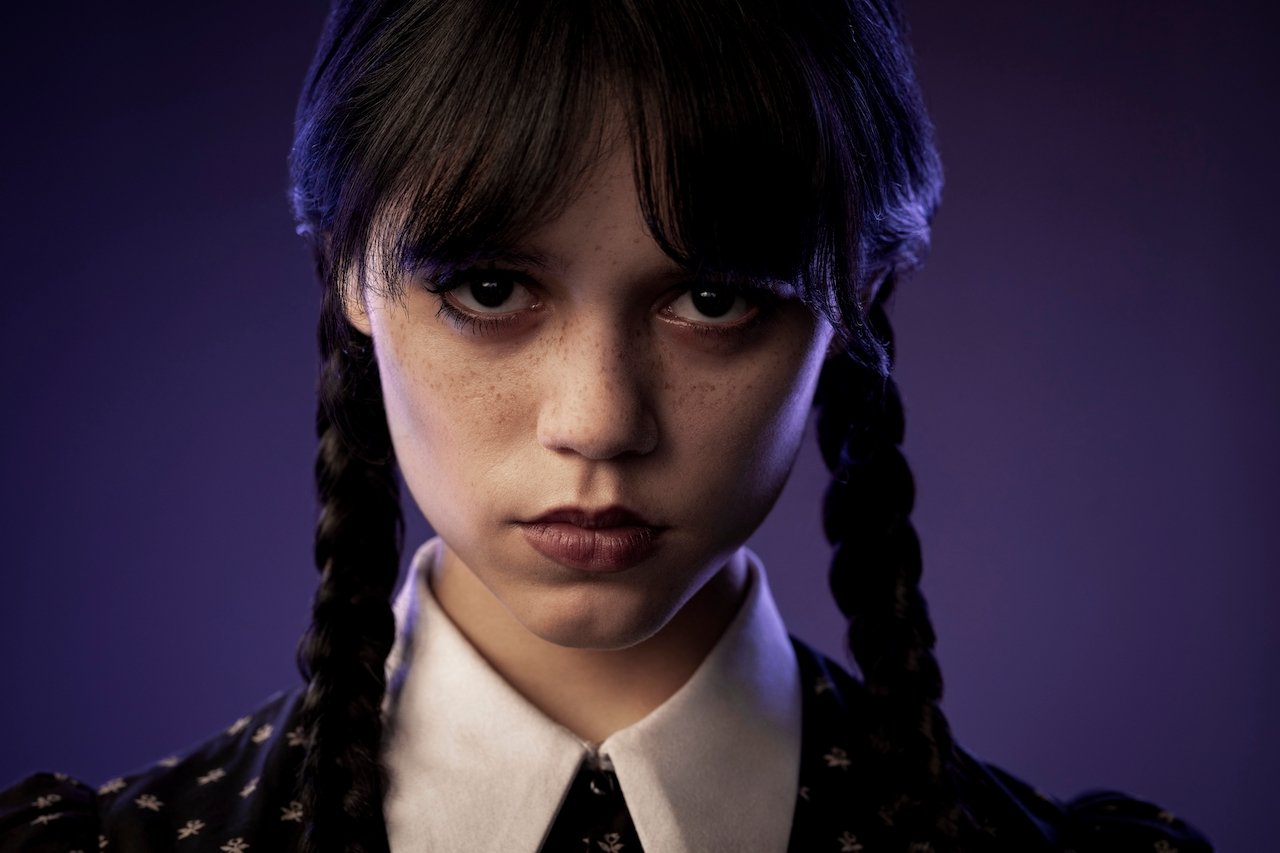 From pigtails, black dress, and Thing – Jenna Ortega transforms into her character for 'Wednesday' on Netflix
Netflix has announced fans of the spooky teen and the franchise will get to see Wednesday this Fall, but an exact date has not been revealed. In the meantime, fans get the first teaser of Ortega as Wednesday Addams, and it does not disappoint.
Fans are in for a treat, setting the stage with eerie music, dark lighting, and a silhouette of Ortega braiding her hair into the character's iconic hairstyle. Ortega walks into the spotlight as Wednesday Addams, complete with a long black and white polka dot dress adorned with her infamous white labels.
Ortega has transformed herself into the macabre teen down to the sunken cheeks, soulless gaze, and almost morbid aura. There is a slight twist with the inclusion of bangs. But the real kicker comes with the grand reveal of Thing, the Addams's family trust and inexplicable hand servant. Thing also gets a makeover with jagged scars, implying he is from a corpse. It all fades to black with a snap of the fingers.
The Netflix series gives the teen a solo story and a murder
RELATED: Every Actor Who Has Played Wednesday Addams Ahead of Tim Burton's 'Wednesday' Series
Netflix's Wednesday promises a twisted new series from the dark and fantastical mind of Tim Burton. The stakes are high as the series cast includes Hollywood actors Catherine Zeta-Jones and Louis Guzmán as Morticia and Gomez. That is not all, as the series brings back Christina Ricci, who made the character a pop culture icon, in an unknown role.
Fans will also see Pugsley, but the focus is on Ortega as Wednesday. For the series, the teen attends Nevermore Academy and begins to learn to harness her growing psychic abilities. But in the midst of it all is a murder spree in the local town. Wednesday lends a hand while uncovering the truth behind a mystery that embroiled her parents years ago.
Ortega has expressed the series gives a unique spin on Wednesday never before seen. But the actor feels the pressure as she told Teen Vogue, "We've never seen Wednesday Addams as a teenage girl, so some of her harsh mannerisms may come off as hilarious when she's younger, but as you get older, how much of that can you get away with?" The beloved macabre teen in the Netflix series has big shoes to fill for a new generation.
RELATED: Tim Burton's Netflix Series 'Wednesday' Casts Jenna Ortega as Wednesday Addams