'Wednesday': Fans React to New Teaser for Wednesday Addams Netflix Show
It's about to get a lot darker and spookier at Netflix with the upcoming Addams family spinoff Wednesday. Featuring Jenny Ortega as the title character, the series follows her as she deals with life at the mysterious Nevermore Academy. Though the new teaser for Wednesday is brief, it's full of the creepy vibes one would expect from such a show.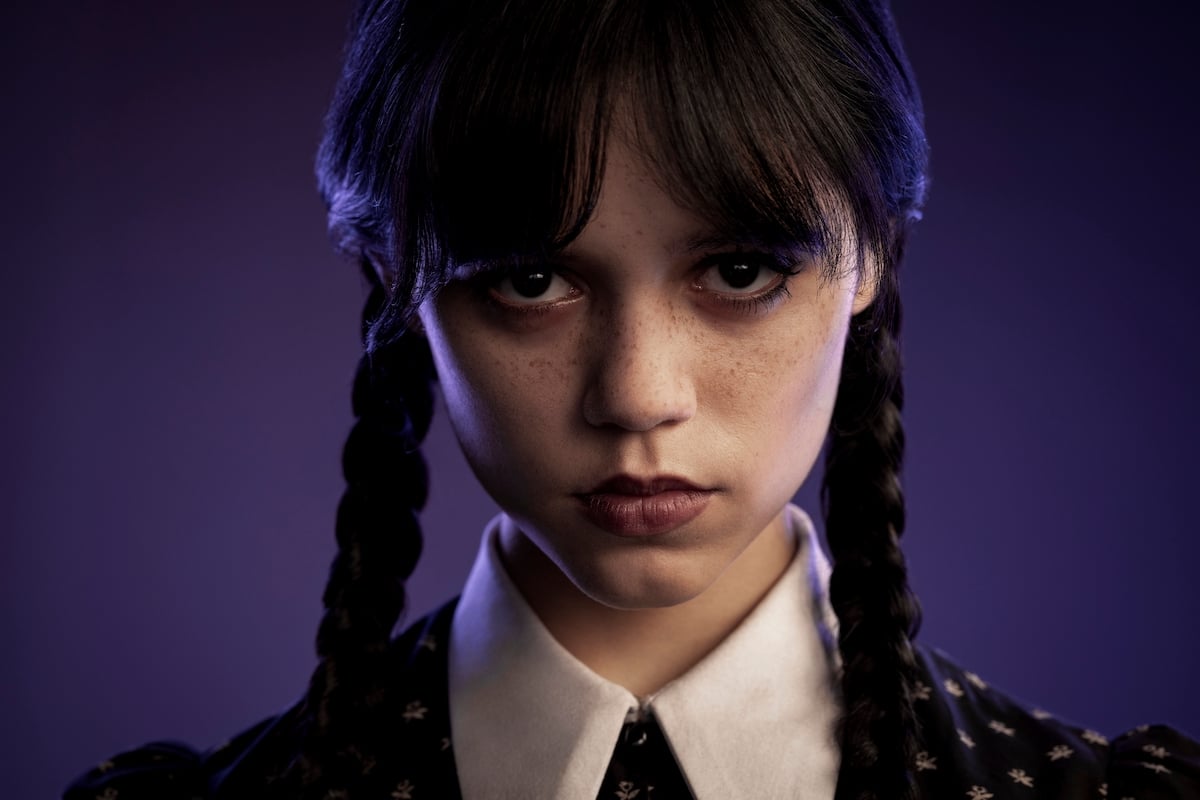 'Wednesday' is a Netflix series from Tim Burton
Wednesday will be directed by Tim Burton and consists of eight episodes to start. Netflix describes it as "a sleuthing, supernaturally infused mystery charting Wednesday Addams' years as a student at Nevermore Academy,"
"Wednesday attempts to master her emerging psychic ability, thwart a monstrous killing spree that has terrorized the local town, and solve the supernatural mystery that embroiled her parents 25 years ago — all while navigating her new and very tangled relationships at Nevermore," the logline teases.
In addition to Ortega, Deadline reports that the series will feature names such as Catherine Zeta-Jones, Christina Ricci, Luis Guzmán, Gwendoline Christie, and Hunter Doohan, among others.
RELATED: 'The Addams Family': How Old is Wednesday Addams?
Watch the new 'Wednesday' teaser from Netflix
In the teaser for Wednesday, Ortega appears as the black-clad, pigtail-wearing Addams Family character while eerie music plays in the background. Dressed in a black and white polka dot dress with a white collar, she does a creepy walk toward the screen before being joined by Thing, the family's "hand servant." The screen then cuts to black to the sound of those iconic finger snaps.
Although the teaser does not provide the release date for Wednesday, it promises that the show is "coming soon." Check it out below.
Fans react
Although the teaser is short, it was enough to get fans excited for what's to come. In just a day, the teaser had earned over one million views and plenty of comments anticipating the show's premiere.
"So they finally decided to give Wednesday a new spinoff. Can't wait to see it," read one YouTube comment.
"The fact that Jenna Ortega is in this, Tim Burton is directing it AND CHRISTINA RICCI IS IN IT TOO, I can't wait!!" said another.
"I got Goosebumbs , so ready for this," read a third comment. "Jenna Ortega , Christina Ricci and Tim Burton is too perfect for me hehehehe 🖤"
"The premiere of this series must fall on a Wednesday. 🖤" another mused.
Others shared their hopes for the show
Some also took a moment to share some of the things they'd like to see on the show.
One said they want to see the show go in a "darker direction," writing, "The Addams Family were always a mixture of dark comedy. But with a little drama, this could go better than expected."
"I hope it's creepy and kooky, msterious and spooky, but especially ooky, like The Addams Family! :D" said another.
Some also named people they'd like to see on the show, throwing out various names including Melissa Hunter from Adult Wednesday.
Only time will tell what happens. Either way, it looks like fans are in for a real treat.
RELATED: 'Wednesday': Jenna Ortega's 'Biggest Concern' About the Addams Family Series