Wells Adams and Sarah Hyland Celebrate Their Would-Be Wedding Day on Instagram
Bachelor in Paradise bartender Wells Adams and Modern Family star Sarah Hyland celebrated what would have been their wedding day in separate Instagram posts on Aug. 8. The couple got engaged in July 2019 after nearly two years of dating. And although Adams and Hyland had to postpone their wedding plans due to the coronavirus (COVID-19) pandemic, they still managed to make the most of their special day — white dress and all.
How did Sarah Hyland and Wells Adams meet?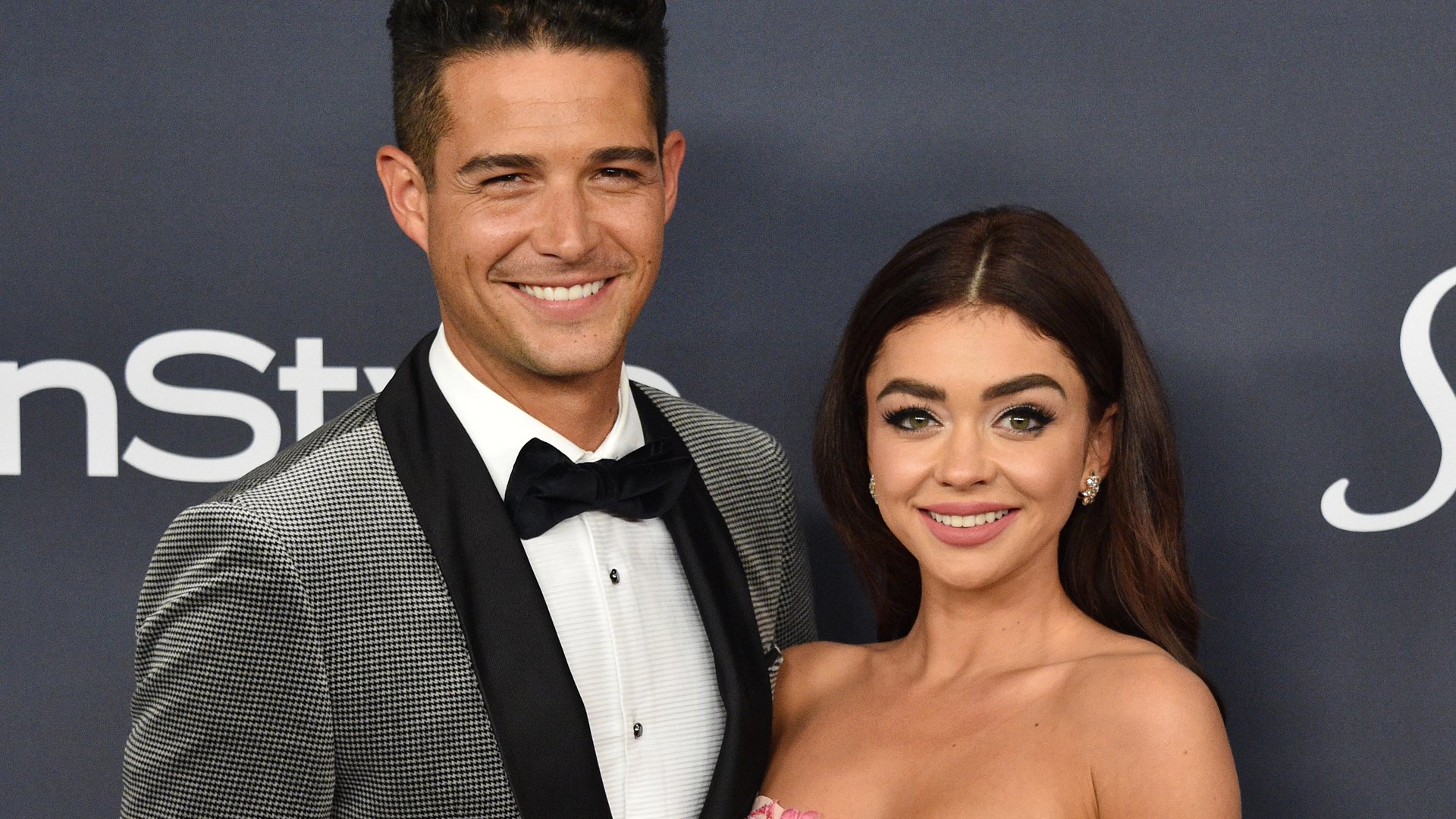 RELATED: Why Sarah Hyland Says She's the 'Child' in Her Relationship With Wells Adams
It's no secret Hyland is a fan of The Bachelor franchise. She frequently posts about the show while it's on air. Then after Adams appeared on Joelle "JoJo" Fletcher's season of The Bachelorette and became the bartender for Bachelor in Paradise, Hyland started posting about her now-fiancé on Twitter. Then the couple started flirting on social media.
"I saw him on The Bachelorette," Hyland said about meeting Adams during an interview with Dax Shepard on The Ellen Show. "Then he became the bartender on Bachelor in Paradise … And I thought he was real hot. Then he slid in them DMs because I tweeted about him."
Hyland and Adams started dating in 2017. Then after almost two years of happiness together, the Bachelor Nation star proposed in Fiji.
"That can't eat, can't sleep, reach for the stars, over the fence, world series kind of stuff," Hyland captioned the engagement photos on Instagram.
Wells Adams and Sarah Hyland celebrate their wedding date on Instagram
On July 7, Hyland and Adams celebrated their one-year engagement anniversary on Instagram. The couple also confirmed their plans to postpone their wedding.
"One year engaged to my best friend," Hyland wrote on the social media platform. "So grateful to be quarantined with the love of my life. One day we'll get married, but for now, I'll take eating junk food and Netflix all day every day. I love you to Pluto and back baby."
Now, Adams and Hyland have confirmed their wedding date was originally planned for Aug. 8, 2020. And although they didn't tie the knot, they still seemed to have a good time together.
"We were supposed to get married today," Adams captioned a photo alongside his financée dressed in all-white. "We didn't. But I still got to grab a butt. So, ya know, still pretttty cool."
Then in an Instagram post of her own, Hyland wrote, "A couple, a pandemic, & a postponed wedding: A series. We were supposed to get married today. Instead… we took pictures and drank wine. I love you to Pluto & back."
Wells Adams and Sarah Hyland discuss their future wedding plans 
In May 2020, Adams spoke with Access Hollywood and revealed there were "no wedding plans" because of the coronavirus pandemic.
"I think the thought was we would originally start thinking about that around this time. But now that this is happening, what's the point of even trying to get something solidified with everything being so up in the air," Adams said at the time. "If it lasts really long, I think we might do a small backyard thing. But that's probably not gonna happen."
Then in July 2020, Hyland and Adams stopped by The Bachelor: The Greatest Seasons — Ever! and shared an update on their wedding plans — or lack thereof — with host Chris Harrison.
"No plans as of right now," Hyland said. "We've put all planning on hold."
The actor then noted her family is from the East Coast and is worried about flying them out amid the coronavirus pandemic. She also pointed out her own health risks, as she was born with kidney dysplasia and is immunocompromised. 
"We want to be as safe as possible," Hyland said.
While Hyland and Adams had to postpone their wedding plans, it's clear the couple is still making the most of their time together. So cheers to that.
Check out Showbiz Cheat Sheet on Facebook!