Wendy Williams Was in a 'Cocaine Haze' When She Found out She Was Pregnant by Eric B.
Wendy Williams recently shared her truth in Lifetime's Wendy Williams: The Movie. The talk show host revealed intimate details about her early radio days, past cocaine addiction, and exes in the film. 
In addition to her divorce from Kevin Hunter, Williams used the movie to highlight the relationship between the Masked Singer alum and DJ Eric B. Before her biopic, she shared details about getting pregnant with the artist's baby in her memoir; Wendy's Got The Heat.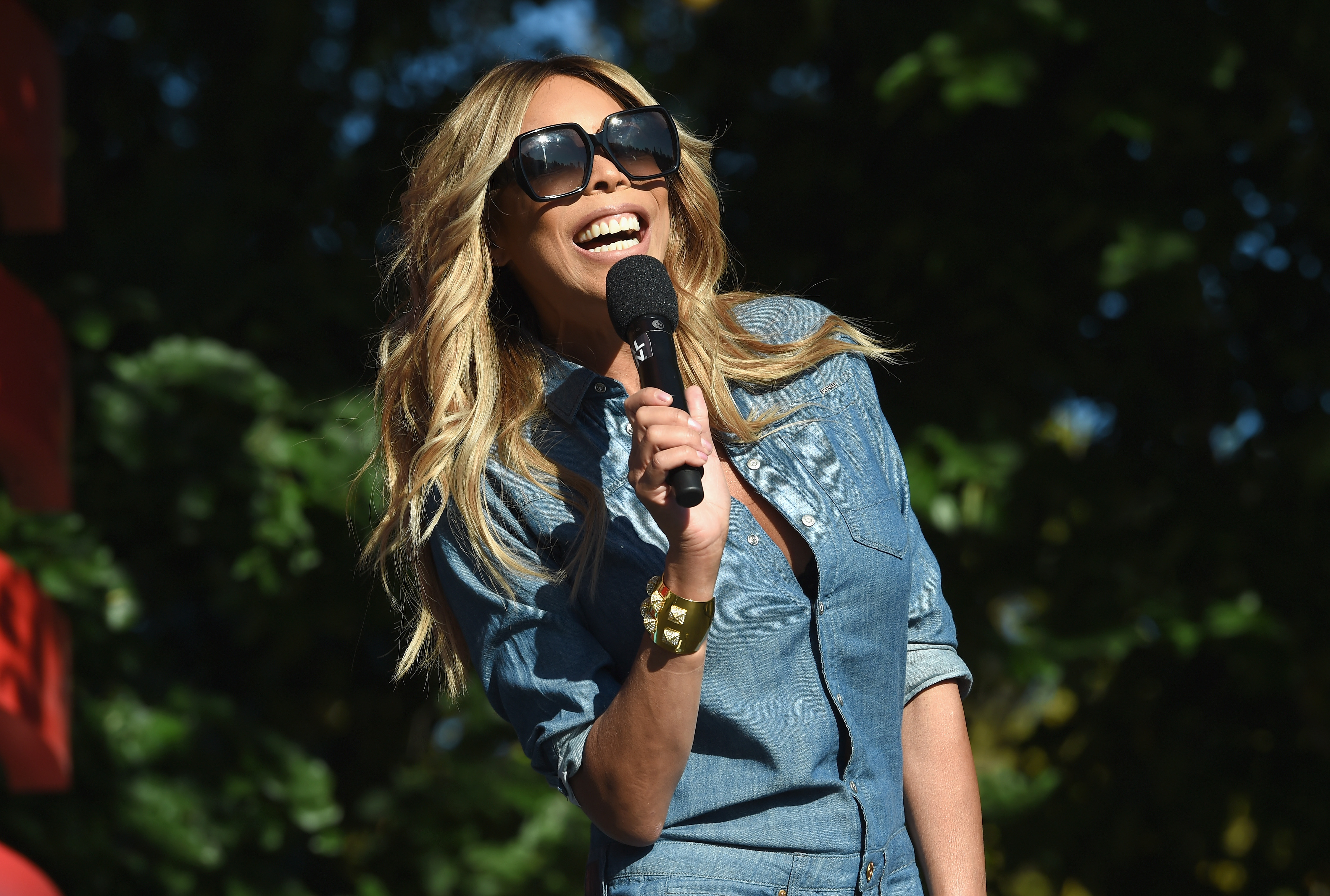 Wendy Williams and Eric B. had 'one long, extended booty call'
In her memoir, Williams described meeting Eric B. for the first time after interviewing him for a project the rapper worked on. Although she later speaks about the relationship on her show and in the biopic, she named Eric B. & Rakim member "Johnny T." Williams also referred to the artist as a "one half of a famous dee jay-rap duo." During their discussion, the rapper asked the radio jock for her number. Soon, the relationship heated up following their first date. 
Although Eric B.'s status attracted Williams, she wrote that the couple didn't have much in common. Unlike her, the rapper "didn't smoke, didn't drink, and rarely cursed" when they were together. However, she soon learned that he wasn't serious about their relationship. Several months into their courtship, Williams said Eric B. never invited her to his apartment. Additionally, he often came to the host's apartment late at night to have sex. 
"Looking back, I was just one long, extended booty call for him," Williams wrote. "We didn't really have a relationship. It was all sex. The only time we really dated was at the very beginning of the relationship. Maybe we had eight dates during the course of that first year." 
The time Wendy Williams found out she was pregnant by Eric B.
Williams and Eric B. continued their casual relationship for several years. During that time, she claimed that they rarely communicated when they were apart. The TV personality was also hiding her cocaine addiction from her boyfriend and the rest of her loved ones. 
Toward the end of their romance, Williams said she saw Eric B.'s "true colors." He started borrowing money and said it was a "birthday present for his daughter." Additionally, Williams never found herself marrying him down the line. Once the Dancing With the Stars alum became pregnant with his baby, she decided to have an abortion. 
"Yes, the trusty EPT test came back positive," Williams said. "And even in my cocaine haze, it didn't take much for me to make the decision—hell, no, I wasn't having his baby."
Wendy Williams calls her relationship with Eric B. a 'teachable moment' 
Wendy Williams: The Movie premiered on Lifetime on Jan. 30, 2021. In the film, Williams, played by Ciera Payton, gets an abortion by herself. During another scene, Eric B., played by Jamall Johnson, allegedly "ruins her credit" by neglecting to return a rental car in her name. Days after the movie came out; the rapper denied Williams' allegations via Instagram. 
Although the biopic was the first time the host revealed his alleged actions, she mentioned their relationship on The Wendy Williams Show episode. While covering the rapper's 2019 arrest for a 17-year-old warrant, she shared that they knew each other "intimately." Williams also said their relationship would play out in her movie, per The Jasmine Brand.
"A couple of very severe things happened to me while I was involved with Eric B, life lessons, and you'll see it because the movie's a teachable moment," she confirmed. "While it's gonna be very dramatic, it's a teachable moment."