Wendy Williams Once Insinuated That Kim Kardashian West Didn't Pay Her Surrogate Enough Money
Wendy Williams built her career by giving her opinion on multiple celebrities. Since they reached fame in the late 2000s, Williams has discussed Kim Kardashian West and her famous family. The feud lasted for numerous years, and Williams made many allegations against the Kardashian-Jenner family along the way.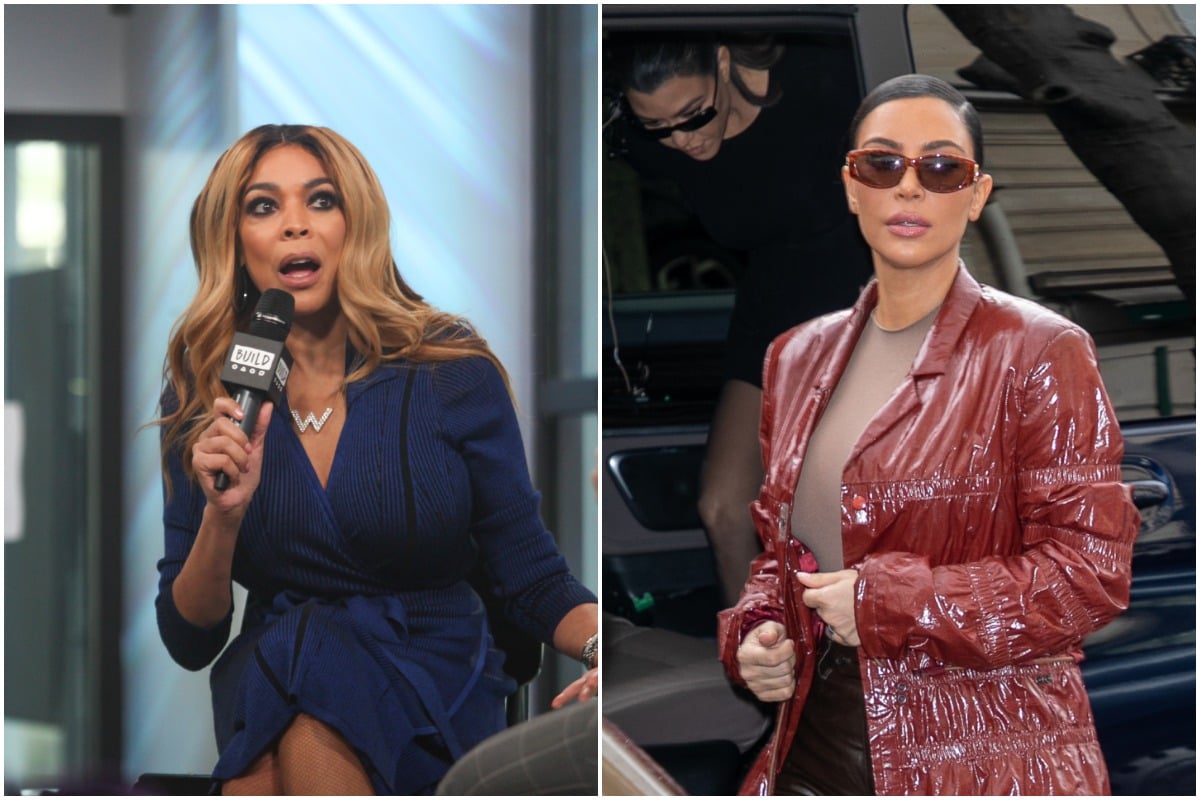 Kim Kardashian West and Kanye West reportedly paid their surrogate for Chicago West $45,000 
In 2017, TMZ reported that Kardashian West and West were expecting their third child. During her first two pregnancies with her children North and Saint, Kardashian West developed a medical condition called placenta accreta. As she shared on Keeping Up With the Kardashians, Kardashian West also had preeclampsia while pregnant with North. The challenging pregnancies prompted Kardashian West and West to seek a surrogate for their daughter, Chicago West.
Before Kardashian West and West welcomed Chicago into the world, they reportedly needed to pay the surrogate's agency a deposit of $68,850. The couple also allegedly had standards that the surrogate reportedly upheld. For instance, the surrogate allegedly refrained from "smoking, drinking, and drugs" during the pregnancy.
Additionally, the Kardashian West and West allegedly paid their surrogate "$45,000 in 10, $4,500 monthly installments," which would reduce if the surrogate "loses reproductive organs" during the pregnancy. Finally, the surrogate also reportedly agreed to "restrict sexual activities in the weeks leading up to the pregnancy, including foregoing sexual intercourse for three weeks following embryo implantation."
Wendy Williams felt Kim Kardashian West's surrogate's salary wasn't high enough
Kardashian West announced that Chicago was born on January 15, 2018. Soon after the announcements, Williams discussed the new member of the Kardashian-Jenner clan on The Wendy Williams Show. Williams started her "hot topics" segment by talking about Kardashian West's baby. Throughout her report, Williams decided to share her opinions on the surrogate's payday. After insinuating that Kardashian West and West could've paid their surrogate more than the reported $45,000. 
"So, when you're a surrogate, what happens?" the talk show host asked. "$45,000, which is not a lot of money for the situation, what happens? You grab the baby and leave her bleeding and dismiss her? 
Williams then asked her crowd how the surrogate will survive financially once the process is over.  The host noted that she could sell her story for a profit if needed.
"'Kim called me every night. Kanye called me every hour. They insisted I only eat beyond burgers, salads, out of a plastic container like they do on the show,'" Williams said, mocking the surrogate. 
Wendy Williams visited Kim Kardashian West following her surrogacy comments
Williams decided to mend her relationship with Kardashian West and her family in 2019. Following her public divorce from Kevin Hunter, Williams began going out and traveling more. In June 2019, Williams visited Kardashian West's home. While at the Calabasas mansion, Williams recorded herself with Kardashian West and West. She also snapped a photo of her and Jenner, which she shared on Instagram. 
Several days after her trip, Williams updated her audience on the excursion on The Wendy Williams Show. Williams shared that the family was kind to her during their luncheon, which took place in honor of West's birthday. The host also confirmed that she wouldn't stop reporting on the family now that they're in a better place. 

"Here's what we agreed to," Williams said to her audience following the hangout. "The family totally respects my job here at the purple chair, and I totally respect all their different hustles. But you can't do 'Hot Topics' at least four times a week [and not] mention this family. And don't worry, Wendy watchers, I'll keep talking about them. The difference between now and five weeks ago is, I can call up the night before for accuracy. I'm in! We're in!"