Wendy Williams Once Said 'Beyoncé Needs Auto-Tune' for Her Performances
Wendy Williams and Beyoncé's history spans back to the singer's days with the R&B group, Destiny's Child. When Williams left her lengthy radio career to become a television host, her comments about Beyoncé continued in front of a broader audience. Since her show aired, Williams has often shared her opinions about Beyoncé's performances and the Grammy winner's singing voice.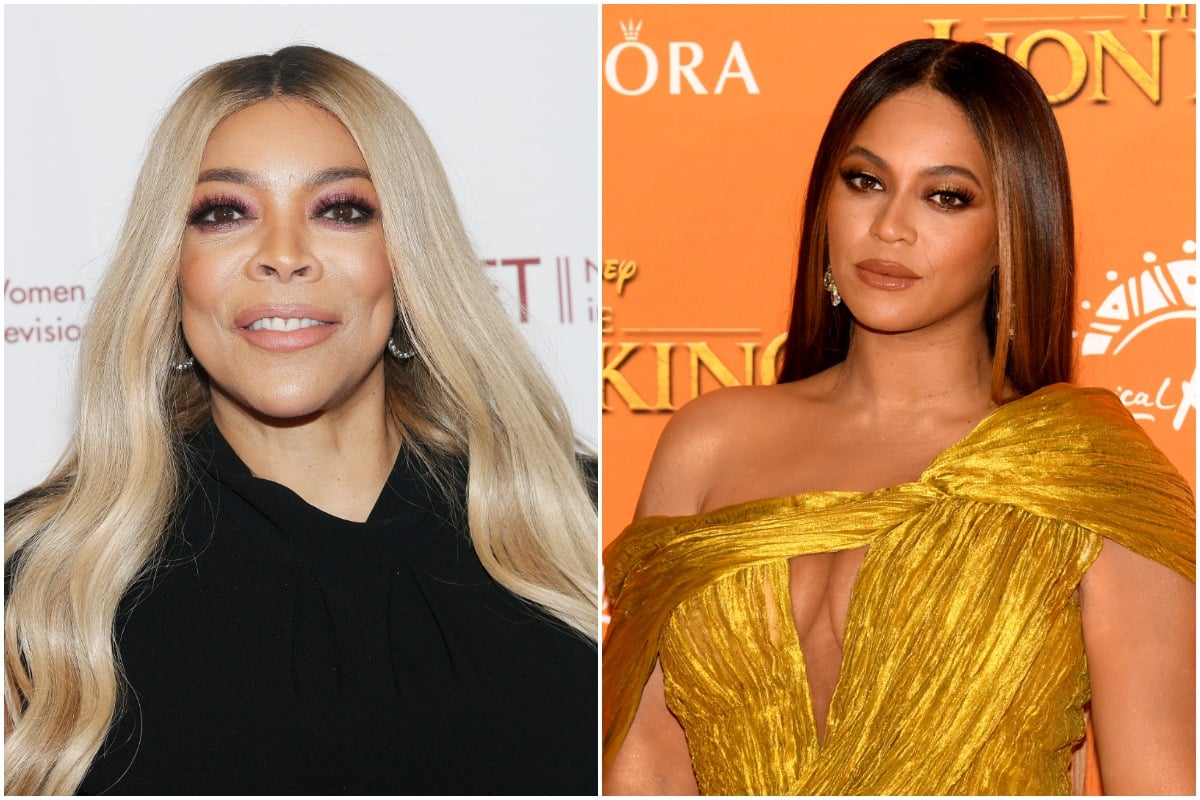 Wendy Williams said Beyoncé, Janet Jackson, and several other artists need auto-tune for live performances
In February 2018, viewers watched as singer Fergie sang the "Star-Spangled Banner" during the NBA All-Star game. Shortly after her performance, fans criticized Fergie for her rendition of the song. Fergie later apologized for the way she decided to perform the song. In a statement to Us Weekly, she shared that she wanted to do something "special" for the audience in honor of the occasion.
RELATED: Wendy Williams Once Said Beyoncé Speaks Like She Has a 'Fifth-Grade Education'
Williams discussed Fergie's performance in front of her crowd during her "Hot Topics" segment of The Wendy Williams Show. She talked about the opinions and reactions Fergie received from music lovers and the statement that followed. Williams informed her guests that she didn't think Fergie needed to apologize for her performance. The host also questioned if Fergie made the statement to gain "sympathy" from those who didn't enjoy the song. 
After she sounded off on the backlash Fergie received, Williams said that the "Big Girls Don't Cry" singer should've used auto-tune for the live rendition of "Star-Spangled Banner." Williams then accused Beyoncé, Janet Jackson, Adele, and other artists of using auto-tune as well.
"There are only a few people who can sing raw dog, and Fergie is not one," Williams said. "She needs auto-tune. Jen Lopez needs auto-tune. Janet [Jackson] needs auto-tune. Beyoncé needs auto-tune."
Beyoncé was aware of Wendy Williams' 'auto-tune' comment, according to a source
Once the episode of The Wendy Williams Show aired, multiple fans reacted to Williams' comments about Beyoncé via Twitter. Several users shared that they felt Williams was wrong for her assessment of Beyoncé's singing abilities. Others were angry at Williams for mentioning Beyoncé's name during her "Hot Topics" section.
RELATED: How the Beyhive Reacted To Wendy Williams Saying Beyoncé Speaks Like She Has a 'Fifth-Grade Education'
According to Hollywood Life, Beyoncé didn't respond to Williams' claims directly. However, a source informed the outlet that the singer wasn't bothered by what Williams had to say. 
"If Beyoncé really worried about what Wendy Williams said, then Beyoncé would not be Beyoncé," the insider said. "She is so far above that chatter. She just had to laugh it off. But, if Wendy ever wanted to put her money where her mouth is, she would welcome a sing-off between the two to show who can really sing, and who is just a big bag of hot air!"
Wendy Williams made several comments about Beyoncé's professional and personal life on 'The Wendy Williams Show'
Williams' comments about Beyoncé wasn't the first time the Daytime Emmy nominee has criticized her. In 2012, Williams made several remarks about Beyoncé's speaking voice on her show. At the time, Williams said she planned on watching Beyoncé's documentary from her kitchen. Williams said the kitchen had "closed captions" so she could understand Beyoncé better. Once the audience gasped at Williams' remarks, the host said she thinks Beyoncé sounds like she has a "fifth-grade education."
RELATED: Why Wendy Williams hates using Zoom
The feud between Williams and Beyoncé continued in 2016. Williams took to The Wendy Williams Show to chat about Beyoncé's album, Lemonade. Williams insinuated that Beyoncé and Jay-Z paid fashion designer Rachel Roy to pretend to be Jay's mistress. Additionally, Williams insisted that Beyoncé should've "held off on the album" in honor of Prince. Beyoncé released Lemonade two days after Prince died on April 21, 2016.