'We're All Alright' With 'That '90s Show,' Netflix's Feel-Good Nostalgic Delight: Review
That '90s Show premieres on Netflix on Jan. 19, 2023. Unlike other shows in the same vein, the That '70s Show spinoff aces bringing fans back to Point Place while attracting new audiences. Here's why That '90s Show is worth the watch.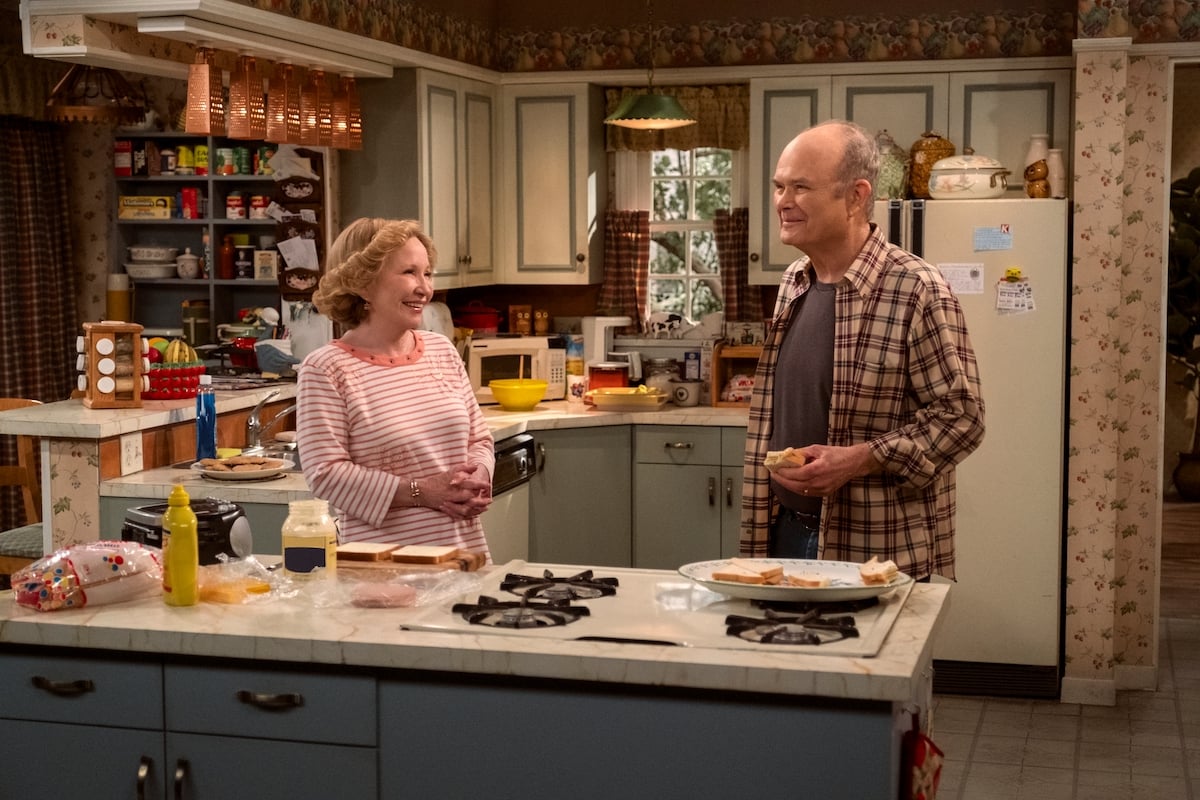 'That '70s Show' cast returns in an authentic and heartfelt way 
Historically, any good reboot or spinoff series will have the cast of the original involved in some capacity. Doing so is a good way to get fans interested in watching the new concept, but including the original cast also tends to make for a better story. That's certainly the case with That '90s Show. 

Though it didn't seem like Eric Forman (Topher Grace) and Donna Pinciotti's (Laura Prepon) relationship was going to make it out of That '70s Show, it did. In the world of That '90s Show, they're happily married with a daughter Leia (Callie Haverda). Now, she's navigating through her teen experience in Point Place like her parents did more than a decade before. And while some of the stories might feel recycled (getting drunk for the first time, finding a stray bag of marijuana in the basement), that's because every teen experiences them. 
They're not the only characters from That '70s Show who appear in the spinoff. Regardless of which original characters show up or for how long, their appearances are welcome and warranted. But perhaps the best thing about That '90s Show is that it centers around Kitty and Red Forman (Debra Jo Rupp, Kurtwood Smith). Like stepping back in time into an old friends living room, so little has changed with the Formans, from their relationship to their basement. This gives That '90s Show a familiar, warm, and inviting feeling — the edge necessary to attracting viewers whether they watched That '70s Show or not. 
There are plenty of nods to the original series that don't take you out of the story
Much like including the original cast, paying homage to the series that inspired the spinoff can easily go wrong. But with that '90s Show, it doesn't. That's because the Netflix series doesn't use That '70s Show as a crutch. 
The 10 episodes in the first season of That '90s Show hold their own when it comes to sitcoms. Instead of over-using Michael Kelso's (Ashton Kutcher) iconic "Burn!" insult, the spinoff only incorporates one "Burn!" into the first season's narrative. The insult is tactful, the timing is perfect, and the joke is delivered by none other than Kelso's offspring. In other words, it's perfection. 
Kelso's "Burn!" isn't the only reference to That '70s Show included in That '90s Show. From Leia's burning desire to be cool (a nod to her father) to Ozzie's (Reyn Doi) over-the-top personality (a nod to Wilmer Valderrama's Fez) and the return of "The Circle" scenes, That '90s Show doesn't skimp on the callbacks. Still, they never feel forced. That's what gives the Netflix series an authenticity that some other reboots are missing. 
'That '90s Show' is a comforting dose of nostalgia 
That '70s Show was about a group of teenagers in the 1970s. Ironically, much of the target audience for the original series wasn't even alive during the '70s. And yet the show found a home on Fox for eight seasons. That's because being a teenager in any decade is relatable. 
The same can be said about That '90s Show. Whether you remember the 1990s fondly or weren't alive to see the decade doesn't matter. There's something for audiences of all ages to relate to in the That '70s Show spinoff. Maybe you're someone who grew up watching the original series and are a parent now who can relate to how Donna and Eric feel about leaving their baby girl for the summer. Perhaps you're even older than that and can relate to the empty nesters Red and Kitty have become. No matter your age, That '90s Show delivers the perfect blend of nostalgia and relatability viewers want out of a sitcom spinoff.
All 10 episodes of That '90s Show are available on Netflix.