Were Ken Osmond and Jerry Mathers Friends in Real Life?
Ken Osmond, the actor who played Eddie Haskell on the iconic '50s sitcom Leave It to Beaver, died on May 18, 2020. He was 76. While Osmond's name became synonymous with the two-faced teen he played on TV, the actor couldn't have been further from his character. Ahead, find out more about Osmond's time as Eddie Haskell. Plus, learn whether or not he and his Leave It to Beaver co-star, Jerry Mathers, were friends in real life. 
Ken Osmond started playing Eddie Haskell in 1957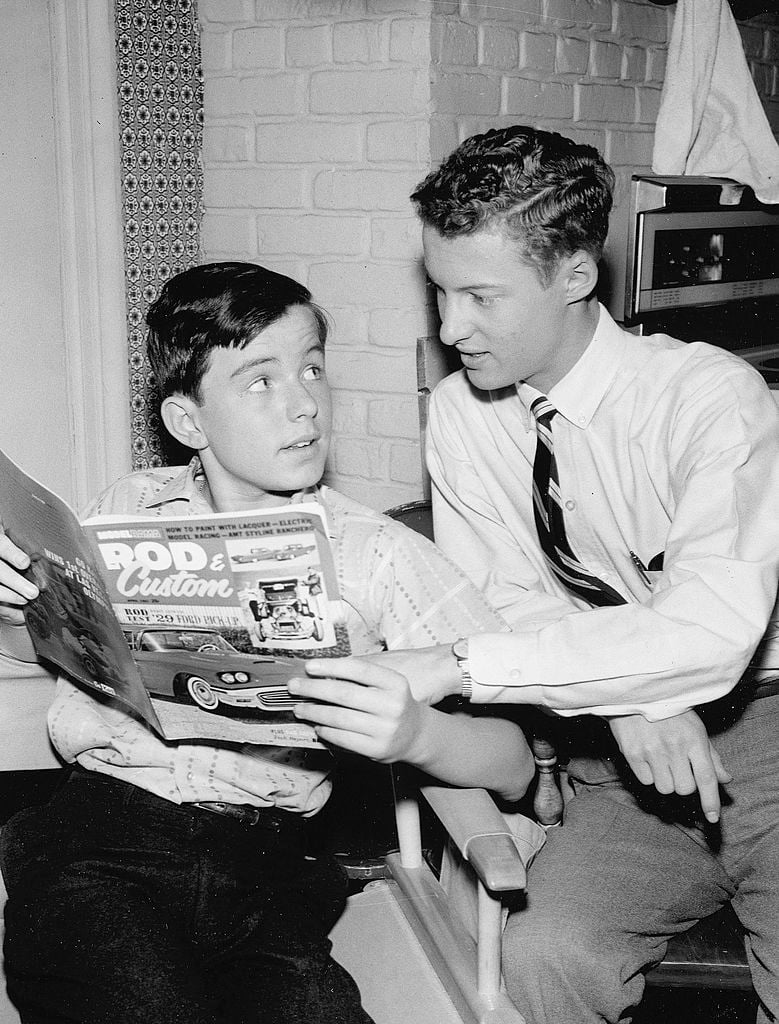 RELATED: 8 Classic TV Shows That Are Making a Comeback
Osmond played trouble-making Eddie Haskell on Leave It to Beaver. A friend of Wally Cleaver (Tony Dow), Osmond's character became known for teasing Wally's younger brother, Theodore Cleaver aka "Beaver" (Jerry Mathers). But only when Wally and Beaver's parents, June and Ward Cleaver, weren't around. Otherwise, he'd turn on the charm.
Intended to be a brief role in the series, audiences found Eddie Haskell so entertaining he became a regular on Leave It to Beaver, according to CBS News. The show ran from 1957 to 1963. When the series came to an end after 234 episodes, Osmond had appeared as Eddie Haskell in all 6 seasons and almost 100 episodes. 
By the late 1960s, Osmond left his acting career behind to start a new career as a Los Angeles police officer. However, he continued to be known as the troublemaking kid from Leave It to Beaver thanks to reruns. 
Jerry Mathers called Ken Osmond a 'lifelong friend' on Twitter
Despite playing a deceitful kid with a mean streak who often targeted Beaver, Osmond was nothing his character his in real life, according to Mathers. 
In a statement Mathers posted to Twitter on May 18, 2020, the actor remembered his "lifelong friend" and remarked that Osmond wasn't anything like Eddie Haskell off-screen. 
"I will greatly miss my lifelong friend Ken Osmond who I have known for over 63 years," Mathers tweeted. "I have always said that he was the best actor on our show because in real life his personality was so opposite of the character that he so brilliantly portrayed. RIP dear friend." 
Mathers included a picture along with the touching tribute to Osmond. 
RELATED: The Best Classic Movies and TV You Can Stream for Free on Hulu Right Now
The actors reunited for a 'Leave It to Beaver' TV movie and revival
While they were longtime friends off-screen, Mathers and Osmond got to work together again in 1983. They reprised their iconic Leave It to Beaver roles in a TV movie, Still the Beaver. At the time, reruns of the show had been particularly popular with TV viewers. 
Still the Beaver must've done well because it soon led to a full-fledged revival of the original show complete with some of the original cast members. Mathers and Osmond both signed on for The New Leave It to Beaver, which meant they'd get to catch up with each other and Dow. The revival ran for 6 years from 1983 to 1989.
RELATED: Actors Who Get Mistaken for Their Characters in Real Life