Were the 'Parks and Recreation' Cast Members Friends in Real Life?
Parks and Recreation was one of television's most popular sitcoms from 2009 to 2015 — and arguably still is. Cast members Amy Poehler, Rashida Jones, and Chris Pratt, among others, brought a light-hearted sense of humor to the small screen. The cast also reunited last year for a 10-year reunion, and did the same this year to help raise money for coronavirus — but were they actually all friends in real life?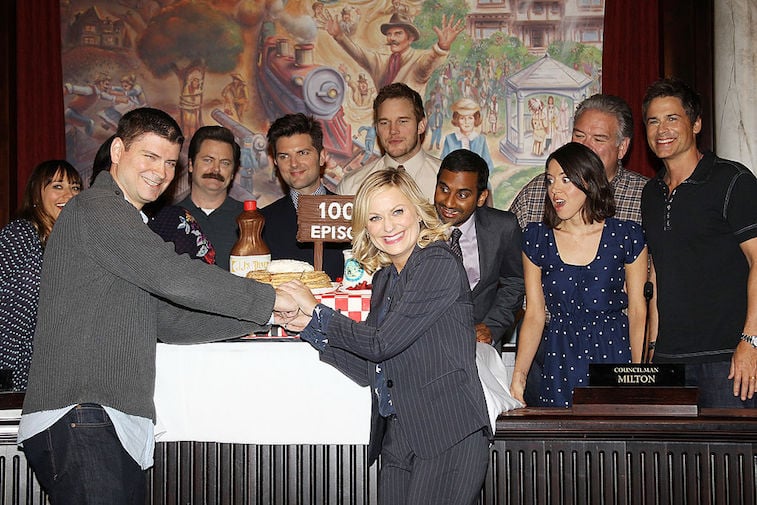 The 'Parks and Rec.' characters were close on the show
Parks and Recreation followed the life of Leslie Knope, a member of Pawnee, Indiana's Parks and Rec. department who had a yearning for changing the world, despite that she had to start in her small hometown in Indiana. Leslie's ups and downs were highlighted over seven seasons, but it wouldn't have been complete without the hilarious addition of her co-workers.
Leslie and Ann Perkins (Rashida Jones) became friends in the first episode, and Ann's boyfriend at the time, Andy Dwyer (Chris Pratt), ended up getting a job at town hall as a shoe shiner. That's where he met April Ludgate, an intern with whom he ends up falling in love. Meanwhile, Ron Swanson, Tom Haverford, Donna Meagle, and others essentially make the Parks and Rec. department one giant friend group.  
Cast members Rashida Jones and Amy Poehler became real-life best friends
Off-screen, some lifelong friendships were developed on the show. Amy Poehler and Rashida Jones, who quickly became BFFs on camera, ended up staying extremely close outside of filming, too. Jones' character exited the show in season 6, after Jones decided she wanted to pursue production and the writers felt it was time for her and Rob Lowe to be written out of the script. Emotions were high as Poehler and Jones filmed their last episode together, and they have remained close friends ever since.  
Several actors developed super-close relationships during filming
Leslie and Ben Wyatt end up getting married on the show, among other characters, and though they weren't in love in real life, they definitely had a strong connection, which they've discussed. The two revealed in the show's 10-year-reunion panel in 2019 that there were actual butterflies in the scene where Ben proposed to Leslie.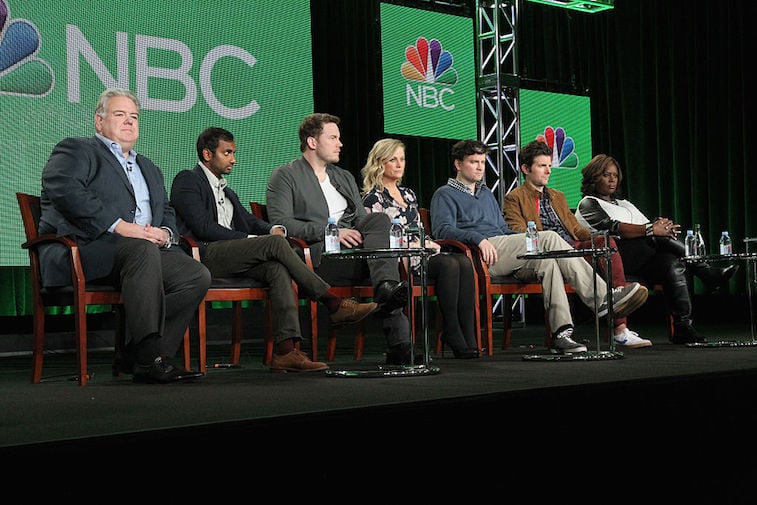 Retta, who played Donna Meagle on the show, once explained to Vulture how she became such close friends with the other actors. She joked that her first conversation with Rashida Jones was a mini argument about the word irregardless, and how Jones, who went to Harvard, knew it was in the dictionary while Retta, who went to Duke, did not. Retta also explained the love she had for all the other cast members outside of just their characters on the show.
The cast recently reunited once more for a special "quarantine edition" episode of Parks and Rec., and it's clear they've all kept their close bond since filming ended five years ago. It's sweet to know that, besides their characters getting along on the show, the cast members developed strong real-life connections as well.