Why Wesley Snipes Once Sued His 'Blade Trinity' Director
Many know about the tension between Wesley Snipes and director David Goyer on the set of 'Blade Trinity.' However, Snipes tried to take this tension a bit further by suing the director and the studio for trying to take the franchise away from him, and giving it to other characters.
Wesley Snipes might find himself forever tied to Blade. The franchise opened up doors for not only Marvel superheroes, but black superheroes as well. But when Blade Trinity came around, there was a lot of conflict between Snipes and Blade Trinity director David Goyer. This conflict led to Snipes suing both Goyer and the studio.
Wesley Snipes was accused of being difficult on the set of 'Blade Trinity'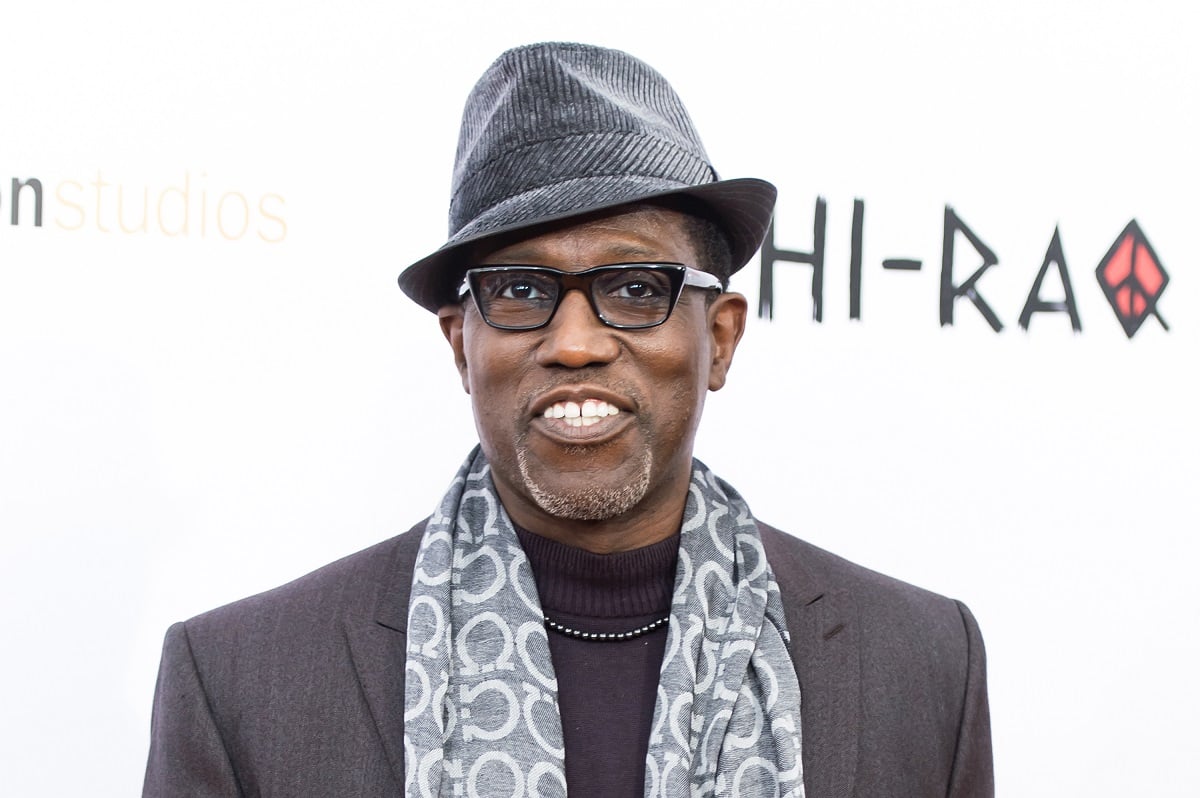 There have been several reports of Wesley Snipes being notoriously difficult to deal with on the Blade Trinity set. Comedian Patton Oswalt, in particular, has been vocal about the tension between Snipes and Blade Trinity director David Goyer. Oswalt told AV Club that those tensions climbed so high that Snipes eventually tried to strangle Goyer. Snipes would allegedly also ask Goyer to quit the project.
"And that freaked Wesley out so much that, for the rest of the production, he would only communicate with the director through Post-it notes. And he would sign each Post-it note 'From Blade,'" Oswalt shared.
However, Snipes would later go on to refute Oswalt's claims.
"Let me tell you one thing. If I had tried to strangle David Goyer, you probably wouldn't be talking to me now," the New Jack City star told The Guardian. "A black guy with muscles strangling the director of a movie is going to jail, I guarantee you."
Later on in the interview, Snipes is adamant that nothing of the sort happened. He then posits the theory that race might have had a role in people siding with Oswalt's claims.
"This is part of the challenges that we as African Americans face here in America – these microaggressions," Snipes continued. "The presumption that one white guy can make a statement and that statement stands as true! Why would people believe his version is true? Because they are predisposed to believe the black guy is always the problem."
At an earlier time, Snipes revealed his version of events when he sued Goyer and the studio.
Wesley Snipes once sued his 'Blade Trinity' director for trying to take the Marvel franchise away from him
Variety once reported that Snipes sued the studio behind Blade Trinity, and director David Goyer himself, for several breaches of contract. Snipes, who was an executive producer on the project, had reservations about Goyer helming the third Blade movie. Despite his reservations, he was only notified Goyer would direct the film six weeks before filming.
The lawsuit also alleges that Snipes wasn't given approval of the script, which he claimed focused more on the side characters. Ryan Reynolds and Jessica Biel played the supporting roles who Snipes believed the script was catering more towards. This led Snipes to believe that the real purpose behind the final Blade movie was to create spin-offs for others, prying Blade away from him.
Wesley Snipes wasn't the only one who believed Blade Trinity was set up to pivot away from him. Michael Jai White, who is a close friend of the actor's, asserted that he visited the Blade Trinity set. The Dark Knight actor offered his own opinion on the matter after seeing how the movie treated him.
"I remember coming to the set to visit," Michael Jai White told Vlad TV. "I think it was a combination of frustrations. Think about that Blade Trinity. Damn it, do you realize what was happening? They basically were trying to take Blade away from him. Blatantly."
When Michael Jai White was asked to clarify, he referenced the Blade Trinity posters featuring Reynolds and Biel as evidence. White asserted that Reynolds and Biel were positioned in Blade Trinity posters as if they were the movie's main stars. Meanwhile, Snipes himself was omitted from those posters.
"There would be a Blade poster. Jessica Biel – Blade. Ryan Reynolds – Blade," the Spawn star believed. "They're trying to take the movie away from him and say, 'This is Blade now.'"
Wesley Snipes had a meeting about returning as Blade with Marvel way before Mahershala Ali was cast
Despite his experience on Blade Trinity, Snipes was still interested in reprising his role. This time it would've been officially under the Marvel umbrella. In an interview with Deadline, Snipes revealed that he had actual conversations with Marvel about a Blade comeback.
"The project is controlled by Marvel and we did have a really productive and a wonderful meeting and we discussed a number of things," Snipes revealed. "I don't know where it's on their schedule at this point, that hasn't been decided. I guess it's still up in the air."
Of course, the Marvel project would later go on to Mahershala Ali, who Snipes has given his blessings.