What Are BTS and Big Hit Entertainment Counting Down To?
Another day, another cryptic tweet by Big Hit Entertainment. Except this new tweet confirms that the label and BTS are indeed counting down to something.
On May 18 at midnight KST, Big Hit Entertainment tweeted "D-6" along with a grayscale photo that clearly reads "D-6." The day before, the company tweeted a blurred grayscale photo with "D-7" barely visible. BTS retweeted both tweets from the BTS_official Twitter account.
A couple things can be deduced from this. First, Big Hit Entertainment and BTS are counting down to May 24, when something will presumably drop. Second, the photo will most likely become clearer each day until it's revealed what the countdown is for.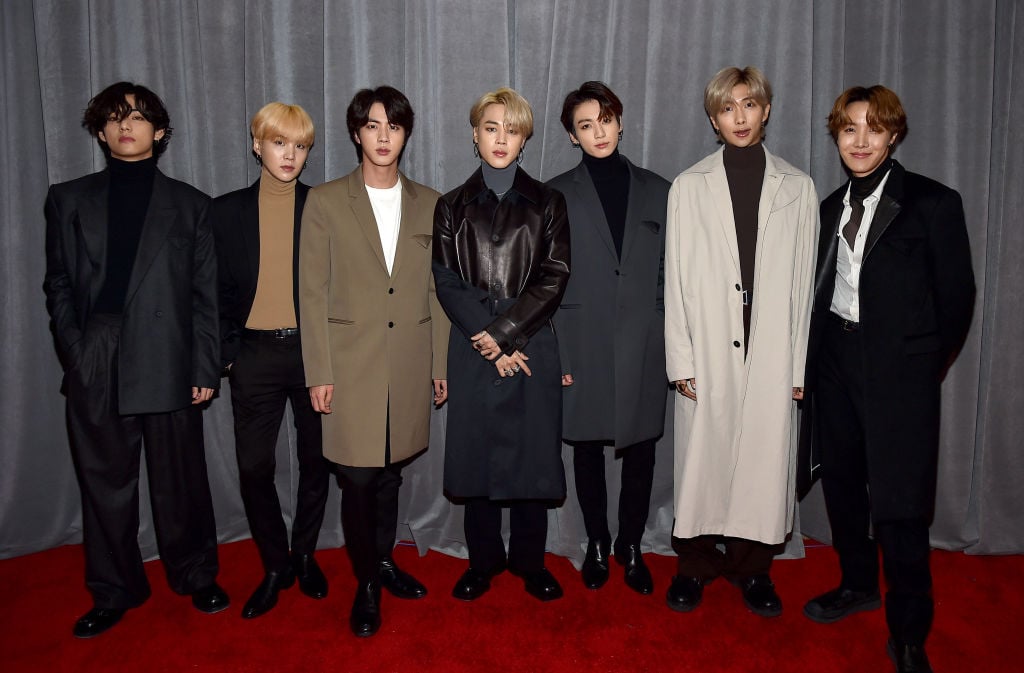 Perhaps Suga's second mixtape will drop
ARMY has been waiting for Suga to drop his follow-up to his 2016 mixtape Agust D for a long time. Fans also know that Suga has been working on his next mixtape for awhile now.
In Season 4 of BTS: Bon Voyage, Suga told the members of BTS that the production of his next mixtape was done. Then a few months later in the band's New Year's Eve VLIVE, he mentioned that the mixtape was originally going to come out in 2019. Because it did not come out that year, Suga said he might have to change some of the lyrics.
In March and April 2020, Suga shared early drafts of his music on Twitter. A large number of fans interpreted the tweets as a hint that his mixtape could drop soon and that the rapper was posting old song drafts to distract fans.
RELATED: BTS: Suga's Tweet Has Fans Thinking the Follow-Up to His Mixtape 'Agust D' Is Coming
Recently in an audio VLIVE, Suga was asked about his upcoming mixtape. He told fans not to expect it anytime soon. There's a chance Suga could be saying this to make the drop more of a surprise. Or, the rapper is genuinely taking more time with the mixtape before releasing it.
The tweets are about Jungkook's mixtape
On his birthday in 2019, Jungkook posted an original song of his on Twitter. Later that month, the singer hinted he planned to release a mixtape while in a VLIVE with J-Hope. Then during an interview on "Ask Anything" with Most Requested Live, Jungkook updated fans on his plans to release a mixtape.
He told fans that he was working on one, and that while he had recorded it he was planning to record it all over again. Even though Suga recently told fans that his mixtape is no longer close to being finished, he told ARMY that Jungkook's mixtape sounds good. Based on this, it seems Jungkook's mixtape could be near completion.
RELATED: Jungkook of BTS Discusses His Mixtape Plans
The tweets could be related to BTS's upcoming album
While there is a chance that whatever BTS and Big Hit Entertainment plan to release is not related to music, it does not seem as likely that the countdown is for BTS Festa, a new game release, or something related to a movie or TV show.
The countdown could be for a music video or a mixtape by V, but those seem less likely given that V has said he is still working on his mixtape and BTS released their most recent album Map of the Soul: 7 back in February.
The photos posted on Twitter could resemble an album cover, so if the tweets are music related but not for a mixtape, perhaps they are referencing BTS's upcoming self-produced album. For the album, each member is taking on an assigned role in addition to their normal writing and producing duties, and they are sharing their creative process in YouTube Lives.
If the countdown is not for a mixtape, the most likely option points to the countdown being for a teaser for BTS's next album. Or the next countdown picture will prove all of these theories wrong. Only time will tell.