What Are the BTS Members' Natural Hair Colors?
The BTS members sport different hair colors based on the album era or music video. Here's what we know about their natural hair colors.
From pastel pink to hot red to sky blue, the BTS performers aren't afraid to try out new hair colors and fashion trends. Here's what we know about some of their favorite styles and their natural hair color. 
Each BTS members has black/brown hair
There are seven members in this K-pop group — Jin, Suga, J-Hope, RM, Jimin, V, and Jungkook. On any given day, you can find them wearing a new hairstyle or with new hair color.
What is their natural hair color, though? According to pre-debut pictures and interviews, fans learned that all of the seven members in BTS have naturally black and straight hair.
That doesn't stop them from having unique hair colors to match the themes of their albums and music. (It doesn't even stop Jin from cutting his own hair when his bangs get too long.)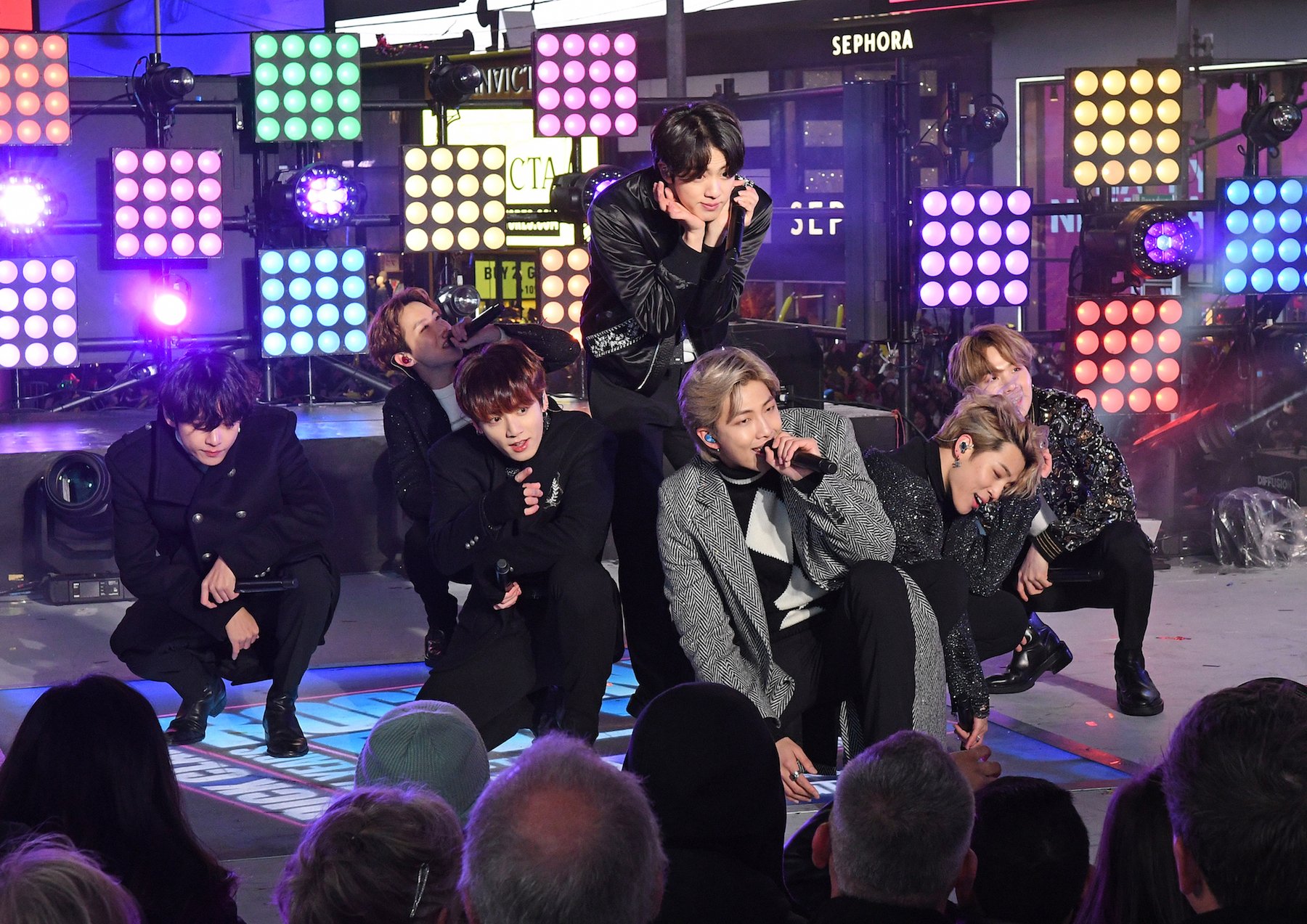 The BTS members sport bright hair colors from time to time
Even though their natural color may be a brownish-black, there's been plenty of eras where the members had neon and pastel-colored hair. For "Boy With Luv," Jimin had pink hair, while V had a greenish-blue color.
For Map of the Soul: 7, V got a perm with his black hair, perfect for the live performances of their single "Black Swan." This wouldn't be the first time that he sported the wavy hair, but it was well-received by fans on social media. 
"ARMYs, the perm is back," V wrote on Weverse, posting a picture of his new hair. "What hairstyle did ARMYs pick for today?" 
When RM sported some blue hair for the release of "Dynamite," the group's August 2020 single, fans took to Twitter, sharing their love for "Blue Joon." When he went back to silver, "Blue Joon" trended on Twitter again, with some ARMYs sharing their thoughts on the hard loss. 
What are the BTS members' favorite hair colors on themselves?
During one interview with Buzzfeed from 2018, a fan asked a question regarding their hair colors, noting that it's been a while since they all had black hair. Then, the fan asked what's their favorite hair colors on themselves. 
Jungkook said his favorite hair color is "just black." J-Hope and V bonded over having red as their favorite hair color. Jin shared that he likes to have pink hair, while RM said that his iconic silver is his favorite. 
"I colored my hair numerous times, I liked them all in their own unique way," Jimin said of his ever-changing hairstyles. Now, fans are looking forward to seeing what color hair the members will sport for their upcoming album, titled Be.
The "Dynamite" music video is now available on YouTube. Music by BTS, including their recently released album, Map of the Soul: 7, is available for streaming on Spotify, Apple Music, and most major platforms.