What ARMY Think of BTS' Possible Collaboration With Snoop Dogg
In a recent interview with The A.V. Club, Snoop Dogg confirmed his plans to collaborate with BTS. It is unclear when the collaboration will be released, but BTS fans have already started hyping up the potential song. Here's what BTS fans have to say about BTS and Snoop Dogg's possible collaboration.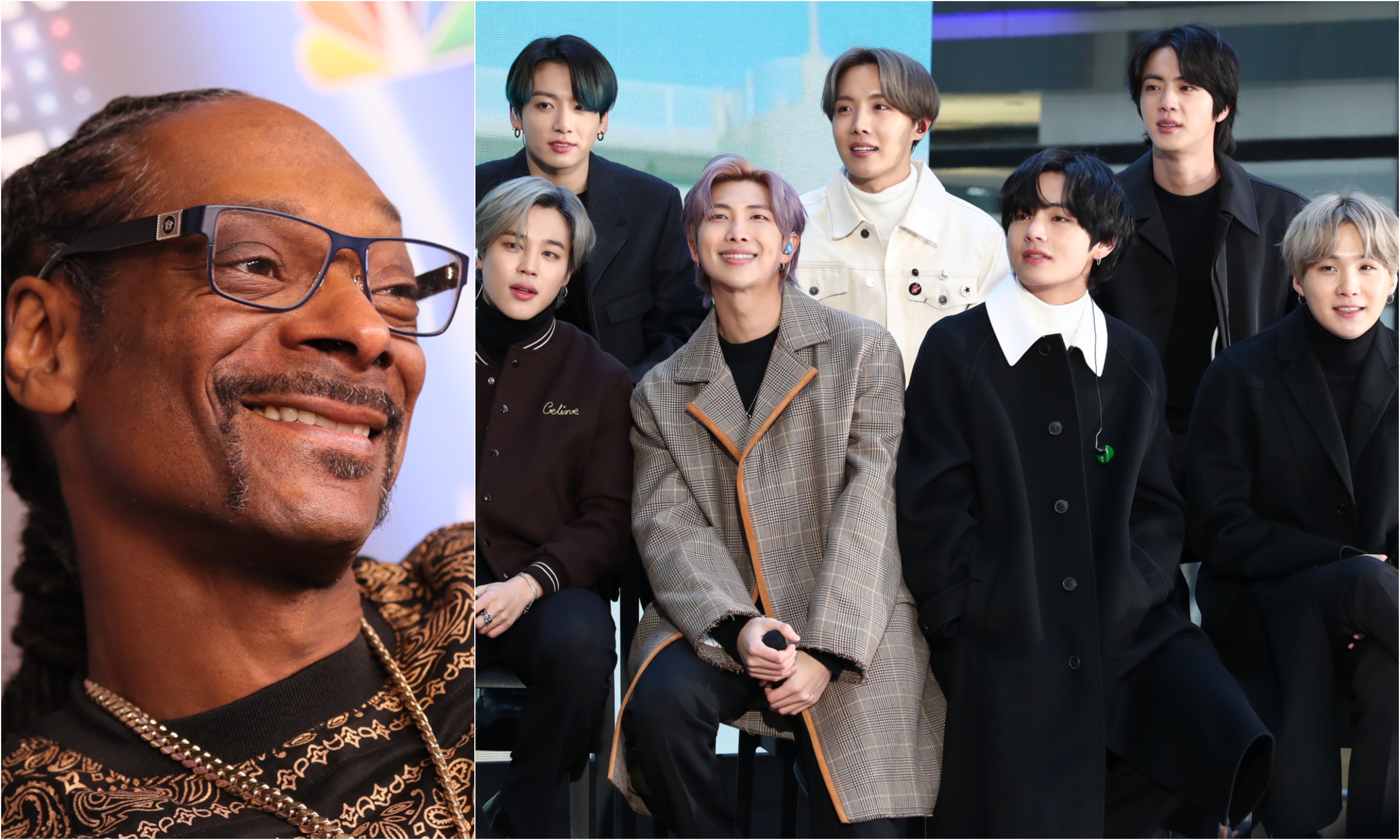 Snoop Dogg says he will release a song with BTS
Rumors about a collaboration between Snoop Dogg and BTS swirled for months before Snoop Dogg confirmed the collaboration himself.
In January, the rapper appeared on the podcast Mogul Talk. On the podcast, Snoop Dogg revealed BTS reached out to him to try and work on a song together.
"I got a group named BTS that's waiting on me to do a song with them right now," Snoop Dogg said. "And I'm trying to figure out if I got time to do that s***."
While on the red carpet for American Song Contest, Snoop Dogg confirmed the collaboration to The A.V. Club.
"The BTS experience you keep talking about. I'm going to let them tell you about it. It's official like a referee with a whistle. I love that entertainment world. It's good music. It's [a] vibe. I make good music. They make good music. And we end up doing this. This is what it's always about, bringing our worlds together," Snoop Dogg told The A.V. Club.
RELATED: BTS Sold Out Tickets for 'Permission to Dance On Stage – Las Vegas' in 1 Presale
What BTS fans think about the possible Snoop Dogg collaboration
After The A.V. Club shared Snoop Dogg's remarks, BTS fans began to speculate on what the song could be like. BTS frequently release sub-unit and solo songs depending on what works best for Jin, Suga, J-Hope, RM, Jimin, V, and Jungkook.
Because of this, some fans wondered if the band's rap line, Suga, RM, and J-Hope, will release a song with Snoop Dogg.
"He always collabs with whoever he feels like, I bet the rapline is excited to work with him," one fan wrote on Reddit.
Another fan wrote on Reddit, "Am I the only one who thinks that it'll be a collaboration only between the rap line and him?"
Other fans speculated on the sound of the song and shared that they hope the song with Snoop Dogg could mean that BTS will have more of a hip-hop sound for their next album.
One Reddit user wrote, "If this is the lead single, we could be returning to their hip hop roots!"
"There are so many times that I talk about BTS with people and they are like 'wait, they do hip-hop?'. I think this collab has the potential to show the American gp their range," wrote a Reddit user. "I'm excited!"
RELATED: A Live Viewing of BTS' 'Permission to Dance On Stage – Las Vegas' Concerts Will Be Shown at the Same Venue as the 2022 Grammy Awards
BTS will release an album in 2022
So far, it is not clear when BTS' collaboration with Snoop Dogg will be released. However, Big Hit Music did confirm in December 2021 that BTS will release an album at some point in 2022.
"BTS will be focusing on preparing for the concert and release of the new album that will mark the beginning of a 'new chapter,'" Big Hit Music in a statement.
RELATED: BTS Win IFPI Global Recording Artist of the Year Award