What Comics Is 'WandaVision' Based on? Paul Bettany Explains
WandaVision is already being hailed as one of the most original and daring entries into the long-running Marvel Cinematic Universe (MCU). The series, Marvel Studios' first for Disney+, premiered its first two episodes on Friday, Jan. 15.
As a show that's like nothing Marvel has ever done before, taking more cues from I Love Lucy and Bewitched than from The Avengers, it might be tough to pin down a specific run from the comics that could have inspired WandaVision. However, we now have confirmation from one of the lead actors about which books they were pitched with.
Paul Bettany returns as the Vision in 'WandaVision'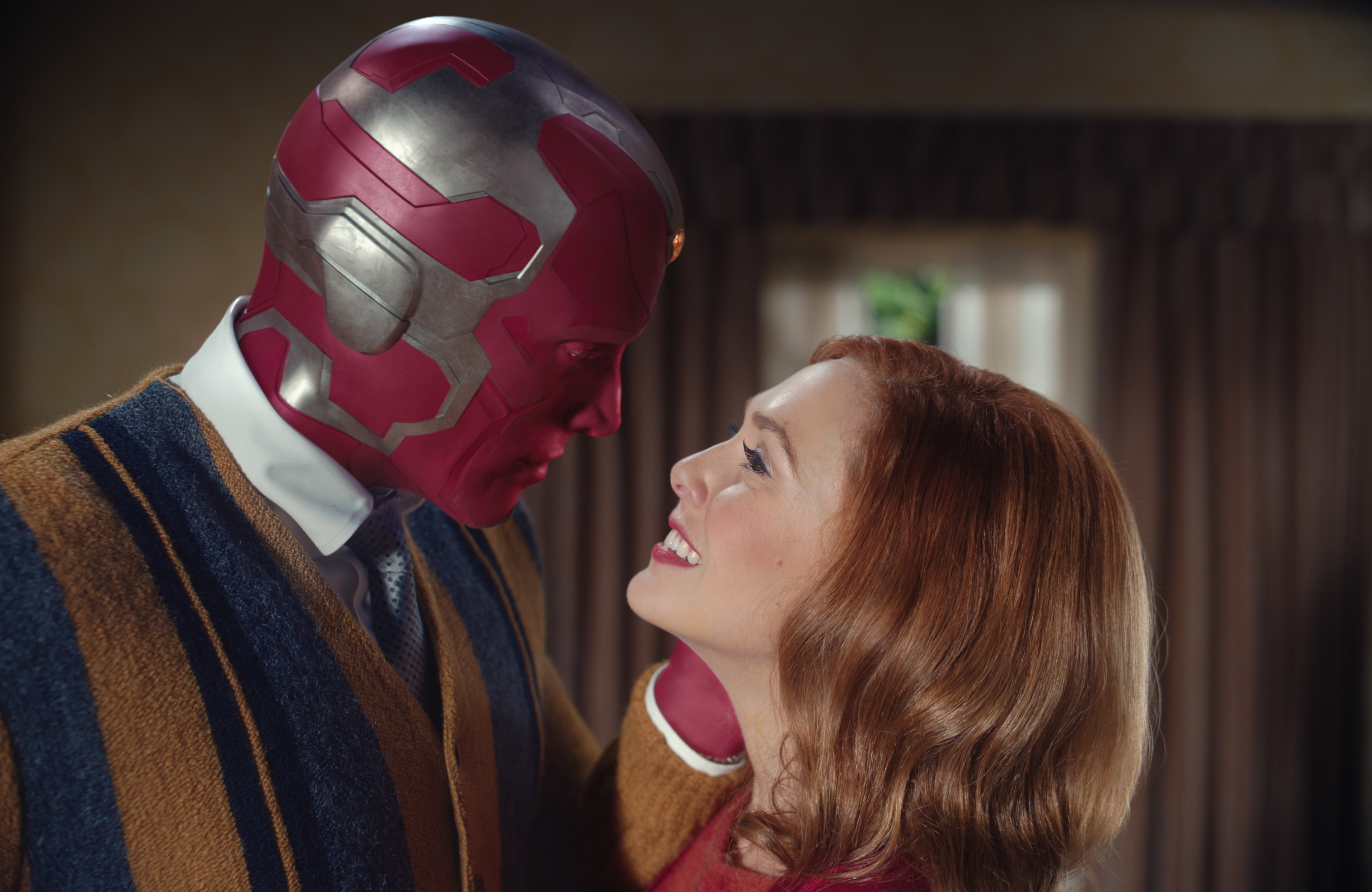 In an interview with Variety, actor Paul Bettany spoke about how Marvel Studios' higher-ups explained the idea for WandaVision to him. Given the out-there nature of the series and its style, they gave him a few comic recommendations to give him a sense of things.
"Then we talked about two comic book stories that I really love," Bettany said. "House of M and The Visions [sic], which is a story about Vision trying to build a family in suburbia, and it was sort of a mash-up between them, and also with a sort of loving look at American sitcoms throughout the American century. I was like, 'I'm in!'"
House of M is a famous X-Men storyline that began in 2005. Following the events of previous event stories, the Scarlet Witch suffers a mental break and uses her reality-warping magic powers to try and rebuild her broken world. The reality she creates varies wildly from the established Marvel canon of the time, notably having mutant as the dominant species, led by Magneto (her and Quicksilver's father in the comics) and his extended family.
"The Visions," as Bettany called it, refers to a 2016 solo series for the android, written by Tom King, that sees him trying to live an idyllic suburban life with a new family: wife Virginia, son Vin, and daughter Viv (all robots as well). Things aren't what they seem, however, and the Visions find themselves beset by the Grim Reaper and others. The story also involves a prophecy by the witch, Agatha Harkness, which claims that the family will commit genocide.
[Spoiler alert: speculation about WandaVision ahead, and who knows, some of it might be right.]
What do these stories suggest about the series?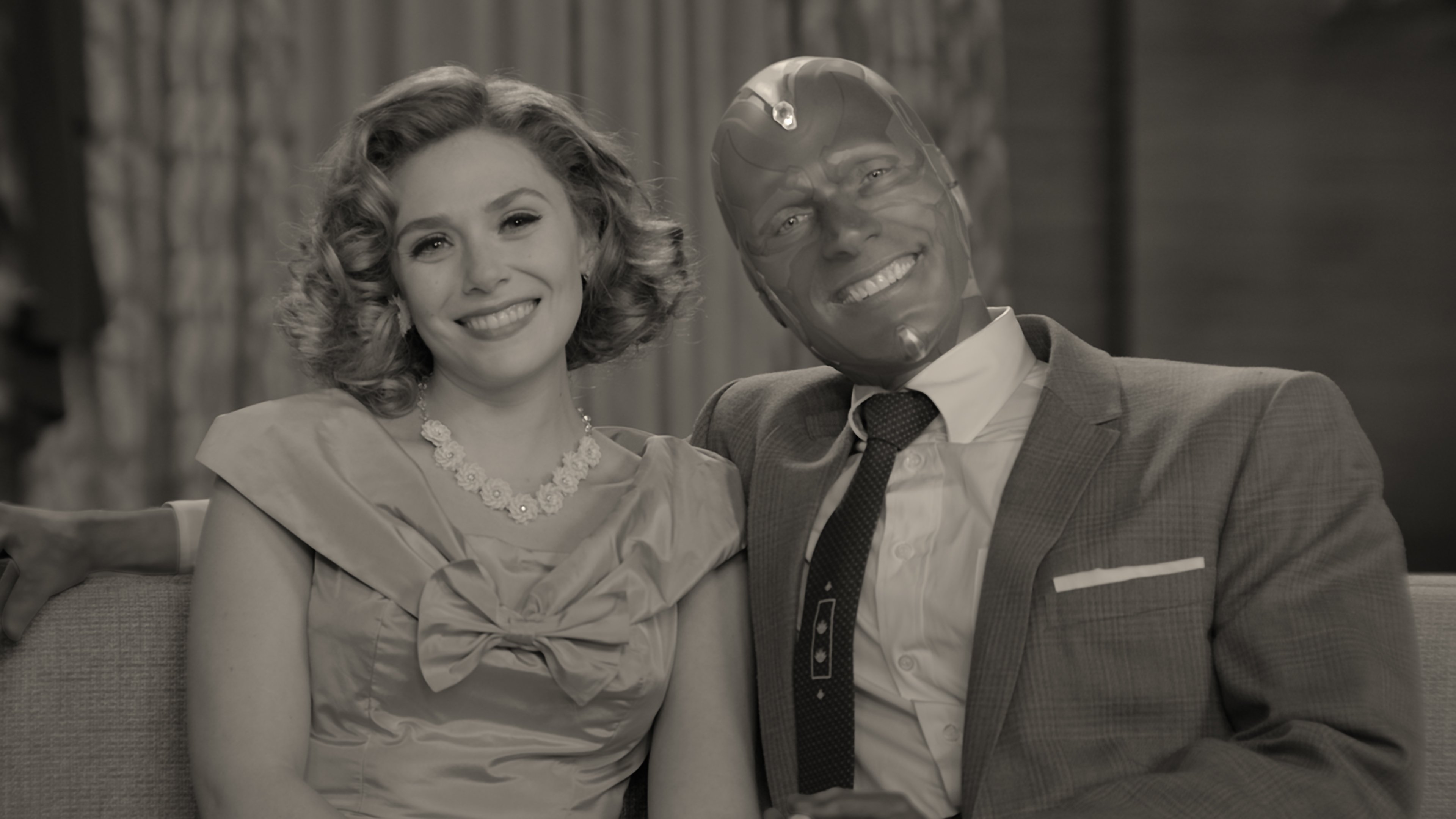 Any Marvel fan that's been following WandaVision and the rumor mill that's accompanied its development should recognize a lot from those description.
First of all, many suspect that the strange, sitcom-inspired world of the series might be the result of Wanda Maximoff (Elizabeth Olsen) tapping into her powers and creating an ideal world to cope with Vision's death. This might hold less water now, as the series premiere seemed to indicate that the characters might have been trapped in the sitcom world against their will.
The idyllic, classic-Americana vibe of WandaVision also seems to have taken a big cue from King's Vision book as a starting point. Having WandaVision be explicitly based on classic sitcom iconography, rather than the more general suburbia of the comic, might be a nod to its nature as a TV show. Several characters from the book, including the Grim Reaper and Harkness, have also been heavily rumored to appear in the show.