What Did Jennifer Aniston Say When She Met Angelina Jolie While She Was Still Married to Brad Pitt?
It has been over 15 years since Jennifer Aniston and Brad Pitt parted ways, yet their romance still captivates fans. Following their divorce in 2005, Pitt went on to date and marry Angelina Jolie while Aniston tied the knot with Justin Theroux. Both of their marriages have since fallen apart, and Pitt and Aniston once again find themselves living the single life. While fans would love to see Pitt and Aniston re-kindle their romance, the Friends alum once dished on the first time she met Jolie – and it was when she and Pitt were still together.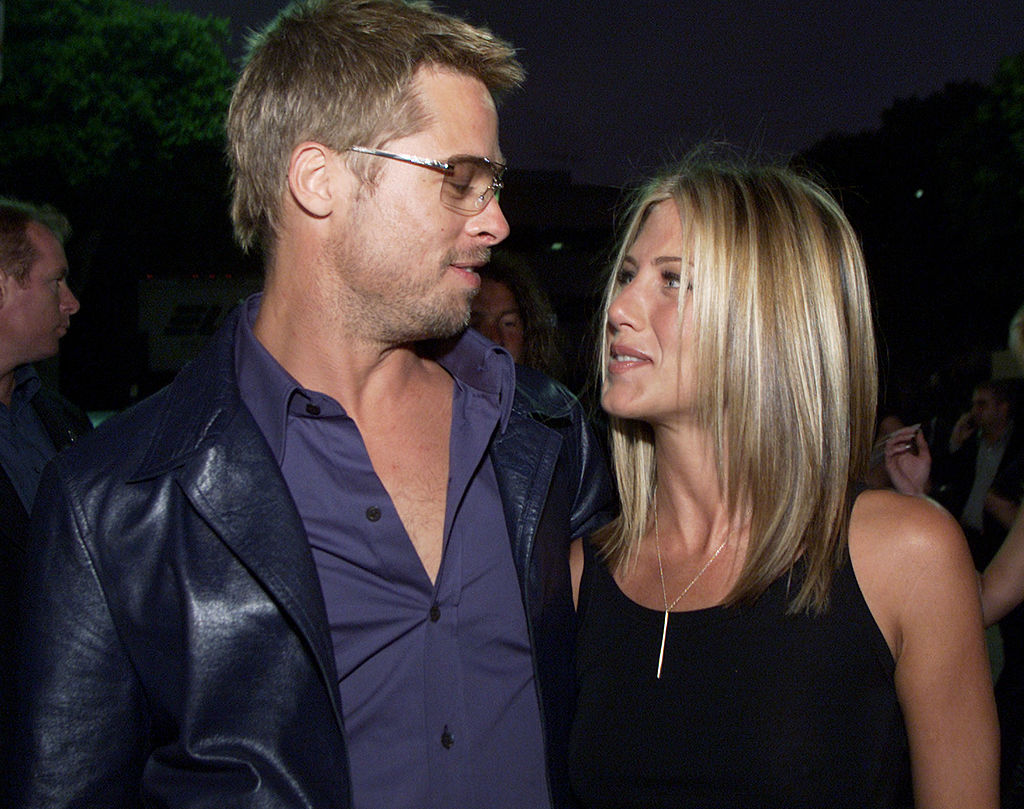 Inside Brad Pitt and Jennifer Aniston's split
Pitt and Aniston seemed like the perfect Hollywood couple when they tied the knot in 2000. At the time, Pitt's career on the big screens was really taking off while Aniston was still enjoying a successful run on the popular TV show, Friends.
Their romance may have started off great but it wasn't long before they hit some major roadblocks. In early 2005, the pair announced that they were going to get a divorce.  The announcement shocked fans, and many people blamed Pitt's relationship with Jolie as the reason why their marriage failed.
Prior to the divorce, Pitt and Jolie worked together on the 2005 film Mr. & Mrs. Smith. Fans suspected that Pitt and Jolie may have had an affair on the set, though none of the parties involved have every confirmed the suspicions.
Jolie and Pitt remained together for close to a decade before tying the knot in 2014. The pair, who share six children, parted ways in 2016.
Pitt and Aniston have both talked about their divorce on several occasions, though there was a time when Aniston revealed what happened when she was first introduced to Jolie prior to the divorce.
The 'Friends' star opens up about her first meeting with Jolie
In an interview with Vanity Fair in 2006, Aniston dished on the time she met Jolie while she was still married to Pitt. According to Hindustan Times, the actress revealed that she had nothing but kind words to say to Jolie and admitted that her husband was excited about their project.
"It was on the lot of Friends—I pulled over and introduced myself," Aniston stated. "I said, 'Brad is so excited about working with you. I hope you guys have a really good time.'"
While the world speculated about Pitt and Jolie's relationship, Aniston's co-star, Courteney Cox, revealed that she does not believe they got romantically involved while filming Mr. & Mrs. Smith.
Cox stated that she believes Pitt was "attracted" to Jolie at the time but that they did not start "an affair physically." She also revealed that Pitt was very open about his feelings towards Jolie and that he did not hide anything from Aniston.
Cox added that usually, people do not tell their significant other when they feel an attraction to someone else. She then stated that his attraction to Jolie was something Pitt "fought for a period of time."
Does Jennifer Aniston think Brad Pitt cheated on her?
Shortly after his split from Aniston, Pitt started dating Jolie. The two engaged in numerous public displays of affection as their romance heated up, a move that did not sit well with fans. This includes a photoshoot for W magazine that was titled 'Domestic Bliss.'
With Pitt and Jolie hitting it off, Aniston opened up about her ex-husband's new relationship in the same interview with Vanity Fair. The actress admitted that she was "shocked" by Pitt's behavior, yet she does not think that he cheated on her with Jolie.
"The world was shocked, and I was shocked," Aniston shared. "What we said was true as far as I knew. I choose to believe my husband. At this point, I wouldn't be surprised by anything, but I would much rather choose to believe him."
Aniston went on to say that she was very lonely in the months following her divorce and that she dealt with a lot of confusion in those days. But after going through some therapy, she found a way to move on with her life and start a new chapter.
Despite everything that happened, Pitt and Aniston have renewed their friendship in recent years. Pitt attended Aniston's birthday bash last year and the two were spotted exchanging hugs at the Screen Actors Guild Awards.