What Does 50 Cent's New Starz Show 'BMF' Stand For?
50 Cent helped make Starz network what it is due to the 'Power' Universe. Now the executive producer is about to try his hand at something new with his new drama series 'BMF' heres what it stands for.
As an executive producer Curtis "50 Cent" Jackson has played an integral role in making the Starz network what it is today. With the launch of Power in 2014, which was created by Courtney A. Kemp, the network began seeing numbers that only HBO's Game of Thrones had seen in recent years. The series was so popular that Kemp and 50 Cent have worked together to make a Marvel-like Universe with the Power Universe.
The shows include Power Book II: Ghost, Power Book III: Raising Kanan, Power Book IV: Force, and Power Book V: Influence. 50 Cent has also signed a four-year deal with Starz for $150 million. Though there has been some friction between the rapper and the network in the past, that hasn't stopped the Queens-born producer from turning out amazing products.
Up next, 50 Cent is set to debut his latest drama series, BMF, but what does that stand for?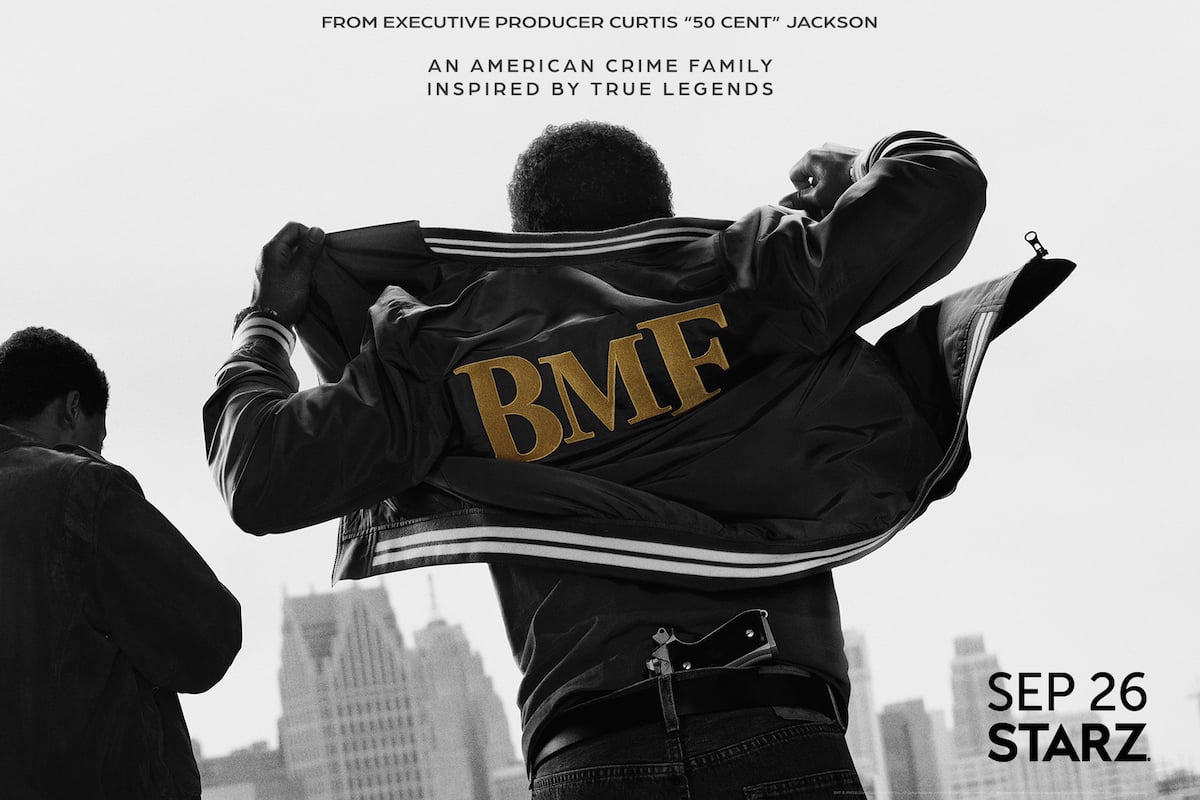 What does 50 Cent's new Starz show 'BMF' stand for?
BMF or Black Mafia Family chronicles the lives of the Flenory brothers, Demetrius "Big Meech" Flenory and Terry "Southwest T" Flenory. The Detroit legends began building their fortune in the drug trade at the height of the crack cocaine epidemic bringing in millions of dollars a day.
As hip-hop began to explode, Big Meech and Southwest saw it as an opportunity to expand their business and create a front for their drug money. 50 Cent has been hyping the show for months with captions like, "Yeah this one a little different behind the scene's BMF 🔥Coming soon! @lilmeechbmf." He also hinted that his show might be better than Power.
'BMF' is based on a true story
The Flenorys and BMF are based on real-life people. The brothers really did make their fortune in drugs and later began working as promoters for multiple several major hip-hop artists. 50 Cent wants the show to be as authentic as possible. Demetrius "Lil Meech" Flenory Jr., the son of Demetrius "Big Meech" Flenory will star in the series as his father. 
The cast also includes Da'Vinchi, Russell Hornsby, Michole Briana White, Ajiona Alexus, Wood Harris, Steve Harris, Snoop Dogg, Serayah, and Power alum, La La Anthony.
Is 'BMF' related to the 'Power' Universe?
Though Power Book III: Raising Kanan is loosely based on 50 Cent's life growing up in Queens, New York, the series nor any other show in the Power Universe, including Ghost, Force, or Influence are related to BMF. The '80-set Detroit series is set before the events of the 1991-set Raising Kanan and while the Power Universe shows are set in NYC and Chicago, BMF is all about Motor City.
With a stacked cast and 50 Cent behind it, there is no reason why BMF won't be as big as the Power Universe is, even though they are very different. BMF will debut Sunday, September 26 at 9 PM ET/PT then move to its regular timeslot at 8 PM ET/PT starting on Sunday, October 3.