What Does Shakira's Viral Super Bowl Tongue Flip Mean?
Latin entertainer Shakira has been popular for nearly two decades, her slick dance moves and enchanting vocals scoring her legions of fans and critical acclaim.
Shakira has also achieved major crossover success by releasing both English and Spanish language music, fiercely embracing her Colombian culture no matter what she does.
Shakira was one of the featured performers at the Super Bowl 2020 Halftime Show, and while her entire performance was buzzed about, one particular moment drew a large response from both critics and fans.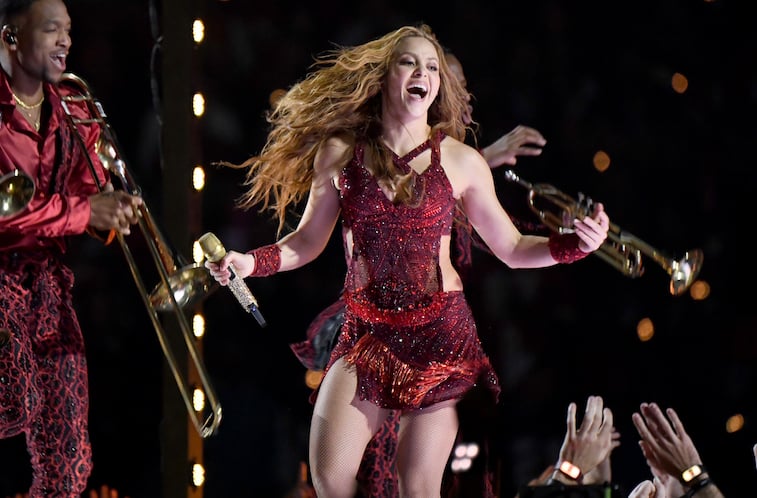 What is Shakira famous for?
Born in 1977, Shakira began recording music at the age of thirteen. Throughout the early nineties, Shakira continued to craft her image and work on her music, attempting to make her big breakthrough in Spanish-speaking countries. As it turned out, she wouldn't have long to wait, and in the early 2000s, Shakira achieved major success overseas, with fame in the United States not far behind.
Shakira is perhaps best known for the song "Hips Don't Lie." The catchy tune has become her signature, but there is much more to Shakira than just one hit song. The artist has been honored with multiple awards over the course of her career, including three Grammy Awards, seven Billboard Music Awards, and thirteen Latin Grammy Awards.
Shakira also has a star on the Hollywood Walk of Fame and to this day, remains one of the best-selling artists of all time. Throughout it all, Shakira has stayed true to herself and has never strayed from the image she has worked carefully to craft.
Shakira's inspiring Halftime Show performance
When it was announced that Shakira would be playing the Super Bowl 2020 Halftime Show, along with fellow Latin artist Jennifer Lopez, fans went wild. Shakira ended up opening the Halftime Show, and her performance definitely did not disappoint.
Artists who play the Halftime Show are given the difficult task of packing a lot of entertainment into roughly fifteen minutes, but Shakira was up for the challenge. 
During her performance, Shakira sang and danced to all of her greatest hits, including "Hips Don't Lie." She also accented her performance with some of her signature dance moves, including a seriously impressive belly dancing moment.
Shakira brought rapper Bad Bunny on stage with her at one point, singing "I Like It," the song made popular by Cardi B. In spite of all of her iconic moments during the Halftime Show, it was a camera closeup of her face and the way she responded to it that ended up going viral almost immediately.
What did Shakira's tongue flip mean?
Early on in her performance, when the camera zoomed in on Shakira's face, the artist leaned into the camera and gave a high-pitched warble, accompanied by fast-paced tongue flipping.
While many fans were confused by what the gesture might have meant, as it turns out Shakira was simply paying homage to a cultural expression from the Middle East.
According to sources, the tongue flip and warble is actually a traditional Arabic expression of joy and celebration called a zaghrouta.
It certainly makes sense that Shakira would include the gesture in her performance since her act was full of cultural nods and little moments of homage to her Latin roots.
Ultimately, Shakira and J-Lo's performances were widely praised. Although there were some critics who claimed that the women gave a performance that was "too sexy" for the Super Bowl, the general consensus was incredibly positive.
While the women will be moving on to other projects in the months to come, the memory of their Super Bowl 2020 Halftime Show will live on for years to come.