What George Lucas Did When Queen Used Darth Vader in Their Concerts
Queen and its frontman, Freddie Mercury, are some of the most enduring icons of the 1970s. Star Wars is undoubtedly the most popular film franchise that began in the 1970s. Despite their roots in the same decade, one might not associate one with the other very much.
However, the band and the film franchise crossed paths in a few ways. One was that Queen incorporated Darth Vader into their live shows. Here's how George Lucas reacted to that.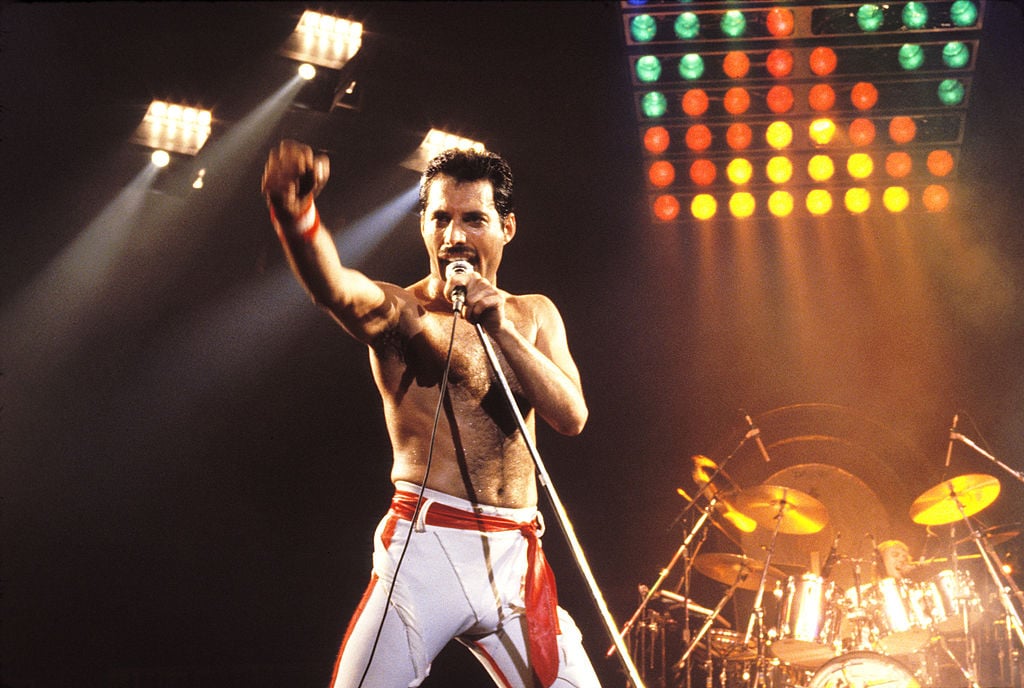 Queen's 'Star Wars' stunt
Vanity Fair says that, during some concerts in 1979 and 1980, Mercury would come onto the stage while sitting atop the shoulders of a man dressed as Darth Vader. In a famous photograph of a Queen concert, Mercury is wearing a Flash Gordon T-shirt. Flash Gordon was one of many 1980s science fiction films that were clearly intended to cash in on the wild success of Star Wars.
What made Flash Gordon different from the rest of the pack is that it boasted a soundtrack by Queen. Mercury wearing a Flash Gordon shirt while sitting on the shoulders of someone dressed as Darth Vader could be seen as clever promotion of Flash Gordon. It could also be interpreted as Mercury's way of saying that Flash Gordon was superior to Star Wars.
The photographer behind the famous image speaks out
RELATED: Why Did 'Bohemian Rhapsody' Upset Freddie Mercury's Mother?
Annie Zaleski of The A. V. Club spoke with Tom Callins, the photographer behind the famous image. Zaleski asked Callins who was in the Darth Vader costume "I never found out—I've never known. I'm sure it was a roadie that they hired, or maybe a bodyguard. I guess you had to be a pretty bulky guy to carry Freddie around."
Zaleski also asked Callins how the crowd reacted to Mercury's stunt. "Oh, it was pandemonium. Everybody just thought it was so funny, so Freddie. It was so over-the-top…Everybody got into it." The fact that fans of Queen's hard rock music enjoyed it showed that Star Wars had appeal beyond the sci-fi fan demographic.
George Lucas' reaction and similar Queen stunts
RELATED: Michael Jackson and Tupac Shakur Were Almost in 'Star Wars'
Although Mercury's stunt went over well with his audience, not everyone liked it. Star Wars creator George Lucas was not a fan. In fact, Is This the Real Life?: The Untold Story of Queen says Lucas threatened Queen with a lawsuit to prevent them from using Darth Vader in their concerts again. The threat served its intended purpose and Queen stopped incorporating the dark lord of the Sith into their act.
Darth Vader wasn't the only iconic fiction character Queen incorporated into their act. They also performed shows where Mercury came on stage while seated on the shoulders of someone dressed as Superman. Notably, the Superman film franchise was at its peak around the same time Mercury pulled this stunt.
Mercury's stunt is one of the most memorable in the history of Queen and the history of Star Wars. Lucas clearly didn't like it. However, the stunt proved Star Wars had the ability to connect with many audiences.
Also see: Why Did An Original Member of Queen Lash Out Over 'Bohemian Rhapsody'?