What If Emma Stone Plays Spider-Gwen in the Olivia Wilde-Directed Marvel Movie?
Olivia Wilde is directing a Sony Marvel movie, rumored to center on Spider-Woman. But could the film bring Emma Stone back as Gwen Stacy?
If any single Marvel hero can carry an entire shared universe, it's Spider-Man. That's what Sony is counting on, at least. The studio still retains the movie rights to the webslinger and related Marvel characters. Of course, for the past few years, Marvel Studios has shared custody of Spider-Man. But with a live-action Spider-Verse on the way, could Emma Stone return?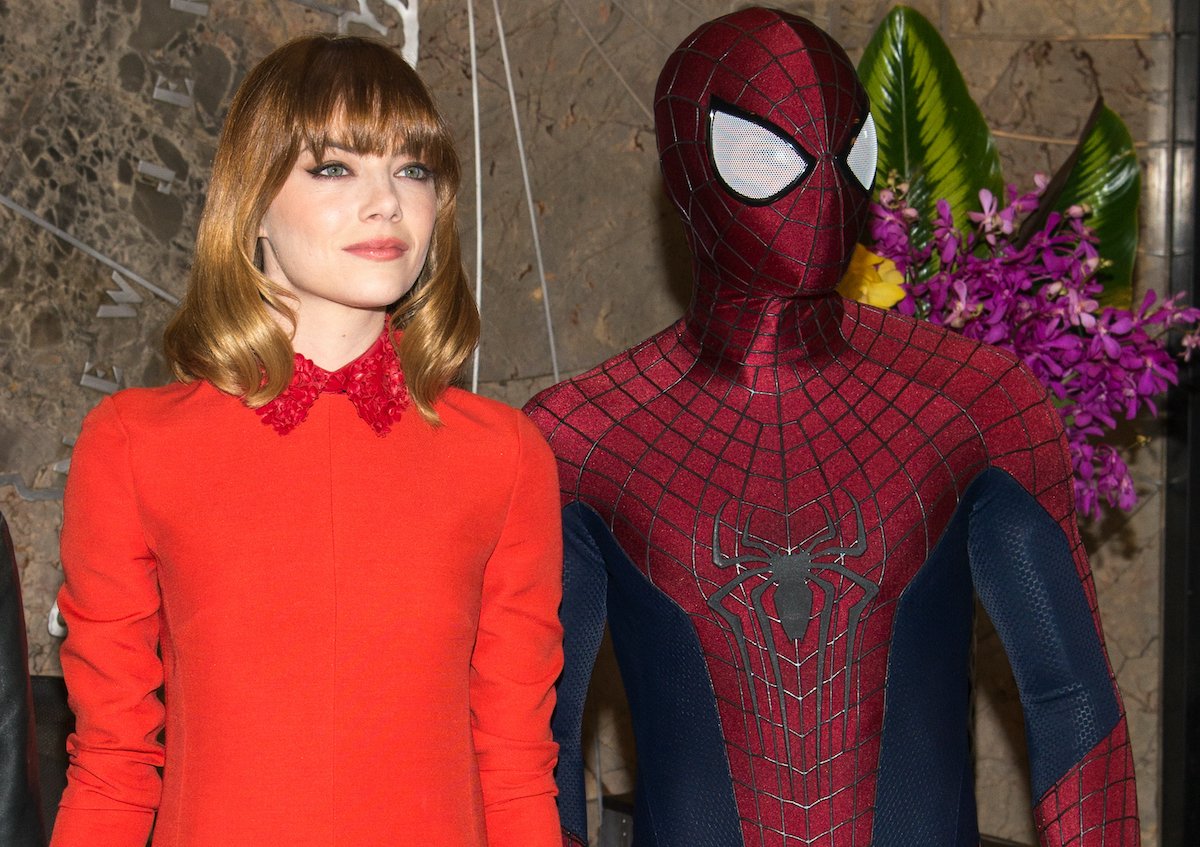 Emma Stone played Gwen Stacy in 'The Amazing Spider-Man' movies
Stone played Gwen Stacy in 2012's The Amazing Spider-Man and its 2014 sequel. While that Andrew Garfield-led franchise was cut short, many fans and critics noted that Stone and Garfield's chemistry — the two dated for a while — was a highlight. Of course, Gwen Stacy fell to her death in The Amazing Spider-Man 2, seemingly ending Stone's time in the role.
However, Marvel Comics introduced an alternate universe version of Gwen Stacy in 2014. Instead of Peter Parker, Gwen received the fateful spider bite, becoming a superhero known as Spider-Woman. Also known as "Spider-Gwen," the character has become a fixture of the comics ever since. And recent MCU projects indicate she could be making her way into live action. 
'Into the Spider-Verse' prepared audiences for a live-action version
While Spider-Woman has never headlined her own movie (yet), the character did play a major role in 2018's Spider-Man: Into the Spider-Verse. In that Oscar-winning animated film, Hailee Steinfeld — who has long been rumored to play the MCU's Kate Bishop — voiced Spider-Gwen. And some fans expect Marvel will parlay its success into a live-action Spider-Verse.
After all, the upcoming Doctor Strange sequel — directed by none other than Spider-Man 2002's Sam Raimi — will formally bring the multiverse into the MCU. And recent developments signal a full-on convergence of all previous Spider-Man movies. Oscar winners J.K. Simmons and Jamie Foxx, the latter according to The Hollywood Reporter, are back. Stone could be next.
Olivia Wilde is onboard to direct a top-secret Marvel movie for Sony
Deadline reported in August 2020 that Olivia Wilde — who made a critically acclaimed directorial debut with 2019's Booksmart — signed with Sony to direct a "a secret Marvel film project revolving around a female character in the universe." Although no official confirmation has revealed what the project is, even the Deadline piece acknowledges it's probably Spider-Woman.
Various characters have carried that moniker in the comics, but none have the same mainstream awareness as Gwen Stacy. In addition to Stone and Steinfeld, Bryce Dallas Howard played the character in 2007's Spider-Man 3. Considering how no version of Gwen Stacy is currently canon in the MCU, Stone could easily play this universe's version of Spider-Gwen.
There's always the chance Sony is planning to revive that Silver Sable and Black Cat team-up movie. But if the studio is angling for Spider-Gwen, Stone — an Oscar-winning A-list star in her own right — is the smart choice to carry it. She has yet to align herself with any other current franchise, aside from Zombieland. Besides, who wouldn't want to play a superhero?