What is Ashanti's Net Worth?
Ashanti is a pop culture icon, a singer and a dancer who has also branched out to explore her talents as an actress. Ashanti has won multiple awards and honors over the course of her career, becoming a highly-decorated solo artist.
After a lengthy hiatus, Ashanti recently announced a big return to the music scene, and over the past few months, she has worked on a wide variety of interesting, creative projects.
How did Ashanti get started in music?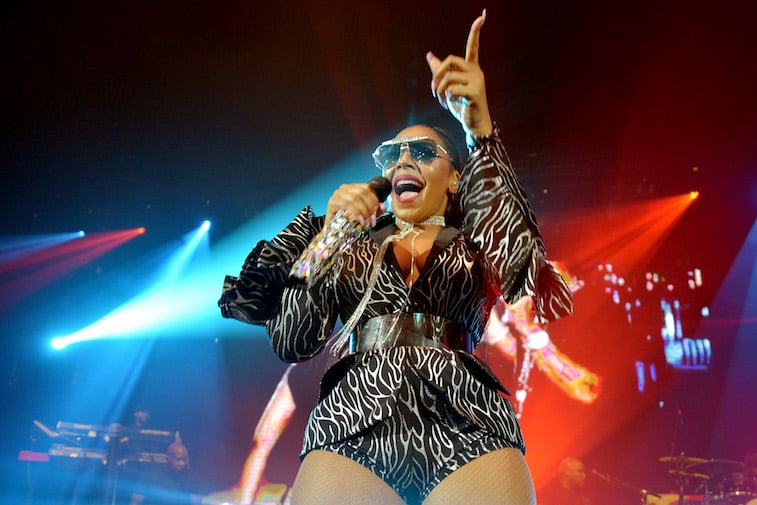 Ashanti was born in 1980 in New York. Her parents were also involved in creative pursuits, with her mother working as a dance teacher and her father a former singer.
As a young child, Ashanti's parents realized that she had incredible singing potential and encouraged her to start following her dreams. Ashanti began writing songs while still in high school and even landed several small acting roles in movies and music videos around this time.
In the early 2000s, Ashanti started to receive attention for her singing skills. After writing songs for several successful artists, Ashanti performed in a series of collaborations with Fat Joe and Ja Rule.
The collabs became very popular with fans and critics started clamoring to hear more of Ashanti's clear, appealing voice. Shortly after, Ashanti released her debut solo single, "Foolish."
From there, it was a quick ride to the top of the industry as Ashanti tackled project after project. She continued to collaborate with other artists as well as working on her solo music, including the always-controversial rapper R. Kelly.
Ashanti's romantic life has also been in the headlines a great deal, as she was in a ten-year relationship with the rapper Nelly.
When did Ashanti take a career hiatus?
In the mid-2000s, after establishing herself as a musical prodigy, Ashanti turned her attention to acting. She acted in movies such as Coach Carter, alongside Samuel L. Jackson, The Muppets' Wizard of Oz, John Tucker Must Die, and the hit action film, Resident Evil: Extinction.
Around the year 2009, Ashanti took a step back from the entertainment industry and took a hiatus for several years.
The break seemed to serve her well, for when she burst back onto the scene in 2012, Ashanti announced that she would be one of the featured players on the television series Army Wives. She continued to work in movies and music for the next several years, collaborating with Ja Rule again and releasing her fifth studio album in 2014. Fans proved that they still loved Ashanti, supporting her various efforts and encouraging her along the way.
What is Ashanti's net worth?
In the past several years, Ashanti has revealed that not only is she working on new music but that she intends on releasing several more exciting collaborations. She also still loves acting and in late 2019, she made several guest appearances on the reboot of the popular eighties TV show Dynasty. Ashanti has also devoted her time to a number of charitable efforts, including the Family Violence Prevention Fund and Stand Up to Cancer.
Ashanti is one of those rare artists who have been able to sustain a successful career over several decades. Her success is reflected in her impressive net worth, which is reported to be around $18 million.
She's likely to become even wealthier over the next few years as she continues to build her brand and expand her efforts. One thing is for sure – her loyal fans will be along for the ride every step of the way.