What Is Brooklyn Decker's Net Worth?
Brooklyn Decker is living something of a dream right now. She and her husband, former celebrity tennis player Andy Roddick, are raising their two children in their gorgeous homes — they split their time between Texas and North Carolina.
Meanwhile, Decker's career just continues to blossom and transform. She's gone from modeling to acting and even decided to set her sights on an ambitious business endeavor. 
As Decker expanded her career into the world of fashion and technology, she showed she has even more skills. Let's take a look at her net worth and how she has earned her living.
Brooklyn Decker went from cheerleader to model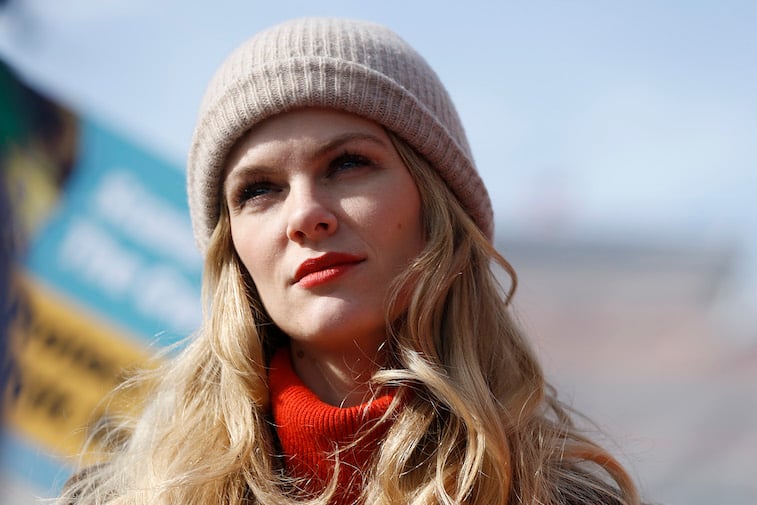 Decker got her start in the entertainment world as a model. She was a high school cheerleader, and she moved to New York in the hopes of making a real go of a modeling career. She landed a coveted spot with Sports Illustrated, and was especially well-known for her work in the swimsuit edition. Her 2010 cover appearance was a high point in her career.
Her successful career coincided with the start of her love story with tennis player Andy Roddick, according to Tennis World USA. Roddick spotted Decker as she was hosting a show for Sports Illustrated, and he wanted to get to know her better. Because this is Hollywood, he had his attorney call her agent, and she wasn't sure about the whole thing, so she didn't respond for five months.
Finally, she looked him up and decided to give him a chance. The rest, as they say, is history.
The pair married in 2009 and are now the parents of a son named Hank and a daughter named Stevie. 
Acting was the next step for Brooklyn Decker
RELATED: 'Grace and Frankie' Almost Had Jane Fonda and Lily Tomlin Coupling Up on the Show
Related post url: 
While her modeling career was definitely successful, she took the next step into the acting world. In 2009, she had a couple of small TV guest roles on shows like Chuck and Royal Pains. Some film appearances in movies like Just Go with It and Battleship helped her career along. In 2014, she landed a recurring role on the short-lived comedy series Friends with Better Lives. 
Shortly after that, Decker landed the role that has really helped her break through. She plays Mallory Hanson on Netflix's hit series Grace and Frankie. Portraying the daughter of Grace (played by Jane Fonda), Decker has done an impressive job playing a suburban mom struggling with her professional identity in the face of a divorce. The role has given her a chance to show off her range and talents.
Brooklyn Decker launched a fashion business
Having conquered her goals in modeling and acting, Decker set her sights on a new endeavor: launching a business. She partnered with former broadcast journalist Whitney Casey to create Finery, a wardrobe app.
The app was designed to help people get dressed and plan their wardrobe choices with ease. It was a successful endeavor that was acquired by Stitch Fix, the clothing and personal stylist online service. 
When asked about what legacy she hopes to leave behind, Decker explained that she wanted to make people feel good about spending time with her. According to MyDomaine: "I hope to make people feel like are fully supported, that they are challenged, that they could trust me. Simply, I want people to feel better after having spent time with me."
All of these different endeavors have also left Decker with quite a substantial net worth. The actor, model, and businesswoman is worth an estimated $10 million, according to Celebrity Net Worth.
We will have to keep our eyes peeled to see just what the Jill of all trades has in mind as her next step. If her past actions are any indication, it's sure to be a success.