What Is Dave Chappelle's Net Worth?
Revealed: Here's Dave Chappelle's net worth.
No one knew what would happen to Dave Chappelle in 2005 when he walked away from his widely popular and critically acclaimed Comedy Central sketch series, Chappelle's Show. After quitting the series, he jetted off to Africa and seemingly dropped off the face of the earth, leaving the show, his fans, and millions of dollars in the dust. 
But now, he's back in the spotlight, thanks to a Netflix deal for several comedy specials. And he's reportedly making the best money ever. So, what is Dave Chappelle's net worth? Let's take a look back at his life and career.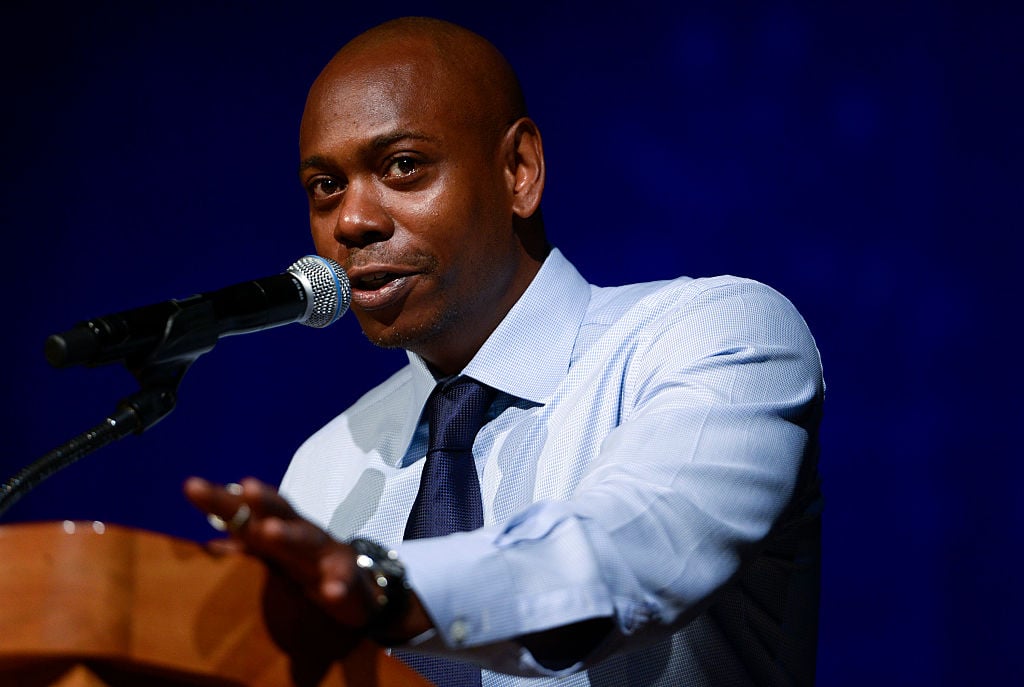 Chappelle is a comedy veteran
Chappelle has made audiences laugh for more than three decades. IMDb reports that he started his stand-up career at age 14, performing in nightclubs and other venues around Washington D.C. And after graduating from high school, Chappelle hit the ground running. He moved to New York and began making a name for himself.
His intense work ethic and dedication to his craft quickly paid off. At 19, Chappelle got his first big-screen role in the 1993 comedy, Robin Hood: Men in Tights. While the film received lukewarm reviews, it gave Chappelle much-needed exposure.
He went on to book roles in a string of popular films, including The Nutty Professor (1996), Half Baked (1998), and You've Got Mail (1998).
Chappelle's Show brought him new levels of fame
Chappelle's career hit the stratosphere in 2003 after the release of his eponymous comedy sketch show. The series showed the comedian offering funny social commentary on some of the most sensitive issues, including matters surrounding President George W. Bush and R. Kelly's legal woes.
It was, in fact, so insanely popular that executives reportedly offered Chappelle $50 million to continue the show for a third and fourth season. The deal would have made him one of television's top earners but, in a move that literally no one saw coming, Chappelle turned it down.
He would later tell CBS News host Gayle King that while he was in a "very successful place," the "emotional content of it didn't feel anything like what I imagined success should feel like. It just didn't feel right."
Chappelle's net worth
Chappelle might have walked away from a $50 million deal, but that doesn't mean that his net worth is skimpy. According to Forbes, the comedian is worth a stunning $47 million.
While Chappelle has made money from casual stand-up and TV appearances, it seems like the Netflix deal has been the most lucrative.
In 2016, he signed a reported $60 million deal with Netflix to release three comedy specials. According to The Hollywood Reporter, the deal included two never-before-seen specials from Chappelle's comedy vault (The Age of Spin and Deep in the Heart of Texas) and an original, titled, Equanimity & The Bird Revelation (2017).
According to multiple reports, the first two sets were Netflix's most-watched programs ever, seemingly prompting the streaming giant to team up with Chappelle for more specials. In 2019, he released Sticks and Stones, a program that has been described as one of the "most important" comedy sketches ever.
You can watch it now on Netflix, but be advised — not everyone likes the special.