What is 'Grace and Frankie' Star Lily Tomlin's Net Worth?
What is 'Grace and Frankie' star Lily Tomlin's net worth, and how did she find herself where she is today. Full story here.
Lily Tomlin currently stars as Frankie Bergstein in the hit Netflix original Grace and Frankie across from her long-time friend and health and fitness guru Jane Fonda. The show is currently in its sixth season and has one more season left to go on the streaming platform.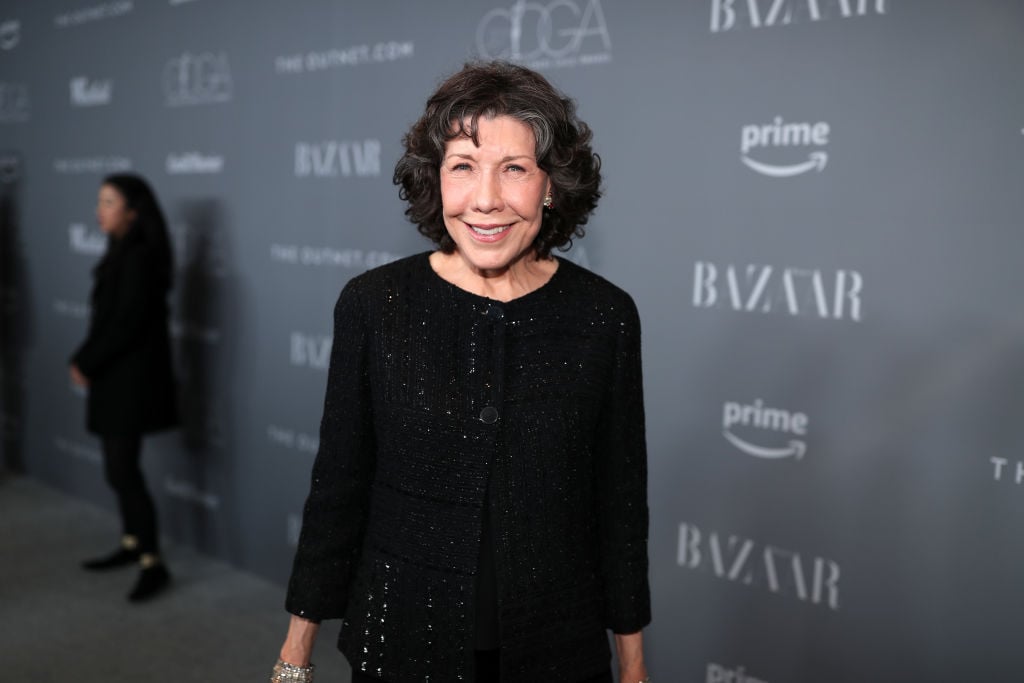 Before Grace and Frankie came along, placing 80 years young Lily Tomlin in the lead role she seemed destined for, how did the actress make a name for herself, and how did she come to be worth millions? 
A look back on Lily Tomlin's career 
Lily Tomlin made her film debut in Robert Altman's 1975 movie Nashville. However, before appearing on the silver screen, she starred in Rowan and Martin's Laugh-In — an iconic comedy series that ran from 1967 to 1973, in which Tomlin played Ernestine the Operator. This was Tomlin's break-out role that would lead to a prosperous film career. 
In 1980, Tomlin appeared in the classic 9-5 alongside Dolly Parton and Jane Fonda; the movie would be the start of a beautiful friendship between Fonda and Tomlin. Lily Tomlin went on to star in several major blockbusters throughout the 1980s, including but not limited to All of Me (with Steve Martin,), Big Business (with Bette Midler), and The Incredible Shrinking Woman. 
From 1994 to 1997, Lily Tomlin voiced Ms. Frizzle in the cartoon kids' series The Magic School Bus. She also starred in The West Wing, which aired from 1999 to 2006. In the early 2000s, she appeared in A Prairie Home Companion, featuring an all-star cast comprised of Kevin Kline, Meryl Streep, Lindsay Lohan, Woody Harrelson, Tommy Lee Jones, and more! She also starred in 2009's Black Panther 2 and 2013's Admission starring Tina Fey. 
More recently, she appeared in 2015's Grandma, which was also Grace and Frankie's premiere year.  So, the question is, after all this successful work in the fickle industry, what is Lily Tomlin's net worth? 
Lily Tolmin's net worth, awards, and personal life
In a career spanning over 40 years, Lily Tomlin has managed to earn a net worth of about $15 million, according to CelebrityNetWorth. And, not only has Lily Tomlin appeared in big-budget blockbusters that bring in the cash, she has won awards for her work. 
Lily Tomlin boasts a Tony and a Grammy, as well as multiple Emmy awards. She was also nominated for the Oscar for her performance in 1975's Nashville, and she is a six-time Golden Globe nominee and one-time winner. In short, her asking price is probably quite high. 
Tomlin currently lives in Valley Village, California, and she is married to Jane Wanger. The two wed in 2013. Wagner is an American writer, producer, and director best known as the creative vision behind The Search For Signs of Intelligent Life in the Universe. Born in 1939 in Detroit, Michigan, Tomlin had a long road to take to get to Tinseltown, but she made it, and she went on to become one of the greatest, funniest, and most beloved actors of our time.