What Is Millie Bobby Brown Paid Per Episode of 'Stranger Things?'
How much will Millie Bobby Brown be paid per episode for season 3 of 'Stranger Things?' Get the actress's salary and net worth here.
Millie Bobby Brown – the actress behind the famous Eleven in Stranger Things – seems to have cast a spell over the internet. Meaning, if she appears on Jimmy Fallon or tweets out a relatable message, it's bound to go viral.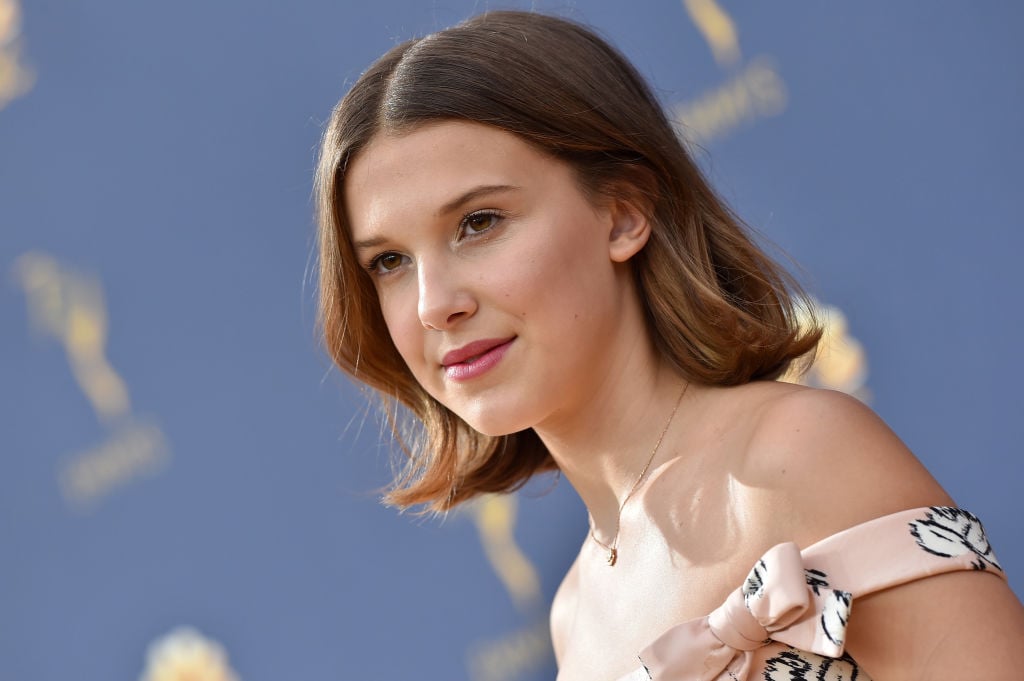 While Millie Bobby Brown's character on Stranger Things is worthy of praise – as she seems to eschew manic pixie dreamgirl tropes in favor of a more captivating character and narrative complexities – her personality in real life is at the center of her appeal. She wears sneakers on the red carpet and boasts one of the most contagious personalities. However, she has Stranger Things to thank for putting her on the map.
Before Stranger Things, Millie Bobby Brown was a virtual unknown; she appeared in an episode of Modern Family and Grey's Anatomy,but was by no means the fun-to-say household name she is today. At 15 years old, she boasts a loyal fan following – covering a diverse demographic in terms of age, gender, and more. In Hollywood, fame, and fortune tend to come as a package deal. So, now that Millie Bobby Brown is famous, just how much is she making per episode of Stranger Things?

Millie Bobby Brown's salary for 'Stranger Things' season 3

Playing one of the most iconic characters on the show – an inherently meme-able sci-fi figure – Millie Bobby Brown will be paid $350,000 per episode for season three of Stranger Things, according to Mental Floss.

Season one of Stranger Things consisted of eight episodes and season two consisted of nine, so, at the least, we can assume that Millie Bobby Brown will make upwards of $2 million off the show's third season alone.
According to Mental Floss, Millie Bobby's Brown's salary equals that of David Harbour and Winona Ryder's. So, despite being one of the youngest cast members on the show, she's still bringing in the big bucks, which likely contributes to her inspiring and hip fashion sense.

According to Harper's Bazaar, Millie Bobby Brown's initial contract with Netflix called for her to make $25,000 per episode in season three, which would have been approximately a $1,000 increase over her salary for the previous two seasons. However, it looks like some negotiating led to quite the positive turn of events for the young actress.
What Is Millie Bobby Brown's net worth?

Millie Bobby Brown's net worth, according to Mental Floss, and last reported in 2018, is approximately $3 million. Millie Bobby Brown's net worth is expected to increase dramatically, as the popularity of Stranger Things continues to grow.
Considering she may make close to $3 million for season three of the show – not including any other sources of income – it's likely that this number is no longer an accurate estimate. So, keep your eyes out for updates on this estimate.

While Millie Bobby Brown will make $350,000 per episode, her fellow young castmates are set to make $250,000 per episode. It's time that a girl gets paid what she's worth in Hollywood. Based on Millie Bobby Brown's role in the show, and her popular public image, she's definitely deserving of such a large raise.