What Is Post Malone's Real Name?
Post Malone is one of the biggest stars in the world, beloved by fans all over the United States and abroad. Malone has become known for his ability to work in multiple musical genres, from rap to country. A few of his biggest hits include songs such as "Sunflower," "White Iverson," and "Circles."
In spite of his massive popularity, Malone has received some criticism over the past several years. The star has weathered complaints that he is a "culture vulture" and that he appropriates clothing, patterns of dressing, and music from other cultures. Still, Malone is soldiering on in spite of it all and is poised to have his biggest year yet. 
When was Post Malone born?
Although his fans know him as Post Malone, the record-breaking artist was actually given the name Austin Richard Post when he was born in 1995, in Syracuse, New York. Raised primarily by his father and stepmother, young Post Malone developed his love of music early.
His father, Rich Post, worked as a DJ and introduced his young son to a wide variety of musical stylings. In a recent interview with GQ, Malone revealed that a few of his favorite artists included Guns N' Roses, Jay-Z, and George Strait. 
Malone's parents supported his dreams of becoming a musician and when he was nine years old, he began learning how to play the guitar. His love of the video game Guitar Hero helped him to practice in the early days.
His initial forays into music included working with various emo bands, and playing guitar in a heavy metal band. It was around this time that he chose his stage name, combining his last name of "Post" with "Malone," a name that was picked for him randomly in a rap name generator.
How did Post Malone become famous?
After dropping out of college, Malone moved to Los Angeles, California to pursue his dreams of becoming a star in the music scene. His first serious group was called BLCKVRD, and was formed by Malone and a few of his music producer friends. As a member of the group, Malone began experimenting with different sounds, lyrics, and sound effects. 
In 2015, Malone released his first single, "White Iverson." The song received attention from critics and fans right out of the gate, and Malone began being courted by record producers. He also started making celebrity connections, and even performed at Kylie Jenner's 18th birthday party. A few of his early collaborations included working with Kanye West, 50 Cent, and Young Thug – he also opened for Justin Bieber during his "World Purpose" tour.
What's next for Post Malone?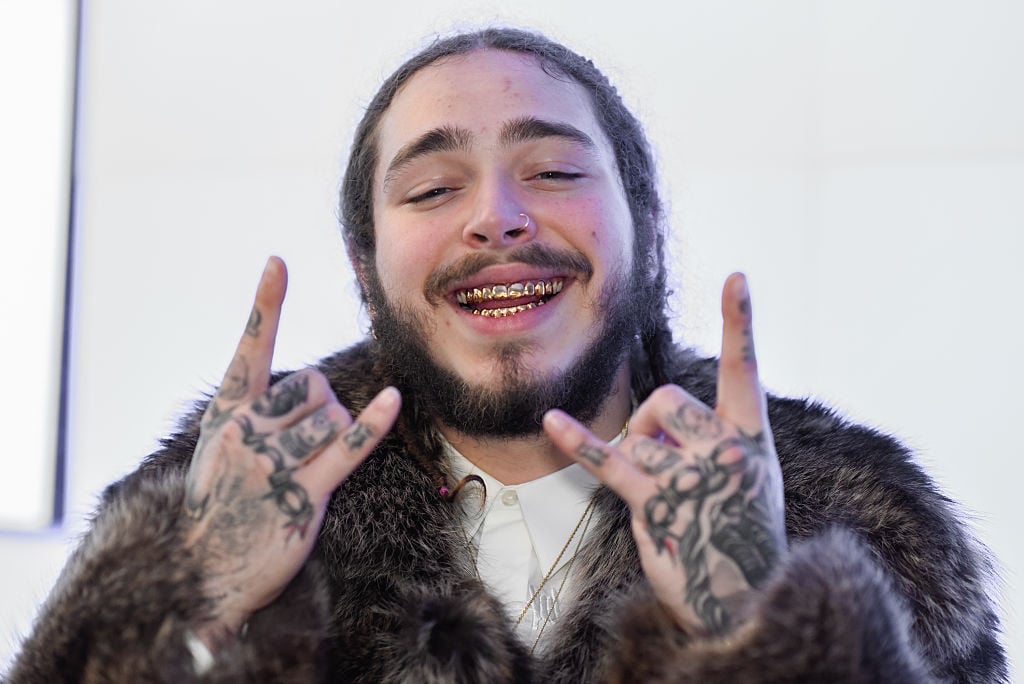 In the years since he first burst on the scene, Malone hasn't shown any signs of slowing down. He released his third studio album in late 2019, Hollywood's Bleeding, and it surpassed all expectations, debuting at number one on the Billboard 200 and skyrocketing Malone to new levels of fame.
Malone has also been given the freedom to flex his business muscles, promoting various products that he likes and even collaborating on an exclusive line of Crocs footwear. The shoes sold out almost instantaneously, proving that Malone has what it takes to appeal to consumers as well as music enthusiasts.
In the summer of 2020, Malone will be embarking on a new tour, one that is bound to break records and earn the quirky artist new fans. With his trademark confidence and laid-back charm, Malone is certain to be a fixture on the entertainment scene for years to come. Stay tuned to Showbiz Cheat Sheet for all the latest entertainment news!