What is 'Red Table Talk' Host Jada Pinkett Smith's Net Worth?
Actress and host Jada Pinkett Smith first rose to fame in the mid-nineties, making a name for herself by playing tough, no-nonsense characters with a heart of gold. She is also half of one of the most successful marriages in Hollywood history, and her union with Will Smith has kept her name in the headlines year after year.
These days, Pinkett Smith has carved out a new place for herself – as the host of "Red Table Talk," a Facebook-based talk show where Pinkett Smith chats about a wide variety of topics with her mother, daughter, and a plethora of celebrity guests.
Read on to learn how Pinkett Smith got started in entertainment, her varied interests, and what her net worth is.
When did Jada Pinkett Smith start acting?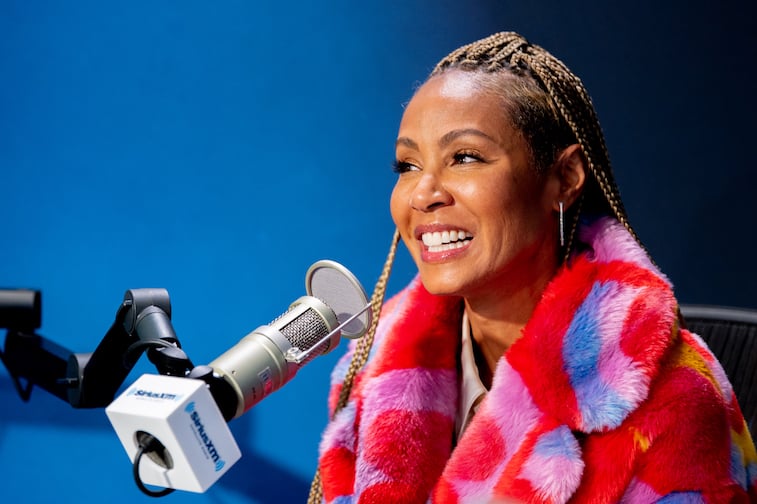 Jada Pinkett Smith was born in 1971 in Baltimore, Maryland. Although neither of her parents worked in the entertainment industry, Pinkett Smith wanted to pursue a career in television and film.
She enrolled in the Baltimore School for the Arts and met several other aspiring entertainers, including rapper Tupac Shakur. Pinkett Smith graduated in 1989 with a degree in theatre and dance. 
It didn't take long for Pinkett Smith's career to get going, and by the mid-nineties, she had appeared in several successful films, including Demon Knight, Jason's Lyric, A Low Down Dirty Shame.
With the release of the 1996 film, The Nutty Professor, Pinkett Smith reached the next phase in her career, and critics and audiences everywhere began recognizing her name. A few of Pinkett Smith's other major roles over the next few years included The Matrix Reloaded, The Matrix Revolutions, Ali, Kingdom Come, and Bamboozled.
She has also worked in animated films and lent her voice to the highly successful film Madagascar, as well as the multiple sequels. 
Jada Pinkett Smith has been involved in music
In addition to acting, Pinkett Smith has had a successful musical career. She formed the metal band Wicked Wisdom in 2002 and along with her three bandmates, released a debut album in 2006.
The band became quite successful and Pinkett Smith's group even toured with hot acts like Sevendust and Britney Spears. She even played at the popular Ozzfest music festival in 2005, earning legions of new fans.
Pinkett Smith has proven herself to be a savvy businesswoman and has invested in startups such as Carol's Daughter haircare and even created her own clothing line in the early nineties.
Along with her husband, Will Smith, Jada Pinkett Smith has given a lot of her time and resources to charitable efforts, proving that she cares a great deal about her community and the world at large.
What is Jada Pinkett Smith's net worth?
In early 2018, Pinkett Smith launched her web series "Red Table Talk." The series primarily features Pinkett Smith, her daughter Willow Smith, and her mother, Adrienne Banfield-Norris, discussing current issues and topics that affect women all over the world.
Pinkett Smith also welcomes guests to the red table, and her episode with family friend Jordyn Woods was one of the series' most popular episodes. Fans love the openness and honesty of the series and Pinkett Smith has managed to attract a whole new legion of fans thanks to "Red Table Talk."
Due to her overwhelming success in multiple industries, as well as her undeniable business savvy, Pinkett Smith's net worth is an impressive $50 million. While it doesn't quite touch Will Smith's estimated $350 million net worth, it is still an impressive figure, and proof that this celebrity couple's children definitely don't want for anything.