What Is Salma Hayek's Net Worth and What Is Her Background?
With her talent and charismatic style, it's easy to see how actress, businesswoman, and activist Salma Hayek has achieved such heights in her career. Although she started her career as an actress, she has branched out into directing and even launched her own businesses.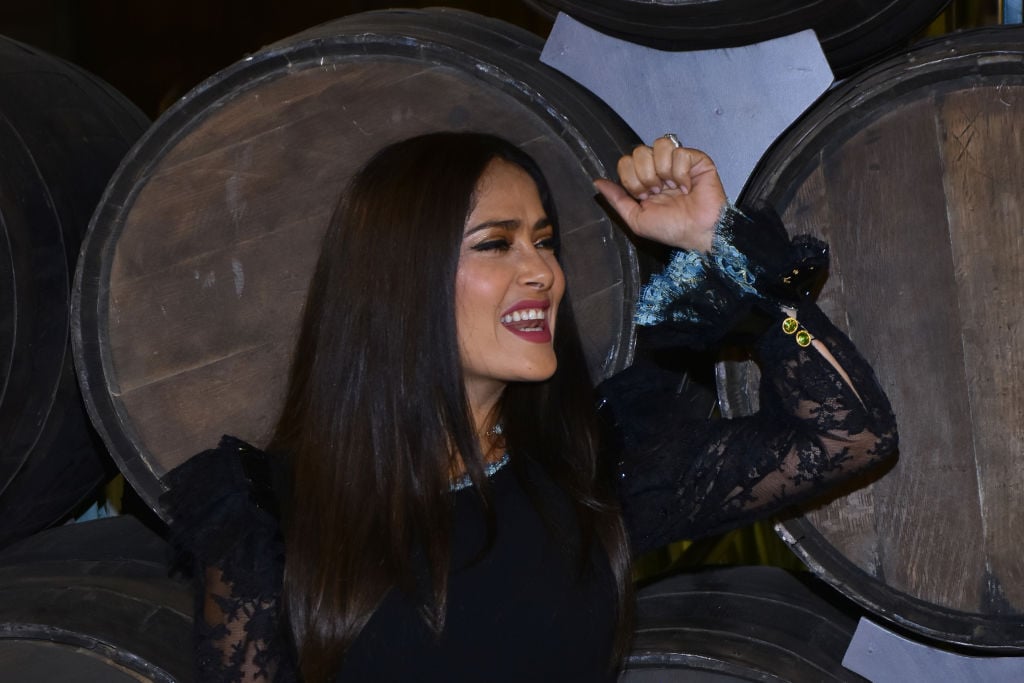 Find out the 53-year-old's net worth — plus more about her background.
Salma Hayek's business ventures
The actress has ventured into two businesses in particular that are close to her heart.
One was Hayek's Nuance line of skincare and makeup CVS stores sold until 2017. The line was very popular with customers but unfortunately seems to have been discontinued by the store chain. It can still be found for sale online.
She also launched in 2008 an organic juice line offering delivery to customers called Cooler Cleanse. Hayek wanted to offer customers fresh juices for three- to five-day cleanses.
"After [I do] a juice cleanse," she told Harpers Bazaar in September, "I'm motivated to eat healthier and not emotionally. Cleansing is like my meditation. It makes me stop, focus, and think about what I'm putting into my body. I'm making a commitment to my health and hitting the reset button."
On Cooler Cleanse's website, product's co-founder Hayek says, "I don't like to diet and I'm not good at it. Doing a Cooler Cleanse doesn't feel like deprivation. I'm flooding my body with nutrients from organic fruits and vegetables."
Salma Hayek's background
Hayek is of Mexican (her mother) and Lebanese (her father) descent. She raised controversy in 2012 when she told Vogue Germany, "I hardly remember what it is like to be a Mexican."
Latin Times said of Hayek in 2015, "Turns out, Salma Hayek is only Mexican when she wants to be." Once the uproar over Hayek's seeming denial of her heritage had settled, the actress issued a statement. "I have tried to represent my Mexican roots out loud and proud, I feel sadden (sic) because my words were misinterpreted."
The actress is also half Lebanese. In 2014, she produced the animated film The Prophet in honor of her grandfather, who she notes adored the book by Kahlil Gibran.
She issued a statement to Reuters in 2015 from Beirut where she was promoting the film. "Through this book, I got to know my grandfather, through this book I got to have my grandfather teaching me about life. For me, this is a love letter to my heritage."
"Between all the connections of our ancestors and the memories of the ones that are no longer with us, I hope they are proud of this film because I did it also for them."
Salma Hayek's net worth
The 52-year-old actress' net worth is $115 million. Combined with her husband's net worth of $7 billion, their combined net worth is $7.1 billion.
In April of this year, Hayek's husband and father-in-law pledged over $113 million in a non-tax deductible donation. This came after the fire that ravaged Notre Dame Cathedral in Paris. Hayek lauded her family on Instagram for their generosity in a bilingual post.
"Today more than ever I feel proud to be part of the Pinault family," she wrote. "Not only for their personal and heartfelt participation in the reconstruction of Notre-Dame de Paris but also because their contribution won't be claiming any tax deductions from the government."
"My husband and father-in-law are two generous French citizens, who sincerely understand the importance of this spiritual, cultural and historical treasure from Paris to the world."