What Is Steph Curry's Family Background?
NBA superstar Steph Curry is the only player in history to be named most valuable player by unanimous vote. How did he achieve such great success? His parents must have done something right.
What was his childhood like, to lead him to where he is today? We have the answers to all that, and more.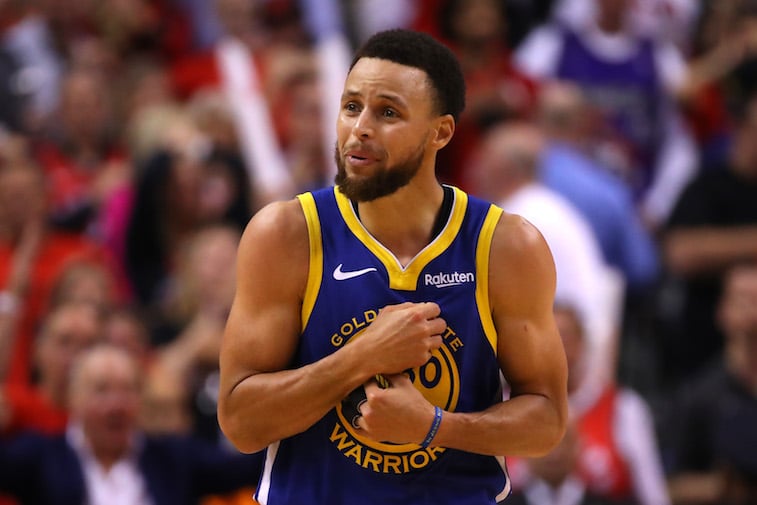 Athletic achievement runs in the family for Steph Curry
Wardell Stephen Curry II, or Steph, as he's usually known, is the son of Sonya and Dell Curry. Both his parents are big athletes. His mother was a noted volleyball star when she was in college at Virginia Tech. His father played in the NBA throughout Curry's childhood.
When Steph was born, his father was a member of the Cleveland Cavaliers, but most of his childhood was spent in Charlotte, North Carolina, where his father played for the Charlotte Hornets. That's not all: Curry has athletic achievement all over his family tree, going back as far as his great-great-great-grandfather.
Curry started playing basketball from about age 5 with his dad, and would often go to NBA games to watch his father play. There's no doubt that this is where his love for the game began.
The athletic spirit was also caught by his siblings. His sister, Sydel, plays volleyball at Elon University, and his brother, Seth Curry, plays basketball for the Portland Trail Blazers.
Athletic achievement must run in the family. It probably makes for interesting Thanksgivings. We can imagine the entire family gathering for an impromptu game, and what a sight that must be.
The competitive spirit must be in their genes. He even has an agreement with his mom to pay a fine for turnovers during his games. From the San Francisco Chronicle:
"Sonya came up with the idea of fining her son a few seasons ago, frustrated at watching him lose the ball too many times in one game. She checked with her husband, former NBA guard Dell, on what would be a reasonable number of turnovers to hold Stephen to per games; they settled on three. Anything more than that, he owes his mother $100 per giveaway. Anything under is subtracted from his total."
Steph Curry's childhood brushes with fame
Not only was Curry a regular on the benches at his father's games growing up, but he also had a couple notable experiences on his own. When asked on Twitter what his favorite childhood memory is, Curry responded with that time he got on stage with Kriss Kross at a concert.
That's not all, Curry also starred in a Burger King commercial as a kid. In an adorable peek into what life must have been like for the young Curry, he is shown walking down the street with his dad, telling him he wants to be a professional basketball player, just like dad.
His father then offers him a series of advice, concluding with, "You've got to be hungry for it." To which young Curry replies that he's hungry now, and can they go to Burger King?
Steph Curry's family life today
Curry is now married to his long time sweetheart, Ayesha Curry. Together, they have two daughters, 6-year-old Riley, and 3-year-old Ryan, and a son, almost 1-year-old Canon. The children can often be seen at their father's games, and press releases.
Is this the athletic torch being passed onto the next generation, right in front of our eyes? Give it 20 years, and we'll find out.