What Is the Age Difference Between Ellen DeGeneres and Portia de Rossi?
TV personality Ellen DeGeneres and Portia de Rossi are one of Hollywood's favorite couples. In a town where short-lived marriages, annulments, divorces, prenuptial agreements, and whirlwind romances seem to be the norm, they stand out from the pack. Though the couple wed in 2008 — soon after California legalized same-sex marriage — their love story dates way back.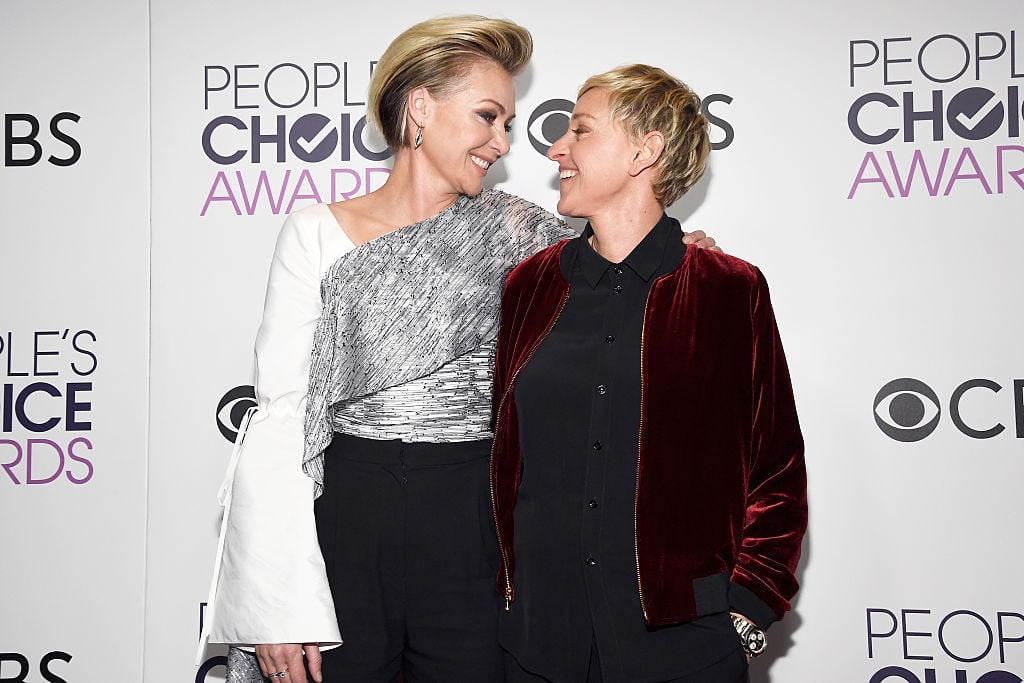 Ellen DeGeneres and Portia de Rosso met at a party in 2000; meaning, the two have nearly known each other for two decades. Oprah Magazine noted that Portia de Rossi knew Ellen was the one for quite some time before sharing her feelings openly.
Back in the early 2000s, Portia was a closeted actress in the hit show Ally McBeal, and she was afraid to come out and watch her sexuality come into conversation on a widespread public scale. However, years down the line, in 2004, their romance bloomed and met the public with pride. The two have remained quite the happy couple ever since. Yet, allegedly, there were a few hiccups a few years back.
The divorce rumors between Ellen DeGeneres and Portia de Rossi 
Around 2014 — yet before and after as well — rumors began to circulate that Ellen and Portia were headed for divorce. However, divorce rumors circulate this Hollywood couple like flies hover over fruit, and the two have denied such rumors, and continue to do so whenever they arise. 
Often, when rumors of marital troubles begin to circulate the couple, the age gap between the two also comes into conversation, as many believe large age gaps present marital challenges. However, these two, despite quite the gap, remain proof that love can happen between any two individuals — no matter the age difference. However, just how large is the age gap between Ellen DeGeneres and Portia de Rossi? 
The age difference between Ellen DeGeneres and Portia de Rossi 
Ellen DeGeneres — though you wouldn't know it given her youthful appearance and swift dance moves — is 62 years young. On the other hand, Portia de Rossi is 47. Thus, Ellen is 15 years older than the love of her life, Portia. And though fifteen years may seem like a lot to some, it's important to remember that other Hollywood couples boast much steeper age differences. 
Sam Taylor-Johnson (English filmmaker known for Nowhere Boy and A Million Little Pieces) and Aaron Taylor-Johnson (Avengers: Age of Ultron, Kick-Ass) are 19 years apart, and so are Amber Tamblyn (The Sisterhood of the Traveling Pants, Joan of Arcadia) and David Cross (Arrested Development). 
And, let us not forget that George Clooney is 17 years older than his wife, Amal Clooney. And of course, there's Katherine McPhee and David Foster; the latter has 34 years on his love. In short, From Ellen DeGeneres and Portia de Rossi to the Clooney family, age is just a number when it comes to finding love out there.