What Is the Age Difference Between 'Iron Man' Star Robert Downey Jr. and His Wife Susan Downey?
How much older is MCU star Robert Downey Jr. than his wife, Susan Downey, and how did the couple meet and fall in love? Full story here.
Robert Downey Jr. is best recognized as the face behind Iron Man — the actor responsible for kickstarting the Avengers saga and turning the Marvel Cinematic Universe (MCU) into the hugely successful franchise it is today. He also portrays a modern Sherlock Homles across from Jude Law's Watson, which will see its third installment in 2021. However, Robert Downey Jr. is also the co-founder of the production company, Team Downey, which he manages alongside his wife, Susan Downey.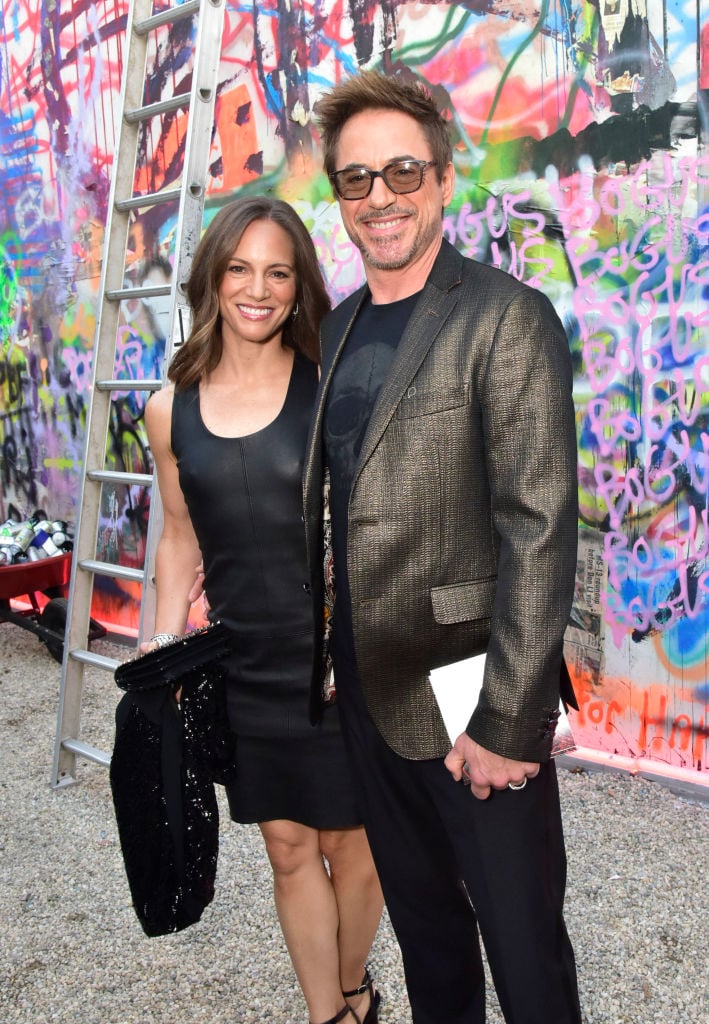 Robert Downey Jr.(RDJ) and Susan Downey boast a successful marriage and working partnership — two things that don't always bode well in Tinseltown. However, they have managed to stand the test of time. RDJ and Susan Downey wed in 2005; thus, they have been together for 15 years — an eternity under the Paparazzi's harsh and judgemental spotlight. 
How did Robert Downey Jr. and Susan Downey meet?
As the Hollywood Reporter notes, Robert Downey Jr. asked Susan Downey (then Susan Nicole Levin) out about three times before she said yes. The two met on the set of the 2003 Halle Berry-led thriller Gothica, which Susan Downey was producing for Joel Silver. Gothica was Susan Downey's first solo production gig, and she didn't wish to complicate matters by getting involved with one of the actors. 
Though hesitant, Susan Downey eventually agreed to a date (while working on Gothica), despite the fact that she and RDJ were from two very different walks of life. Susan Downey graduated Summa Cum Laude from USC, while RDJ was a high school dropout who found himself in the spotlight at a very young age — battling a severe drug problem throughout the 1990s. Susan Downey had one major request if they were going to be together: he had to give up drugs, and if he resumed his drug use, she would be out the door. Susan Downey is likely a large part of the reason RDJ beat his addiction. 
The old saying that opposites attract turned out to be truer than birds of a feather flock together for these two, and they are one of Hollywood's most beloved couples. Yet, RDJ does have a couple of years on his wife, which he may have needed to catch up to her maturity level. 
How much older is RDJ than his wife, Susan Downey?
Robert Downey Jr was born on April 4, 1965, making him 54 years old. His wife was born a handful of years later on November 6, 1973; she is 46 years old. Thus, Robert Downey Jr. is 8 years older than his wife, Susan Downey. And, this modest age gap seems to work perfectly for the pair. When you think of couples like George and Alam Clooney or Katherine McPhee and David Foster, the two might as well be the same exact age!
Robert Downey Jr. and Susan Downey have two children together — Avri Roel Downey and Exton Elias Downey. Avri Roel is five, while Exton Elias is eight years old. RDJ also has one child from a previous relationship, Indio Falconer Downey, who is 26 years old.