What Is the Age Difference Between Tony Bennett and Lady Gaga?
Tony Bennett has made his mark on the music industry forever thanks to his incredible songs and voice. And he's worked fantastically with Lady Gaga as well. Gaga and Bennett have a great working relationship — but there's quite an age difference between them. Here's what it is.
Tony Bennett is 94 years old
Bennett is 94 years old, and he has quite a legacy behind him. Biography notes he was born in 1926 and was first discovered way back in 1949. Then, he was spotted by Bob Hope, and he advised Bennett to take on the name "Tony Bennett" and ditch his stage name, "Joe Bari." Bennett then took part in Hope's road show, and the rest is history.
Bennett found most of his success early on, and he had trouble finding a receptive audience when he returned to music in the '70s. Thankfully, his oldest son, Danny, was there to help. Danny became his father's personal manager, and by the '80s, Bennett was back in the spotlight after signing with Columbia Records.
Sadly, it was announced in February 2021 that Bennett has Alzheimer's disease. "We came home one night after the show and he says, 'Susan, I can't remember the musicians' names," his wife, Susan Crow, said on CBS This Morning, according to Entertainment Tonight. "And I just chalked it up to him being, at the time, late 80s, we forget things. And he said, 'No, no, this isn't right.'"
Despite the disease, Crow added that Bennett is still singing, and she'll take care of him the best she can.
Lady Gaga is only 34 years old — 60 years younger than Tony Bennett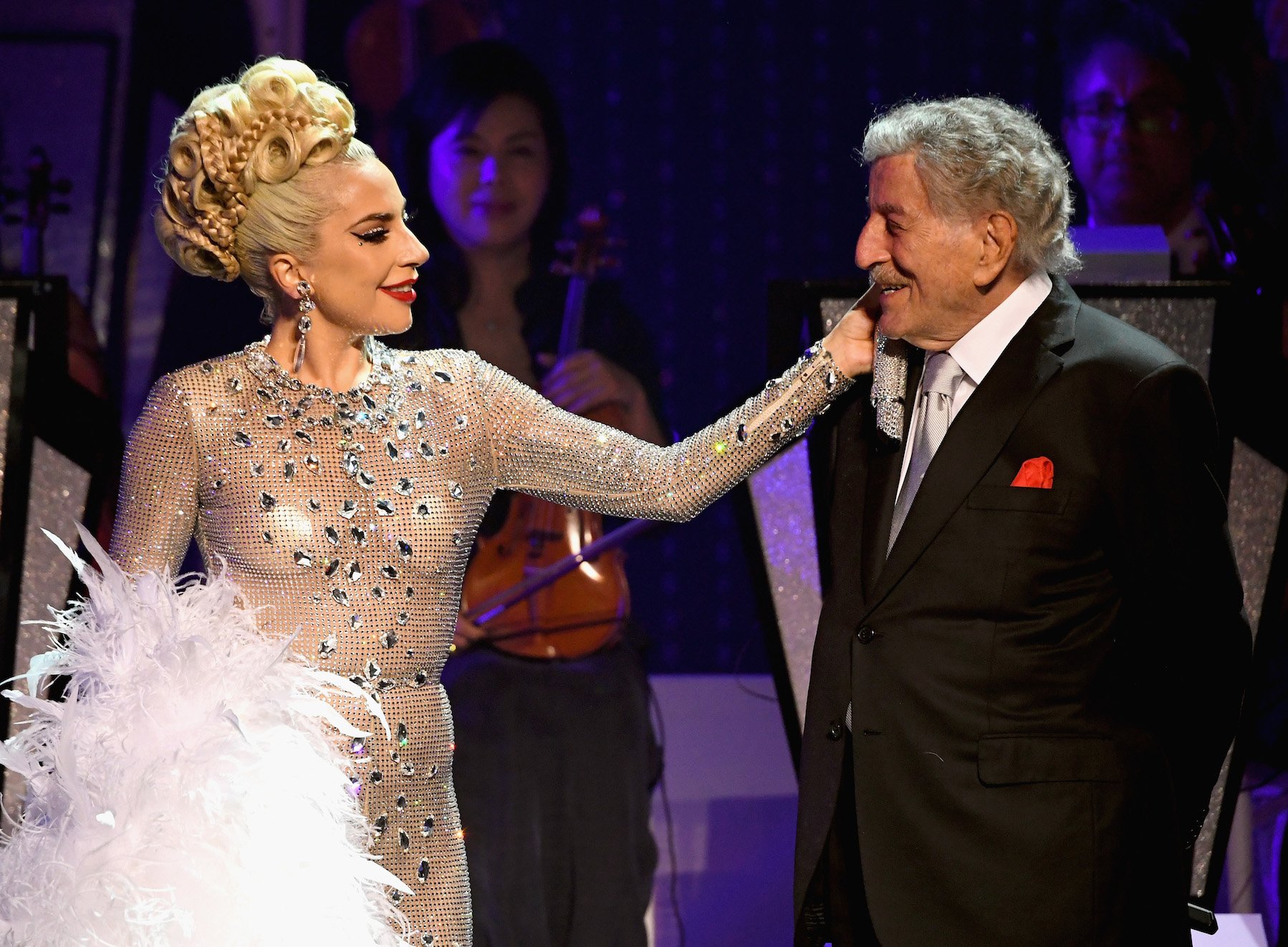 While Bennett is 94, Gaga is only 34 years old — a whopping 60 years younger than Bennett. And they first met when Gaga was in her 20s. Gaga was performing in 2011 at the Robin Hood Foundation charity gala, and Bennett approached her after hearing her voice.
"When we were there, I sang a jazz song, 'Orange Colored Sky,'" Gaga explained to People. "Tony heard me sing it, and he asked to meet me after the show. And I said, 'Oh my gosh! Tony Bennett's here!'"
Gaga was, of course, extremely nervous to meet Bennett and connect with him about music. "I fixed my hair, and my mom was fixing her makeup, and then we went back to meet him," Gaga added. "He said, 'Do you want to do a jazz album together?' And I said, 'Yes, of course I do!'"
Now, the two have another album coming out to follow their 2014 hit album, "Cheek to Cheek."
Before announcing the new album, Danny wanted to make sure Gaga was OK with it. "I wanted to check with her to make sure she was cool, because she watches his back all the time," Danny said, according to Variety. "She was like, 'Absolutely, it's just another gift that he can give to the world.'"
Tony Bennett's wife, Susan Crow, is closer to Lady Gaga's age
It looks like Bennett's wife is closer to Gaga's age than she is to her husband's age. Crow is 54 years old, so 40 years younger than Bennett and 10 years older than Gaga.
While the age difference between Crow and Bennett may be shocking to some, they've been able to laugh about it. According to Bennett, he met Crow when she was in the womb, as he first met her mother when she was pregnant.
"As fate would have it, Marion was pregnant at the time with … Susan!" Bennett wrote in his autobiography, Just Getting Started. "It's a photo we all laugh about [now], knowing the incredible turn of events that followed."
We're wishing Bennett and Crow the best as they navigate their current circumstances. And we're looking forward to music from Bennett and Gaga!
Check out Showbiz Cheat Sheet on Facebook!