What Is the BTS Fan Chant?
Although BTS postponed (and canceled) some dates for their Map of the Soul tour, some fans are still looking forward to more live performances with this group. A large part of that is the fan chants, a way for attendees to get involved with their music. What is the BTS official fan chant? Here's what we know about this K-pop group.
What is the official BTS 'fan chant?'
If you've gone to a BTS concert, (or stumbled upon a fan cam of the idols,) chances are, you've heard fans screaming along as the boys performed. This is what's referred to as a "fan chant" by members of the K-pop community, and they normally take place during the beginning of, typically, upbeat songs.
At the start of songs like "DNA," "Idol," "Boy With Luv," and "Save Me," fans chant the names of the members, in the order: "Kim Namjoon! Kim Seokjin! Min Yoongi! Jung Hoseok! Park Jimin! Kim Taehyung! Jeon Jungkook! BTS!"
Depending on the song, the fan chants vary in their placement and their words. Usually, the name of the group "BTS" is shouted throughout the song. Some suggested that for live performances of "On," fans should shout "hey, hey, hey, hey, let's go," because that is what the dancers said during their rehearsal. They have yet to perform that song in front of an audience, though.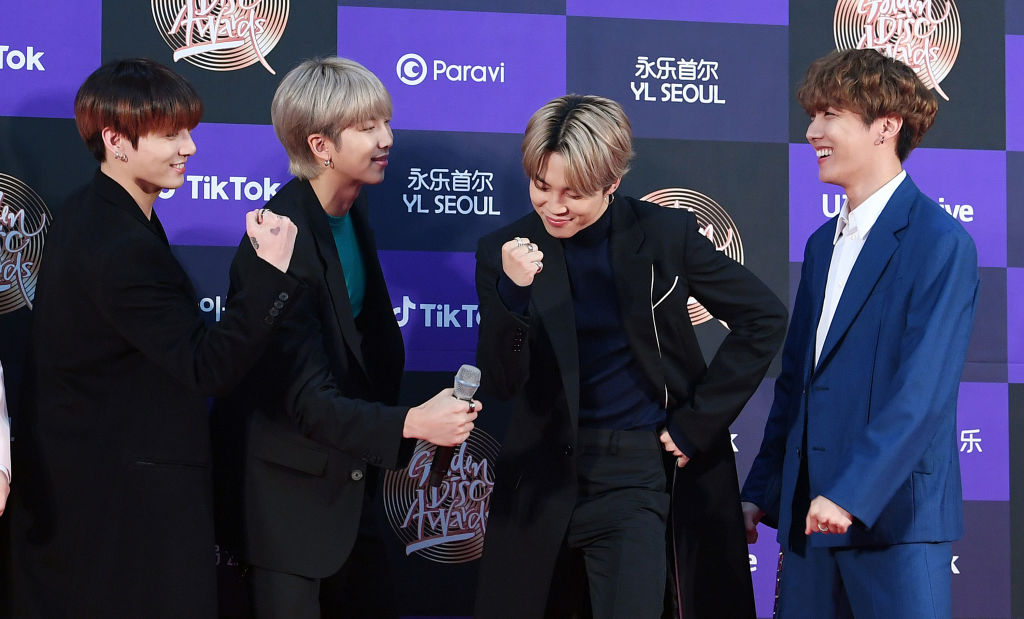 Justin Bieber posted a video of himself doing the BTS fan chant
A few surprising ARMY members shared their version of the BTS fan chants. That includes Justin Bieber, who once posted a TikTok lip-syncing to the BTS members' name. The video eventually made it to Instagram, where viewers were quick to notice this performer as a fan of the K-pop group. 
Fans are most likely to hear these chants during live performances by this award-winning boy band. That even includes award shows like the Billboard Music Awards and, potentially, future concerts along with the Map of the Soul tour.
'Fan Chants' are a large aspect of the K-pop community
BTS may be one of the most popular worldwide. However, this boy band isn't the only K-pop group with fan chants, light sticks, and incredibly supportive fans. Groups like EXO, SHINee, and TWICE each have personal fan chants for some of their popular, upbeat songs.
Although oftentimes overlooked by award shows, K-pop idols and their fans are a force to be reckoned with. From record-breaking tweets to fan-purchased billboards for K-pop idols' birthdays, fans of these boy bands and girl groups prove their tenacity and support. And the number of K-pop fans is only growing every year.
One article from The Conversation states that "The Korea Foundation (which is affiliated with Korea's ministry of foreign affairs) recently estimated the number of fans of Korean pop culture in general to be 89 million across 113 countries. BTS was the first Asian act to surpass 5 billion streams on Spotify."