What is the Net Worth of 'The Walking Dead' Daryl and Carol Spinoff Stars, Norman Reedus and Melissa McBride?
Daryl Dixon and Carol Peltier are The Walking Dead universe's favorite non-couple. Over the years, the characters have evolved, and their portrayers, Norman Reedus and Melissa McBride, have grown in fame and fortune. Here's what is coming up next for the duo, and a peek at the stars' individual net worth.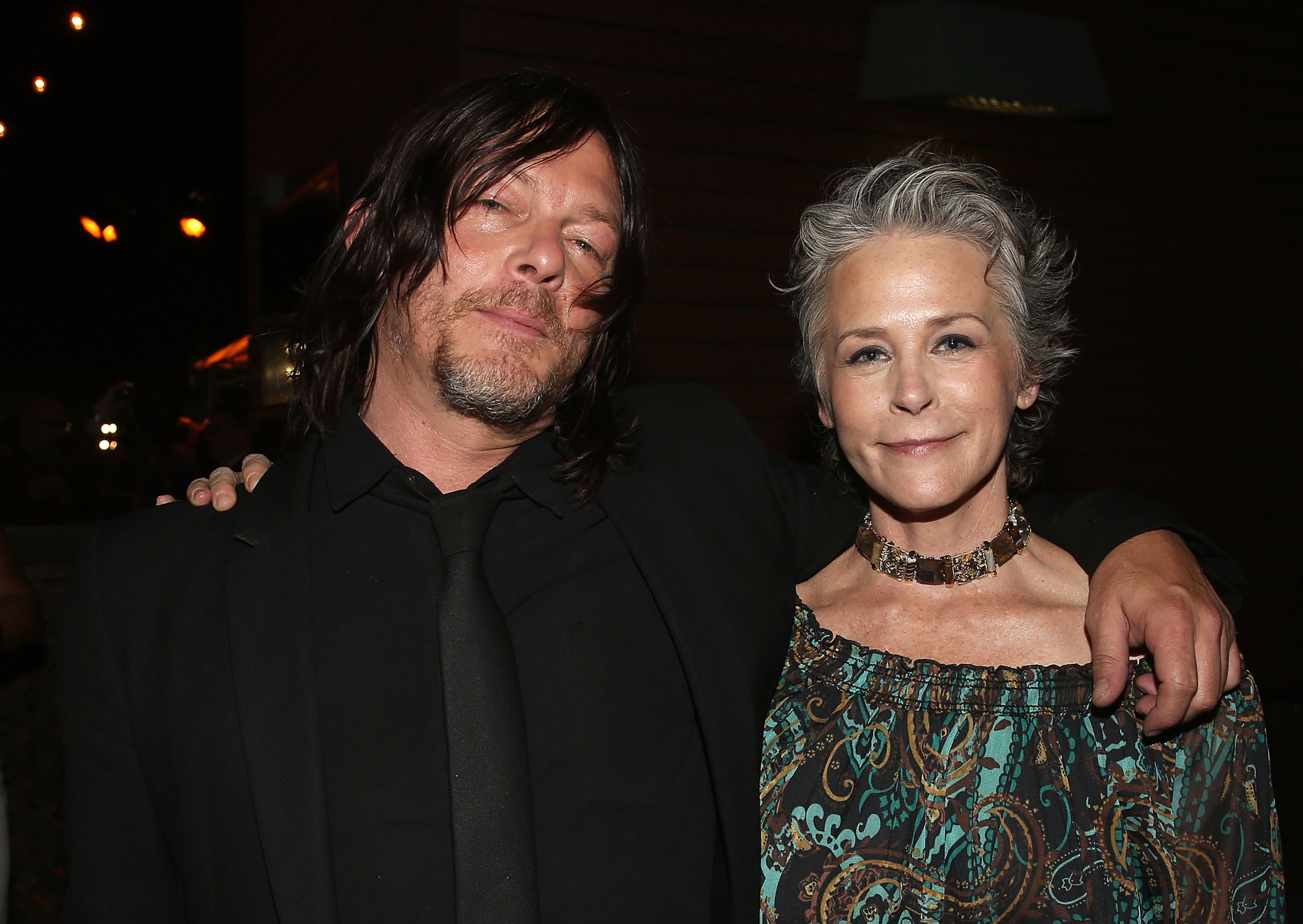 'The Walking Dead' dream team Daryl and Carol became a TV super-non-couple
To the dismay of loyal shippers, Daryl and Carol have remained platonic pals over the course of 10 Walking Dead seasons. But their long-time friendship is deep enough to rival any on-screen romance.
In season 1, the characters began as unlikely allies, thrown together as survivors in a mishmash group. Carol was a meek housewife who had experienced domestic violence, even in the midst of the zombie apocalypse. Daryl was a prickly outsider with few friends aside from his racist, misogynistic elder brother. On the surface, Daryl and Carol seemed to share few, if any, commonalities. But both characters appeared to appreciate being part of a cohesive group.
Season 2 brought a personal tragedy for Carol. Her daughter, Sophia, attempted to evade walkers but ultimately became lost in the woods. Initially, the group zealously searched for the young girl, but as time passed, they slowly accepted the grim truth that Sophia was likely gone forever.
Daryl was the sole group member to continue searching for Carol's daughter, despite the unlikelihood of her rescue. But episode 207, "Pretty Much Dead Already," revealed Sophia's fate.
Sophia had been bitten, died, and transformed into a ravenous corpse. Although Carol was heartbroken, the resilient act of compassion shown by Daryl in his relentless efforts to find her daughter cemented a bond between the two lonesome souls.
Since then, Carol and Daryl have traveled, fought, lived, and grieved together. Their respect, loyalty, and adoration for each other have caused a large camp of viewers to root for them to become a couple. It remains to be seen whether they will ever be more than just friends, but fans can be assured that the comrades will definitely remain linked on screen for the foreseeable future.
The twosome will lead a spinoff on AMC
Insiders from The Walking Dead stopped by New York Comic-Con to dish details about what to expect next from the series. Co-stars Jeffrey Dean Morgan, Khary Payton, and Paola Lázaro joined McBride and Reedus on the panel. Showrunner Angela Kang and Walking Dead Universe Chief Content Officer Scott M. Gimple also appeared, with Chris Hardwick moderating.
The team confirmed that the spinoff series featuring Daryl and Carol will premiere sometime after the 24-episode 11th and final season of The Walking Dead. "I think it's great that people are getting excited and have something to look forward to," said McBride about the upcoming show. "Daryl and Carol do have a lot of fans out there that have even talked about how fun it would be to see them have a spinoff."
Norman Reedus and Melissa McBride have amassed considerable wealth
On The Walking Dead, Daryl and Carol survive with meager accommodations. However, it appears that their portrayers can afford much more lavish lifestyles. Celebrity Net Worth estimates that McBride's personal fortune amounts to $3 million. Reedus, who headlines another AMC series, Ride, rakes in a whopping $1 million per Walking Dead episode and is worth an estimated $25 million, according to the source.
The final season of The Walking Dead is coming soon to AMC, and the Carol and Daryl-centered spinoff is on the horizon. With that in mind, both McBride and Reedus have the potential to build their fame and fortune to even greater heights.
Follow Erika Delgado on Twitter.