What is U2 Singer Bono's Net Worth and Why Does He Always Wear Tinted Glasses?
When the internationally acclaimed Irish rock band, U2, took its place on the world stage in the 1980s, its lead singer Bono could never have dreamed of the achievements he would accomplish thanks to his fame.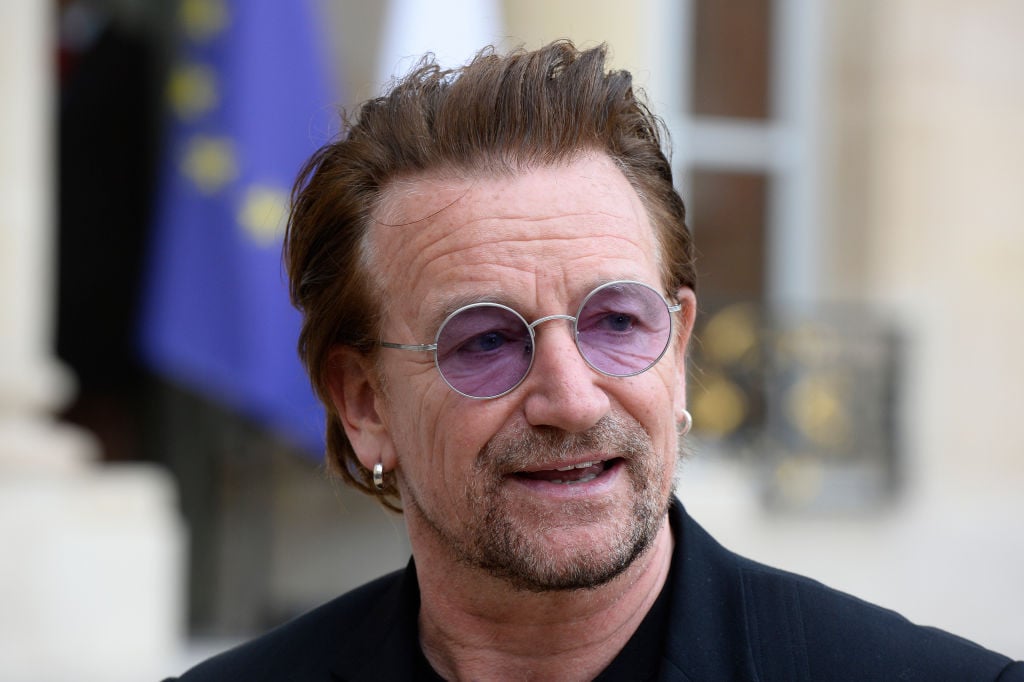 Not only has Bono (his full name is Paul David Hewson) cemented his place as a member of one of rock music's most successful and legendary bands, he is also known as a humanitarian, peacemaker, and activist, most recently for those suffering with AIDS.
Here's what we know about Bono's net worth, plus find out why the singer is always wearing tinted sunglasses.
How Paul became Bono
The Dublin-born singer joined U2 in 1976, during his high school years and was called 'Bono Vox' (which means good voice) after the neighborhood hearing aid store. Thanks to his theatrical stage presence and his voice, he was made the lead singer of the band.
Bono seems to have inherited his father's love of song and drama, as his father enjoyed listening to opera music and even sang it as a hobby. In U2's 2005 song, Sometimes You Can't Make It On Your Own, he credits his father for instilling song into his life.
"The song was dedicated to him and it's a portrait of him – he was a great singer, a tenor, a working-class Dublin guy who listened to the opera and conducted the stereo with my mother's knitting needles. He just loved opera, so in the song, I hit one of those big tenor notes that he would have loved so much. I think he would have loved it, I hope so."
Why he always wears sunglasses
In a 2005 Rolling Stone interview, he said "[I have] very sensitive eyes to light. If somebody takes my photograph, I will see the flash for the rest of the day. My right eye swells up. I've a blockage there, so that my eyes go red a lot. So it's part vanity, it's part privacy, and part sensitivity."
On The Graham Norton Show in 2014, the With Or Without You singer opened up about the glaucoma that has made his eyes much more sensitive to light. Glaucoma is caused by a buildup of pressure in the eyeball which can damage the optic nerve and lead to blindness if not treated.
"This is a good place to explain to people that I've had glaucoma for the last 20 years. I have good treatments and I am going to be fine."
Bono's net worth
Bono has a net worth of $700 million according to Celebrity Net Worth.
At one point, a rumor swirled claiming that Bono, on the board of the private equity firm Elevation Partners, was now a billionaire. The rumor was due to an alleged investment he had made in Facebook. This was not the case, although $700 million is a tidy amount of money as well.
Bono has said: "As a rock star I have two instincts. I want to have fun and I want to change the world. I have a chance to do both."
Read more: 1980s Musicians You Probably Didn't Know Were Still Making Music