What Is V From BTS' Birth Chart and Zodiac Sign?
He's one of the most eccentric and silly members of this K-pop group, but he also knows when to be serious and focused. What makes this singer so unique? Here's a look into the birth chart and zodiac sign of BTS member, V, also known by his real name, Kim Taehyung.
V's sun sign, also known as his 'zodiac sign,' is Capricorn
V was born on Dec. 30, 1995, which makes his zodiac sign Capricorn, along with celebrities like Timothée Chalamet, John Legend, Orlando Bloom, and Michelle Obama. Capricorns are known for being ambitious, hard-working, disciplined, and persistent, which are definitely traits needed to be in the biggest boy band in the world.
This singer released his solo song and video, titled "Winter Bear," entirely in his second language, English. About a year later, the BTS members released their all-English song, "Dynamite," which earned them their first Billboard No. 1 on the Hot 100 chart.
In terms of all 4 elements, V is mostly a fire sign, according to astrotheme.com, which is definitely where he gets his passion for music, photography, and film. That could also be where his argumentative side comes from. (When asked by James Corden who are the members most likely to get in an argument, BTS said Jimin and V.)
RELATED: Jimin From BTS Finally Puts the 'Dumpling Incident,' Mentioned During 'The Late Late Show With James Corden,' to Rest
V's moon sign is Aries
Because fans have the location of where V was born, (Daegu, South Korea,) there's a pretty clear picture regarding the rest of his birth chart. In terms of this performer's moon sign, which helps to describe this performer's inner emotions, V is an Aries.
For people whose moon is an Aries, according to astrotheme.com, they like things moving very quickly. Their "vivid imagination" triggers the enthusiasm needed to succeed, which totally describes this K-pop performer. That's especially true for when he's writing and performing his solo music.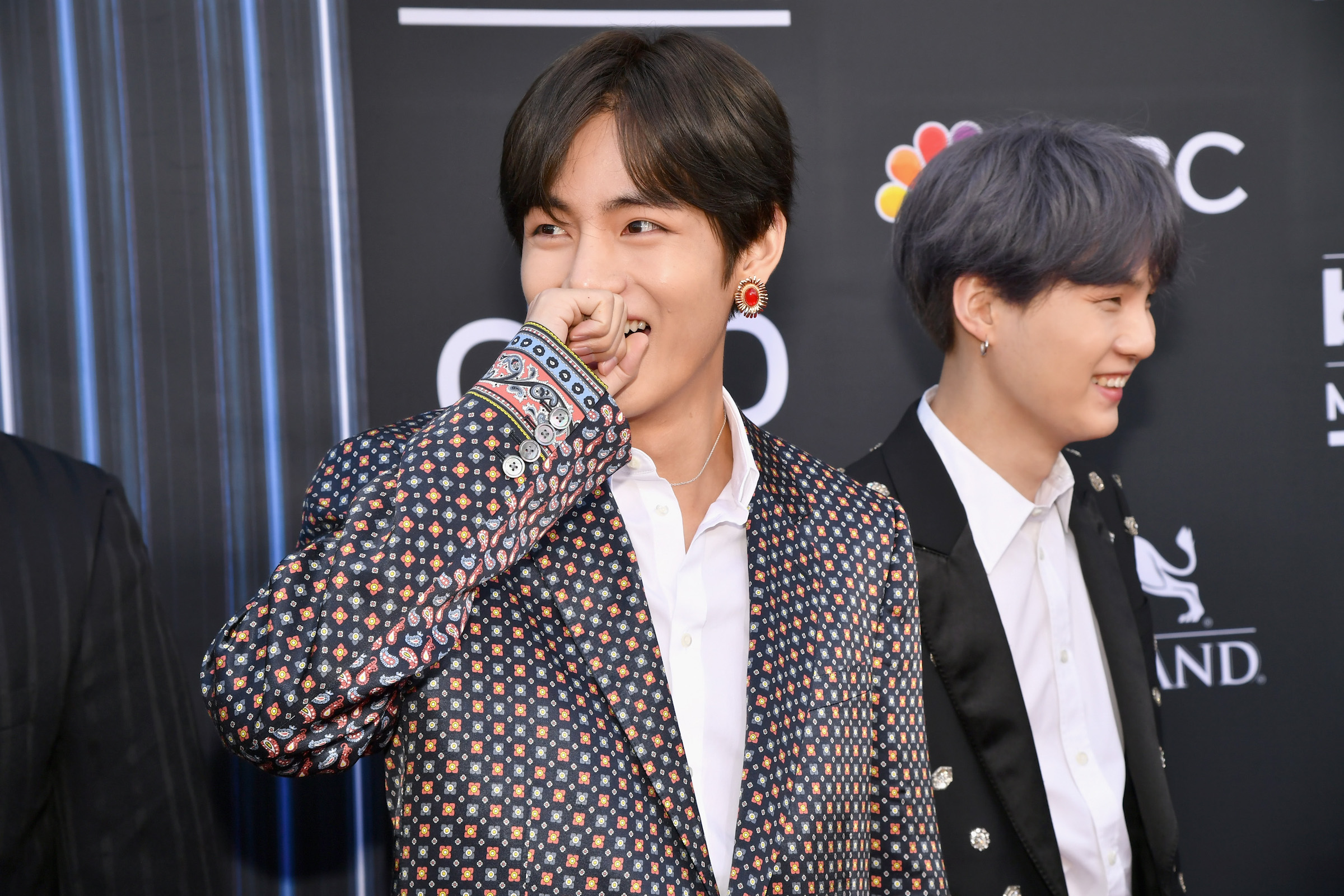 What is V's rising sign?
It's not just the sun and moon sign that dictates a person's traits. A person's ascendant, or rising, sign typically explains how a person behaves socially. For Kim Taehyung, that rising sign is Saggitarius.
That's where his extroverted, fun-loving side comes from. When it comes to who is the most eccentric and unique of the BTS members, fans often cite V. From not wearing shoes to running around with his dog, V's social side and bubbly personality is contagious.
Astrotheme.com states that if a person is born under this rising sign, they are typically "charismatic, fiery, energetic, likable… extroverted, amusing, straightforward, demonstrative, charming, independent, adventurous, straightforward, bold," and exuberant."
Music by V is available on YouTube. The "Dynamite" music video is now available on YouTube. Music by BTS, including their recently released album, Map of the Soul: 7, is available for streaming on Spotify, Apple Music, and most major platforms.
RELATED: Is Jungkook the Last BTS Member to Create a Solo Song? Here's What We Know About 'Still With You' and the Mixtapes of These K-Pop Idols