What Is Vanilla Ice's Real Name?
There are a lot of musicians who skyrocketed to fame on the back of one hit single, going on to become known as a one-hit wonder. While Vanilla Ice might not technically deserve "one-hit wonder" status, his music career never really took off after his sudden popularity in the early 90s.
Fans adored the iconic "Ice Ice Baby," and enjoyed a few of Ice's later singles as well. The star will forever be known for that one song, however, and the interesting nickname that still makes us chuckle today. The origins of that nickname are pretty funny, although the former rapper was dead set against it from the start. 
What is Vanilla Ice's real name?
Vanilla Ice's real name is Robert Van Winkle. He was born in Miami and spent some of his childhood there. He later moved to Texas, where he attended high school. The rapper's father was a music teacher–although he enjoyed music as a child, it wasn't always his ambition to pursue it as a career.
As a kid, Vanilla Ice loved motocross, and began competing in races at just eight years old. When he was a teenager, he became interested in breakdancing. It was his breakdancing, in fact, that led to the iconic nickname.
When he was 14 years old, his friends came up with the nickname "Vanilla Ice" based on one of his breakdancing moves. The "vanilla" part stemmed from the fact that he was the only white kid breakdancing in his neighborhood. "Ice" was what his friends called a move that looked like his body was sliding across ice. His friends would say "Yo Vanilla, do the Ice!"
According to Yahoo!, Vanilla Ice recalls the dance move being rather painful at times, "It was a very painful move, because I would have to be on kind of my head, the side of my ear, and shoulder, but if I had a beanie hat on it would work, but without it, you'd scrape the side of your ear and the side of your face."
What is Vanilla Ice's net worth?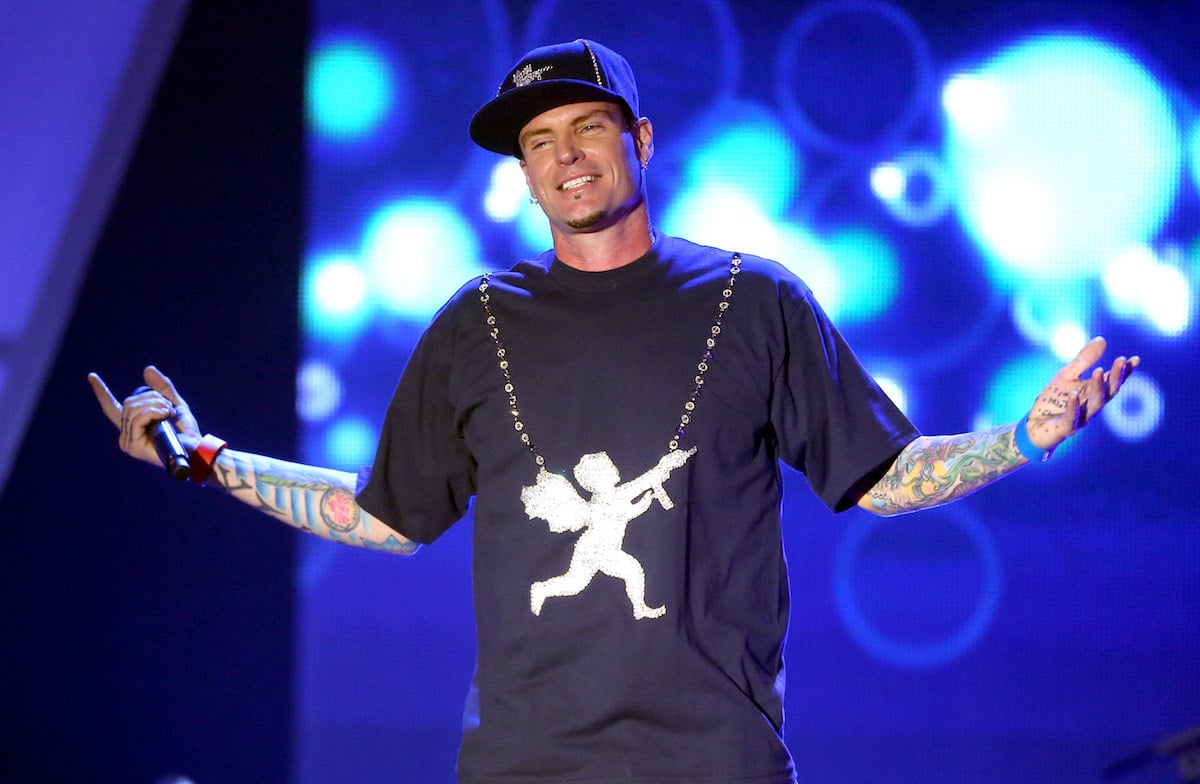 Before becoming a rapper, Vanilla Ice became known around the club scene for his dancing. He frequented a club called City Lights in Dallas, where he eventually caught the eye of his manager, Tommy Quon.
In 1989, Vanilla Ice released the hit that would turn out to be the most memorable of his career. "Ice Ice Baby" was a single from his first album, Hooked. The song uses the bass line from the classic "Under Pressure" by Queen. SBK Records heard the single and offered him a contract.
In 1990, he signed with their label and released To The Extreme, which also featured "Ice Ice Baby." The song and the record topped the charts, and Vanilla Ice became wildly popular across the country. He enjoyed a brief stint on the big screen with a cameo appearance in the 1991 film, Teenage Mutant Ninja Turtles: Secret of the Ooze.
Later that year, Vanilla Ice's second single from To the Extreme was released. Again, he borrowed content from an older song — his version of "Play That Funky Music" topped out at number four on the charts and helped his album sell seven million copies.
Vanilla Ice continued to make music, and starred in the 1991 film, Cool As Ice. The film was a flop and his music career never really took off again like it had in the beginning. He had legal and personal battles, including problems with drugs. According to Celebrity Net Worth, Vanilla Ice's net worth is $12 million.
Is Vanilla Ice married?
By 1995, Vanilla Ice had seemingly tired of trying to make it in the music business. He took a break from the industry all together, focusing his attention on jet skiing. He competed frequently and became ranked sixth in the world, and received Kawasaki sponsorship.
Vanilla Ice settled into married life in 1997, with new wife Laura Giaritta. The couple had two daughters, Dusti Rain and KeeLee Breeze. The couple was officially divorced in 2019, but the court battle continued long after. During the divorce proceedings, Giaritta filed paperwork proving his various sources of income and assets.
According to DailyMail, Giaritta reopened the case just months after the divorce was final because two of her monthly payments fell short of the amount stated in the judgment. The former rapper had a monthly income of around $68,000, plus $3 million of liquid assets, 15 properties, eight cars, and a boat. The judge ordered him to pay Giaritta $110,000 in back payments, plus $10,500 a month for life.
Vanilla Ice's response to the allegations was that it was a glitch, "'It's being paid,' Vanilla Ice said in a text message. 'It was an auto-pay glitch. All this for a couple hundred dollars?'"Giaritta told the courts that the star had always been tight-fisted with their money, not allowing her any control over it.
The former rapper has moved on, despite the messy divorce. He is living with his current girlfriend and the couple recently had a baby. Vanilla Ice is keeping his private life very private, but seems to be very happy and enjoying spending time with his daughter.
RELATED: Why Madonna's Provocative Book Ended Her Relationship with Vanilla Ice