What Jennifer Aniston Really Thought About Brad Pitt the First Time They Met
Once upon a time, Jennifer Aniston and Brad Pitt were Hollywood's hottest couple. She was America's sweetheart and the star of the biggest sitcom on TV. He was a top box office attraction thanks to films like Fight Club, Ocean's Eleven, and The Mexican.
It's no secret that the couple's marriage didn't last. But how did things start out between Pitt and Aniston? What did she really think of the Oscar winner the first time they met?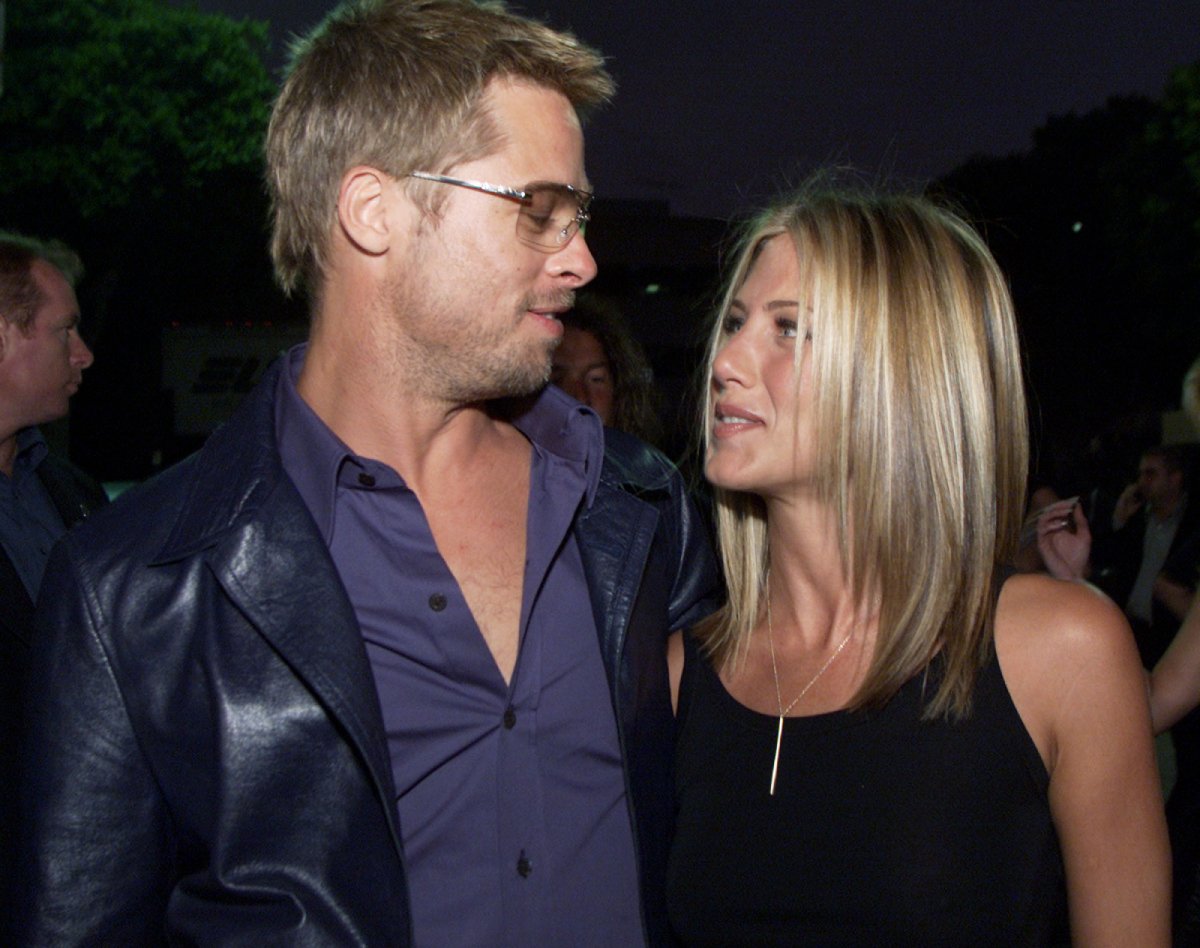 Jennifer Aniston had jitters before her wedding to Brad Pitt
Aniston and Pitt dated in secret for months before they went public with their relationship at the 1999 Emmy Awards. They eventually tied the knot in July 2000 in a lavish ceremony in Malibu in front of family and friends.
The Emmy nominee admitted to Rolling Stone in 2001 that she was nervous before walking down the aisle.
"I had those typical jitters the day before my wedding," Aniston recalled. "But the day of, I was just excited in a good way. The nice thing about weddings now is it's not just a chick thing. It's a team effort. The stereotype used to be men grumbling, like, 'Why are you making me do this?' There's nothing more moving than seeing a man cry at his own wedding."
She went on to say that her friends were all supportive of the match. This was especially true when they "found out what a loving human being Brad is."
The actress also noted at the time that it was nice to know they were "there for the long haul." She said it was a "beautiful thing" to realize for the first time that no one could say "screw you, I'm outta here" after an argument.
"It takes the heat and the weight out of things," Aniston confessed.
She got the blame for the end of the marriage
By 2004, Aniston was on top of the world. Friends was coming to an end after ten seasons. And she was ready to take things slow, do some traveling, and start a family with her husband. At that time, Pitt and Aniston had only been married for three-and-a-half years. They had also just completed a massive renovation on the Beverly Hills mansion that they bought together.
"It's time. It's time. You know, I think you can work with a baby, I think you can work pregnant, I think you can do all of it. So I'm just truly looking forward to slowing down," Aniston told The Guardian in February of that year.
But just three months later, Aniston's plans for a future with Pitt disappeared in the blink of an eye. It was in May of 2004 that Pitt met Angelina Jolie on the set of Mr. and Mrs. Smith. Seven months later, Aniston and Pitt announced their separation. But in their joint statement, the couple denied it had anything to do with the rumors swirling about Pitt and Jolie.
It didn't take long, though, for cameras to catch Pitt and Jolie together in exotic locations. And he seemingly took on a paternal role with her adopted son, Maddox. Meanwhile, the tabloids blamed Aniston for the split, accusing the actress of focusing on her career over starting a family.
Jennifer Aniston and Brad Pitt have come full circle in their relationship
Sixteen years after the sudden and heartbreaking end to their marriage, Pitt and Aniston are friends once again. Both have gone through other marriages and divorces since they split. Hers was with Justin Theroux, his with Jolie. Their relationship now appears to have come full circle.
Pitt was a guest at Aniston's 50th birthday party in February 2019. And, the duo nearly broke the internet at the SAG awards in January 2020 when cameras caught them backstage together. In September 2020, both Aniston and Pitt participated in a charity table read of Fast Times at Ridgemont High, and the two had nothing but kind words for each other.
This reflects the way their relationship started out back in 1994. The two met casually through their managers. And she remembers exactly what she thought have him in that moment.
"He was just this sweet guy from Missouri, you know?" she recalled. "A normal guy."
Nearly 30 years later, the global superstar is far from "a normal guy." However, insiders told Us Weekly that the former couple are still friends who "have a wonderful connection that might seem flirtatious at times." However, the source made it clear that things between Pitt and Aniston are "purely platonic."