What Jerry Seinfeld Said To His Co-Stars Before Their Last Episode: 'We All Began To Weep'
The NBC sitcom Seinfeld aired its last episode in May 1998. One of television's most iconic comedies, the "show about nothing" created by Larry David and Jerry Seinfeld made household names of cast members Julia Louis-Dreyfus (Elaine Benis), Jason Alexander (George Costanza), and Michael Richards (Kramer).
When the 20th anniversary of the series finale rolled around in 2018, some of the show's producers and co-stars reflected on the ninth and final season of Seinfeld.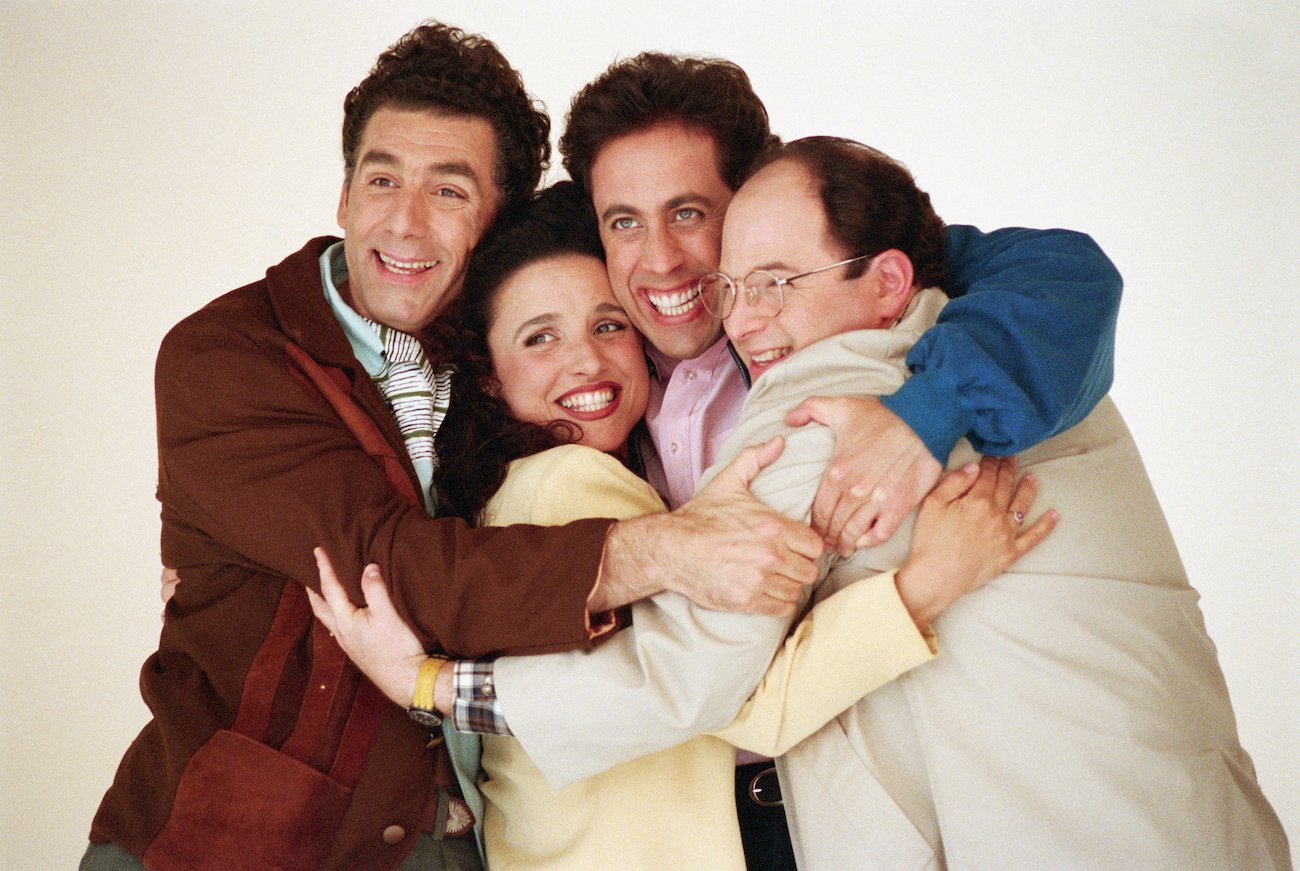 'Seinfeld' cast members are still grateful for the show
Before Seinfeld came calling, Alexander was making ends meet with acting gigs on stage. Once he became George Costanza, his career went into overdrive.
"I was making a very nice living. I was working in the theater in New York, which was the end all, be all for me," Alexander told Variety in 2018. "Then Seinfeld came and opened up this whole new world of recognition, of financial security. It opened doors to other opportunities that I might never have gotten … I am welcomed everywhere I have ever been like long-lost family. "
Playing the lovable oddball Kramer, Richards remains humbled on how his character is still embraced by fans.
RELATED: 'Seinfeld': Jason Alexander Says Fans Are Always Surprised to Learn This About Him
"Every time I go out … I hear about the show, because it's running all over the world and here in this country," he remarked. "Twenty years goes by, but it's still 'Hi, Kramer!' And it's always a good cheer and a tip of the hat my way for how much they love this character and the show."
Co-stars have delayed reaction to ending 'Seinfeld'
Despite the knowledge that the show was coming to a close, Richards didn't fully register the ending of the Seinfeld era for years.
"I was out the door fast, and my bags were packed, so to speak. It didn't really hit me until much later, really," Richards revealed. "I would have to even say maybe a few years later … to catch up with it all. I just realized gratitude and was just really in awe of what we had accomplished."
Alexander was also slow to process the finality of Seinfeld's ending but agreed that the timing was right.
"The reality of it didn't strike me until August when we normally would've gone back to work and suddenly we weren't going to work," the Seinfeld star admitted. "We have never looked back with any regret on ending the story of the show when we did. We all think that was a very classy exit. What I think we all regret is putting an end to that family."
Jerry Seinfeld speaks in the 'circle of power'
Alexander described a ritual the four cast members would take part in before cast introductions at the beginning of each taping. For the series finale, the tradition got emotional.
"We'd be back behind the set — just Julia, Michael, Jerry, and myself — and we would do this ridiculous thing called 'the circle of power,' which was nothing more than the four of us kind of huddling up and going, 'Have a good show,'" Alexander recalled. "On our final introduction … we got into the circle of power and Jerry said, 'I just want to say something to you guys…' Already this has a serious tone, which is unexpected."
The Seinfeld actor revealed some heartfelt words that the series namesake shared with his three main co-stars.
RELATED: Jerry Stiller Keeps Julia Louis-Dreyfus Cracking Up in This Iconic 'Seinfeld' Scene
"He said this really beautiful thing," Alexander explained. "He said, 'For the rest of our lives when anybody thinks of one of us, they will think of the four of us. And I can't think of any people that I would rather have that be true of.'"
Seinfeld's cast mates were overcome with emotion at the sentiment but still had to go on with the show. "As we all began to weep over the fact that Jerry had said that," Alexander remembered, "that's when they started calling our names and we had to go out and pretend that everything's just hunky dory."
Seinfeld will be available on Netflix in 2021.