What Meghan Markle Ate on the Set of 'Suits'
Before becoming British royalty in 2018, Meghan, Duchess of Sussex had a successful career as an actor. The now-39-year-old played Rachel Zane on Suits. During the seven seasons she spent portraying the paralegal-turned-lawyer, Meghan stocked her trailer's fridge with certain snacks and loaded up on specific condiments from craft services at lunch.
Meghan Markle ate mostly vegan while filming 'Suits'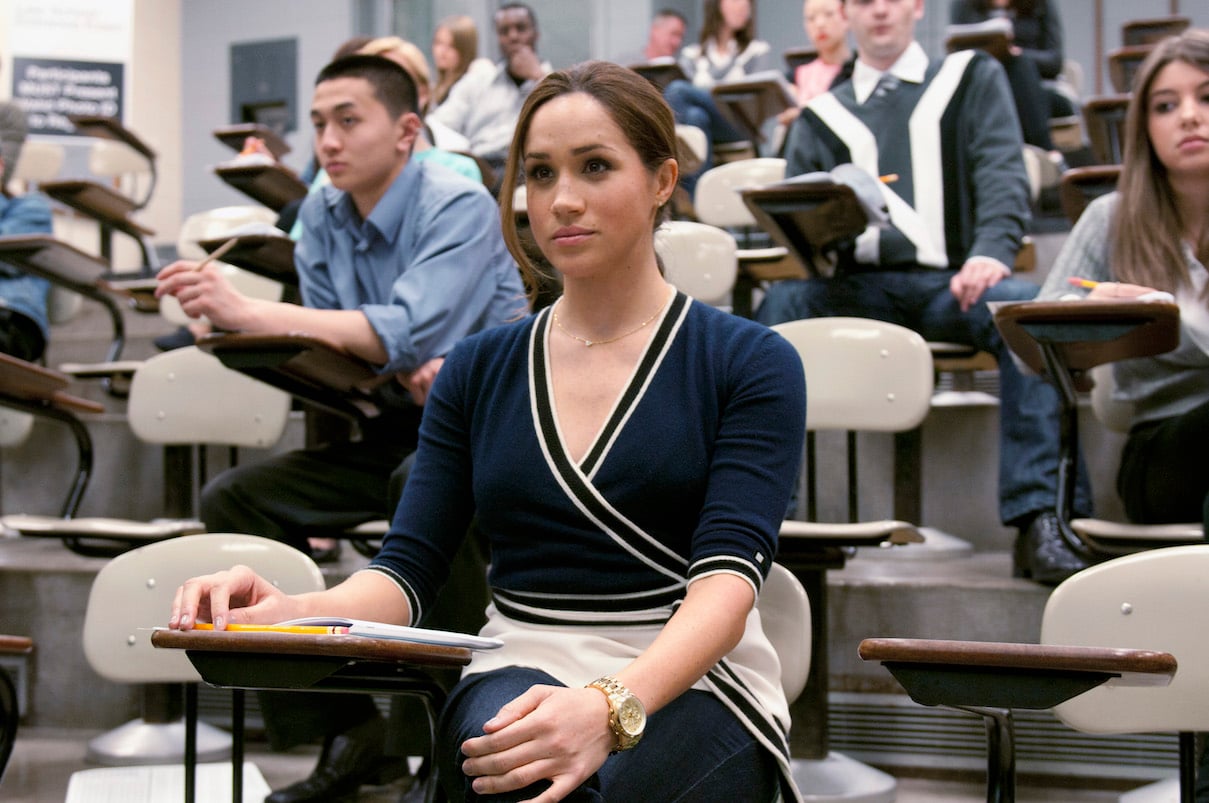 Meghan shared what she ate during Suits in a 2016 interview with Reader's Digest Best Health. She explained that she'd be more mindful of what she ate when she had to be in front of the camera. And on her days off she'd indulge. 
"When I'm filming, I'm conscious of what I eat. I try to eat vegan during the week and then have a little bit more flexibility with what I dig into on the weekends," she said. 
In a separate interview with Delish, Meghan said when she'd go on an extended break from Suits she'd have no rules.  
"On hiatus, all bets are off," she said. "I'm always hoping I'm having lunch with people, so we can share fries. It's its own food group for me." 
Meghan Markle's typical lunch on 'Suits' involved salad and hot sauce
Asked to share what she usually has for lunch on the set of Suits, Meghan told The New Potato vegetables and protein were on the menu for her. A self-proclaimed foodie, the Duchess of Sussex would add hot sauce and hummus. 
"We have catering that offers tons of meat as well as vegan options to make everyone happy," she said. "I usually grab some kale salad and steamed vegetables with a side of hummus and lots of hot sauce." 
Her preferred ways to add heat to her lunch? Adding a dash of habanero or Sriracha.
Meghan Markle snacked on lots of fruits and vegetables during 'Suits'
Between meals on set, Meghan might retreat to her trailer to brush up on her lines and grab a snack. The Duchess of Sussex told the publication she kept the fridge in her trailer stocked with "a green juice, kombucha, almonds, and raisins." Why? "I'm a nibbler," she said.
As for her go-to snack, Meghan opted for a selection of fruits and vegetables that can be whipped up fast. 
"A crudités and hummus plate," "sliced apples with almond butter sprinkled with sea salt," or "an apple Larabar" is what she'd reach for. 
Meghan Markle left 'Suits' ahead of her wedding to Prince Harry
The Duchess of Sussex ended her acting career and her time on Suits in 2018. She announced her departure from the legal drama in 2017 following her engagement announcement to Prince Harry, Duke of Sussex. 
"I don't see it as giving anything up. I just see it as a change," she told BBC News during an interview with Harry. "For me, once we hit the 100 episode marker, I thought, you know what, I have ticked this box."  
Meghan made her final appearance on Suits in the show's season 7 finale. Her character married Mike Ross (Patrick J. Adams). In a parallel to her own life, the episode aired just weeks before Meghan and Harry's royal wedding on May 19, 2018.