What Richard Linklater's Fourth 'Before' Movie Could Look Like
Director Richard Linklater has frequently proven how fascinated he is with the notion of time. He filmed his Oscar-winning 2014 release Boyhood over the course of 12 years, allowing the film to naturally track star Ellar Coltrane's adolescence.
But perhaps just as ambitiously, Linklater — along with stars Ethan Hawke and Julie Delpy — created a film series unlike any other: the Before trilogy. With the story seemingly over though, do fans have any reason to hope for a fourth film? The answer is more complicated than you think.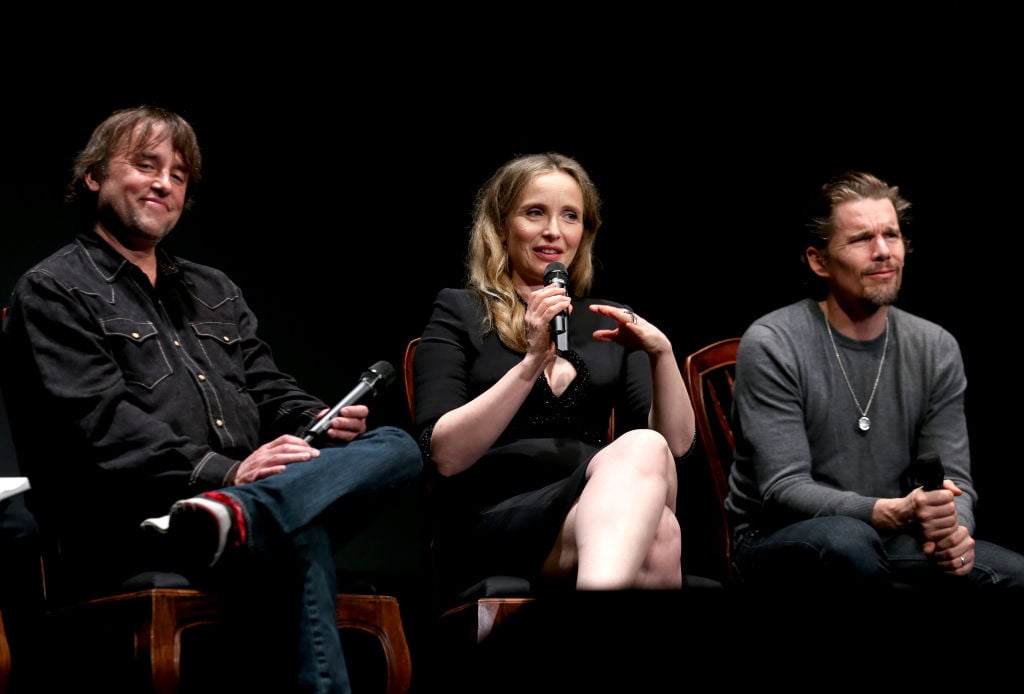 'Before Sunrise' and the legacy it created
Released in 1995, Before Sunrise starred Hawke and Delpy as Jesse and Celine, two travelers who spark a connection in Vienna. Over the course of the night and lots of insightful conversation, the pair fall in love but go their separate ways. Nine years later, Linklater and his stars continued the story.
Before Sunset caught viewers up on what Jesse and Celine had experienced in the previous decade. Thrust back into each other's lives, the lovers were asked to confront whether they really were each other's destinies. Then, again nine years later, Before Midnight lifted the romantic veil.
While the first two films delve into the excitement and trepidation of young love, the third installment tackles the complexity of staying together. Taken as one cohesive piece, Linklater's Before trilogy tracks nearly 20 years in a couple's life together. Many view it as a perfect body of work; others still want more Jesse and Celine.
Richard Linklater's thoughts on a fourth entry in the 'Before' trilogy
In a recent interview timed to the 25th anniversary of Before Sunrise, The New York Times talked with Linklater, Hawke, and Delpy about the series. The topic of a potential fourth film came up, which — according to the nine-year tradition — would need to hit theaters in 2022. Although that release date is unlikely, Hawke seemed open to returning to the series.
There was a feeling I had in my gut when we finished Before Midnight that I'd never had before, which was that we were done. Sunrise, Sunset, Midnight is one work in its own strange way. That doesn't mean there won't be another work, like an epilogue. I would be curious about an After series, about something where you really deal with the second half of your life.
Linklater then chimed in with his own thoughts. The director even teased a darker turn for a potential fourth entry in the Before series.
"Maybe we'll wait until they're in their 80s and do a comic remake of Amour, where one euthanizes the other in old age," he told The New York Times. "I'm not ruling that out."
How Ethan Hawke and Julie Delpy could return
Linklater's reference to Oscar-winning 2012 French film Amour feels like it's somewhat in jest. However, there's a seed of a great idea hidden in there. Checking in with Jesse and Celine every nine years going forward could get tiresome. But a fourth and final film chronicling the end of their relationship might be worthwhile.
Before Midnight even subtly sets up exploring how Jesse and Celine's relationship could end. Several times throughout, the film touches on the elderly. During a meal with friends, the subject of how elderly couples' marriages ended. Later, Jesse tells Celine his grandmother died, less than a year after her husband. Finally, Jesse tries to win over Celine by pretending to be a time traveler with a letter from her 82-year-old self.
With that in mind, a fourth Before — or, really, a standalone After movie — could be the perfect way to end. Honoring the Before trilogy's structure, After Sunrise could even feature three distinct segments. Perhaps each of these could capture a different possible ending for Jesse and Celine's story.
One could show how an elderly Celine would react following Jesse's death. The second could explore the inverse, with Jesse grappling with life as a widower. Finally, a third, happier ending could see the two growing old together without such tragedy. In any case, the experience would allow viewers to decide which ending truly happened.
Much like Before Sunrise left Jesse and Celine's fates open for interpretation, their story could end the same way. This approach might require Hawke and Delpy to age another 30 or so years. However, with the age-altering technology we have now, perhaps that's not an issue. In any case, the Before trilogy is perfection with or without an epilogue.