What Songs Did BTS Perform on 'MTV Unplugged'?
On Feb. 23, Jin, Suga, J-Hope, RM, Jimin, V, and Jungkook of BTS took part in the famous MTV Unplugged franchise. BTS' episode of MTV Unplugged included a set of five songs, including some songs fans had never seen performed before.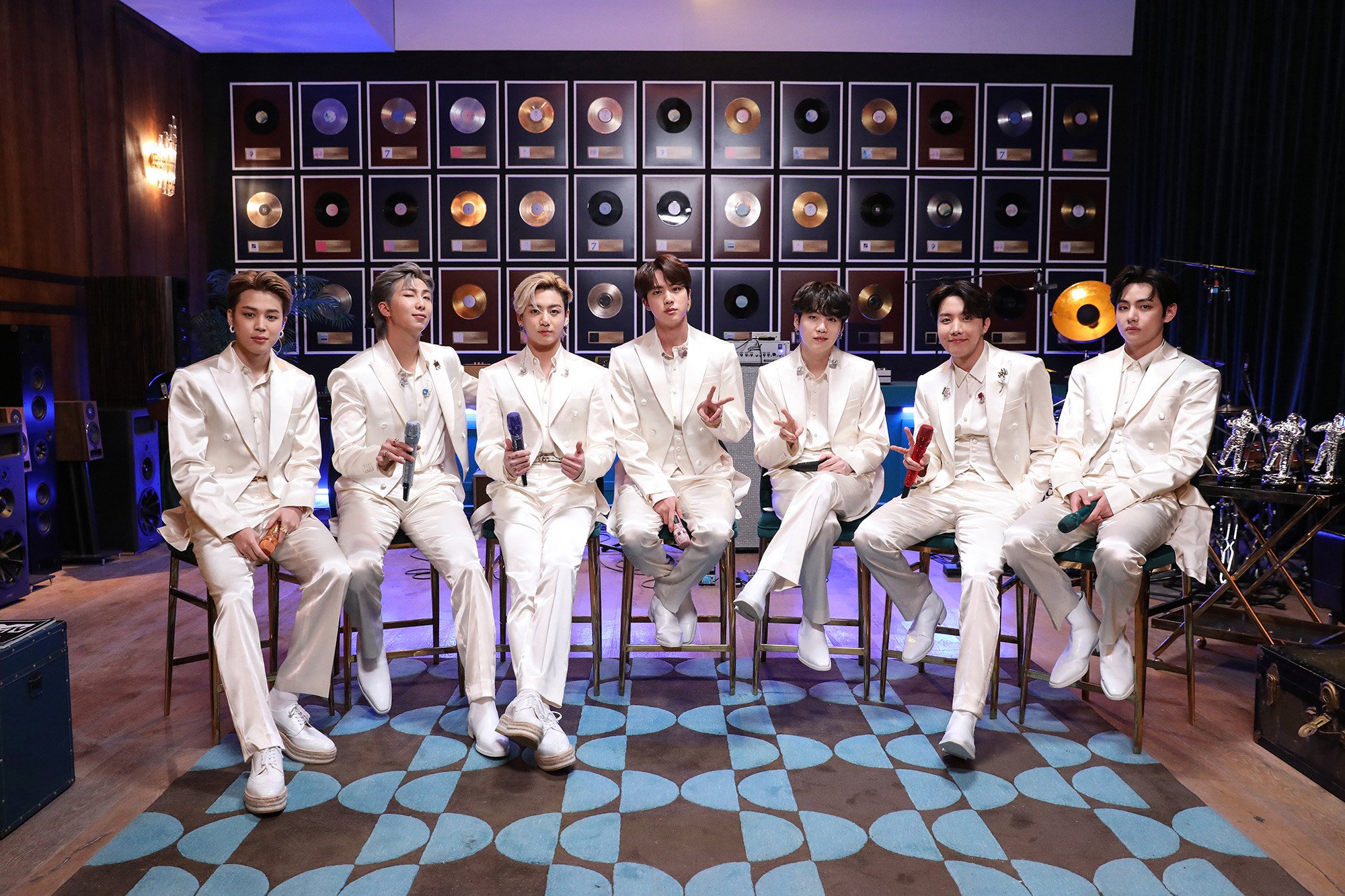 BTS performed two B-sides from their album 'BE'
BTS released their album BE (Deluxe Edition) in November 2020. The album features eight tracks: "Life Goes On," "Fly To My Room," "Blue & Grey," "Skit," "Telepathy," "Dis-ease," "Stay," and "Dynamite." On Feb. 19, the band released a new version of the album that includes the same eight tracks called BE (Essential Edition).
BTS opened their MTV Unplugged set with "Telepathy," a B-side from the album. This marked the first time BTS ever performed "Telepathy" for ARMY, and the septet performed the song in a room styled as a game room.
Next, the band moved on to perform "Blue & Grey," another B-side from BE. BTS performed "Blue & Grey" in a gray-toned room filled with plants and shrubbery, perfectly matching the mood of the introspective ballad.
The band covered a Coldplay song
As a special surprise for fans, BTS decided to cover a Coldplay song for part of their set. Coldplay originally released "Fix You" in 2005, and BTS performing the song brought back nostalgia for viewers of MTV Unplugged.
In a speech before singing the song, Jimin explained the song's significance in the setlist and why the Korean band chose to perform a cover of "Fix You."
According to the BTS singer, "Fix You" brought the members of BTS comfort throughout 2020 as they dealt with the coronavirus (COVID-19) pandemic. Because of this, they decided to perform "Fix You" during "MTV Unplugged Presents: BTS."
"This song gave us comfort, so we wanted to prepare this cover to comfort you as well," Jimin said.
RELATED: BTS Are Releasing a New Edition of Their Album 'BE' — Here's What To Know About 'BE (Essential Edition)'
The band members performed the Coldplay single while sitting side-by-side in metal chairs, still wearing their gray outfits from their "Blue & Grey" performance. As they sang, bright lights shone down on the members, illuminating the dim room.
BTS performed two more songs from 'BE' on 'MTV Unplugged'
To close out their set, BTS performed their two most popular songs from BE. "Life Goes On" is the album's lead single. The song provides comfort to listeners about the pandemic, and encourages fans that life has the ability to carry on.
"Life Goes On" debuted at No. 1 on the Billboard Hot 100, becoming the first non-English-language song to ever debut at No. 1 on the Hot 100. Performing with a live band on MTV Unplugged, BTS delivered a passionate rendition of the song.
BTS closed their MTV Unplugged set with "Dynamite." The song was originally released in August 2020 as a single and is BTS' first English-language song. "Dynamite" holds significance as BTS' first song to ever reach No. 1 on the Billboard Hot 100, and the group earned a 2021 Grammy Award nomination for the song.
Dressed in white suits with records hanging on the wall behind them, BTS performed "Dynamite" with a live band and ended their historic MTV Unplugged episode with the kind of fun and positive energy everyone needs.