What Songs Will BTS Perform on Their 'MTV Unplugged' Special?
Jin, Suga, J-Hope, RM, Jimin, V, and Jungkook of BTS will put on a special episode of MTV Unplugged on Feb. 23. Until the episode airs on MTV, it is unknown what songs BTS will choose to perform. However, based on teasers released for "MTV Unplugged Presents: BTS," one can guess a couple of the songs that will be featured.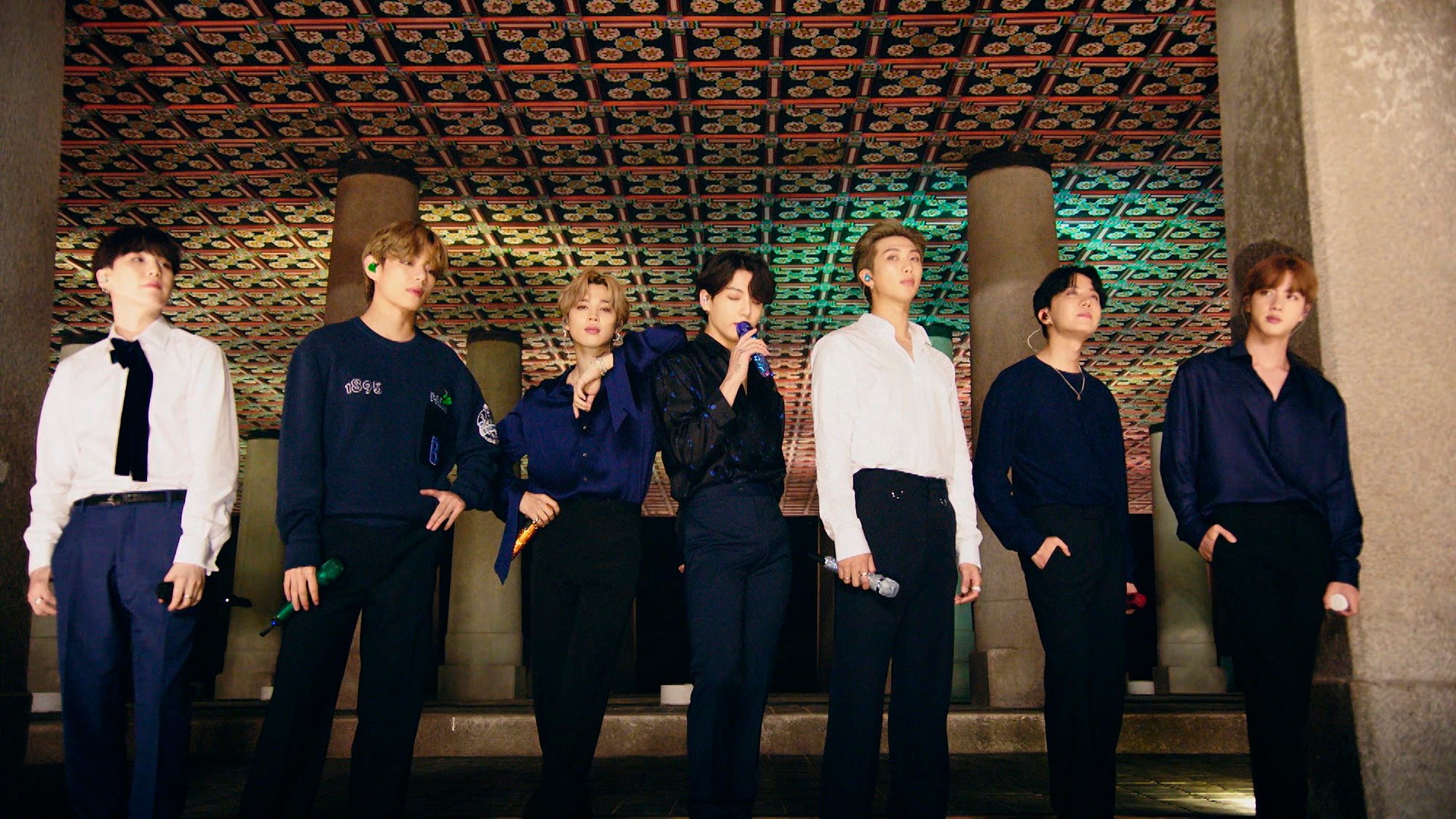 What we know about BTS' episode of 'MTV Unplugged'
"MTV Unplugged Presents: BTS" was originally announced on Feb. 9. It was revealed that BTS filmed the episode in Seoul, South Korea. With the special, BTS plans to add their own unique style to the MTV Unplugged franchise.
According to a press release, BTS' special MTV Unplugged episode will feature "never-before-seen versions of the group's most career-defining hits and songs from their latest album BE (Essential Edition), in intimate settings."
Based on this, fans can expect BTS to perform songs from their 2020 album BE as well as a few songs from throughout their career. Most likely, this means popular lead singles from their past albums.
The band will definitely perform 'Dynamite'
When MTV announced the Korean band's episode of MTV Unplugged, the network also released a trailer for the special. The trailer made it clear that BTS will perform their popular single "Dynamite."
The song plays throughout the trailer, and a voiceover also references the song while narrating details about the special episode.
"For one dynamite night on MTV, we've got BTS. Hear their hits like you've never heard them before," the voiceover says.
In August 2020, BTS released "Dynamite" as a single. The song is their first English-language song and their first song to ever reach No. 1 on the Billboard Hot 100. The band later included "Dynamite" on their album BE (Deluxe Edition), which was released on Nov. 20, 2020.
BTS made history with "Dynamite" when they received a 2021 Grammy Award nomination for Best Pop Duo/Group Performance for the song. The 2021 Grammy Awards will air on March 14.
Given the popularity and historical significance surrounding "Dynamite," it makes sense that the song is being promoted the most leading up to BTS' MTV Unplugged episode.
What other songs BTS could perform on 'MTV Unplugged'
BTS' album BE (Deluxe Edition) features eight tracks: "Life Goes On," "Fly To My Room," "Blue & Grey," "Skit," "Telepathy," "Dis-ease," "Stay," and "Dynamite." The band released a new version of the album called BE (Essential Edition) on Feb. 19, and the new version features the same eight tracks.
RELATED: How to Purchase BTS' 2021 Winter Package
"Life Goes On" is the album's lead single, and MTV released a sneak peek of BTS performing the song on MTV Unplugged on Feb. 19. In the sneak peek, Jin, Suga, J-Hope, RM, Jimin, V, and Jungkook wear brown suits and sing the chorus of "Life Goes On."
Thanks to the teasers released by MTV, fans now know the K-pop group will sing "Life Goes On" and "Dynamite," the two most recent singles released by the band.
Not much else is known about the setlist for the upcoming MTV Unplugged episode. However, it would make sense for BTS to perform a song from their Map of the Soul era, along with earlier tracks like "Save Me," "I Need You," "Run," "Spring Day," or even their debut single "No More Dream."