What to Watch if You Love George Harrison
There are many things to watch if you love singer-songwriter and musician George Harrison. Here's a list of things to put in your queue—everything from the former Beatle's favorite films to documentaries about his life.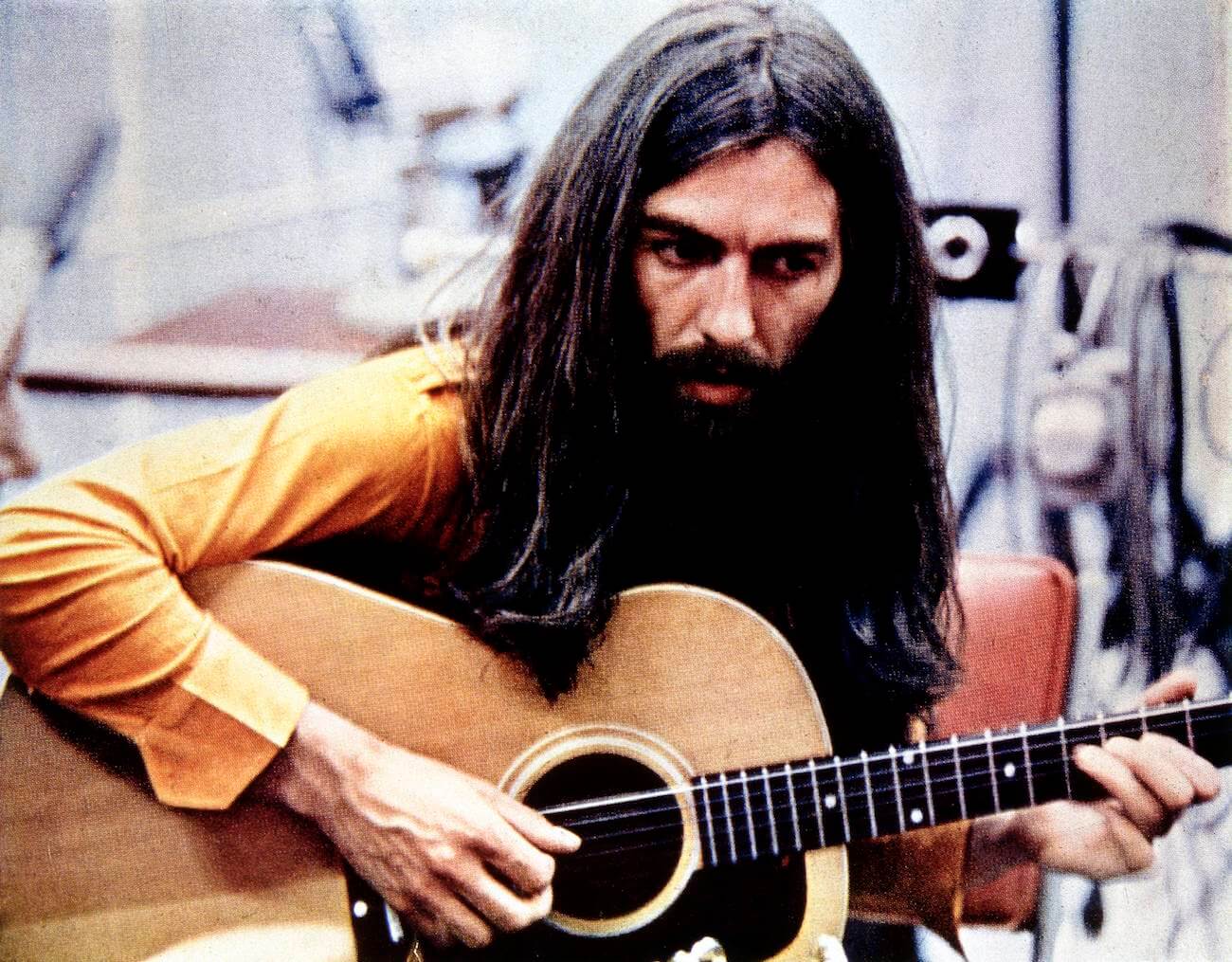 George Harrison | GAB Archive/ Getty Images
All of The Beatles' movies
If you're a George Harrison fan, bets are you're also a Beatles fan. So, if you haven't seen all of The Beatles' films, put those at the top of your queue. There's A Hard Day's Night, Help!, Magical Mystery Tour, Yellow Submarine, and Let It Be. In A Hard Day's Night, George has his "grotty" scene, which he didn't want to do. Later, in Let It Be, we see his very-real tense fights with Paul McCartney.
'The Beatles Anthology'
The Beatles Anthology was a massive project the remaining Beatles undertook in the mid-1990s. It comprises an eight-part television documentary, a three-volume set of double albums, and a book. Although it was The Beatles' first chance at telling their story, George initially wanted no part in it. He claimed the documentary makers were trying to sensationalize some rougher bits of the band's history. If they discussed rumors or certain stories, fans would believe them. Regardless, George partook in the project and performed with his former bandmates on two new Beatles songs, "Free As A Bird" and "Real Love."
'The Beatles: Get Back'
Peter Jackson's three-part documentary, The Beatles: Get Back, revealed never-before-seen footage taken during Let It Be. All the drama George wanted to be left out of The Beatles Anthology is now completely out in the open. There's even the incredibly awkward never-before-heard audio of the moment George quit The Beatles. He told John Lennon, "See you 'round the clubs." He eventually returned, but not before a more awkward secret conversation between John and Paul happened.
'Eight Days a Week'
Ron Howard's 2016 documentary Eight Days a Week looks at The Beatles' touring years from 1962 to 1966. It touches on some of the best and worst moments for the band as they toured through the often hectic and dangerous Beatlemania. Howard had the cooperation of surviving Beatles Paul, Ringo Starr, and Beatles widows Yoko Ono and Olivia Harrison.
'The Producers'
Outside of documentaries, there are a couple of movies to watch if you love George, including Mel Brooks' The Producers. George often said the comedy was one of his favorite movies. He loved comedy above all other genres. George also quoted the film in many interviews, including when he talked about where he and his film production company, HandMade Films, went wrong on Shanghai Surprise.
'Life of Brian'
In the late 1970s, George's friends in the Monty Python comedy troupe told him their producers had dropped their recent film. George read the script for Life of Brian and loved it. He didn't think it was blasphemous. The comedy poked fun at the followers of Jesus, not Jesus himself. So, he spoke to his business manager, Denis O'Brien, about producing it.
George told Film Comment, "After thinking about it for a week, he came back and suggested that we produce it. I let out a laugh because one of my favorite films is 'The Producers,' and here we were about to become Bialystock and Bloom." Producing Life of Brian opened the door for George to co-found HandMade Films. Eric Idle later joked that George paid the most anyone has ever paid to see a film.
'Water'
George and HandMade Films produced Water in 1985. It wasn't one of their best films but it featured Michael Caine and Billy Connolly. George, Ringo Starr, and Eric Clapton have a cameo toward the end of the movie when they perform a song. Although, the former Beatle said the scriptwriter pushed his luck by adding the cameo.
'Concert for Bangladesh'
George's 1971 concert film Concert for Bangladesh is one of the most famous in music history. It's George at his best, singing and performing for fans at Madison Square Garden with many famous friends, including Eric Clapton, Bob Dylan, Ringo Starr, Billy Preston, and Badfinger. Unfortunately, some of George's performances were his only performances of some songs.
'George Harrison: Living in the Material World'
Martin Scorsese's 2011 documentary is essential to understand the spiritual Beatle. This should also be at the top of your list of things to watch if you love George. George's family specifically wanted Scorsese to do the project, which involved looking at tons of footage, including home videos, photos, and interviews. Initially, the director didn't want to do it because he knew it'd be a huge undertaking. However, he couldn't turn it down once he saw everything that Olivia had.
Scorsese said he didn't focus too much on George's music but on his spirituality. He was interested most in George's "quest for meaning and transcendence," Scorsese told the Wall Street Journal. "My immediate reaction was that that would be the approach. The music would be there, of course, but the music is an expression of his yearning for the transcendent. To my mind it's not a music film. It's a film about the man."
'Concert for George'
There's a concert for Bangladesh, but there's also a concert for George. The concert film is amazing. All of George's friends came out to perform at the Royal Albert Hall in London. Eric Clapton organized everything. The guys in Monty Python appear, as do Paul McCartney, Ringo Starr, Jeff Lynne, Tom Petty and the Heartbreakers, Billy Preston, and many others. It's genuinely breathtaking watching all that talent on one stage honor George. Goosebumps always come.
There are many things to watch if you love George Harrison or want to get to know him more. There's more to come, possibly. Maya and Ethan Hawke are set to star in Revolver, a coming-of-age film about a girl named Jane who devises a plan to lose her virginity to George. We're unsure what George's family says about that one. However, we're sure Revolver will honor George just like most of the films on this list.