What Tom Hanks Thinks of Being Known as the Nice Guy
Everyone knows Tom Hanks is the ultimate nice guy. Find out what the legendary actor thinks of it after bearing this label for so many years.
Tom Hanks is pretty much an acting legend. Let's just say it: the man is a national treasure, beloved by millions, with lines from his movies ("Run, Forrest, run!", "Wilson!," and "Houston, we have a problem") known and repeated by just as many millions of people.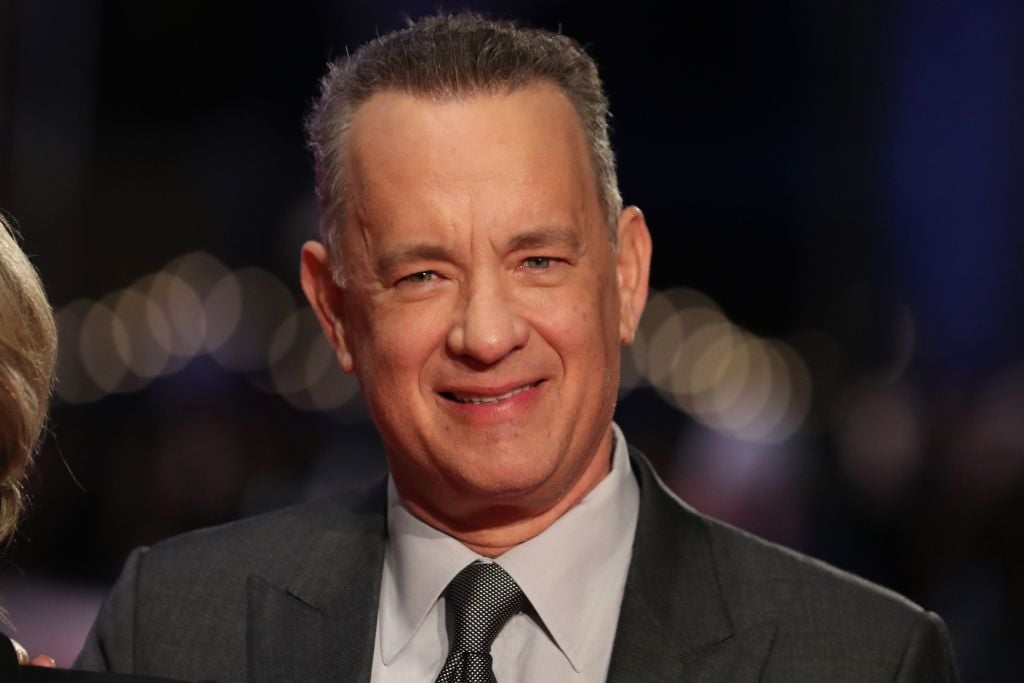 He just received this week the highly deserved Cecil B. DeMille Lifetime Achievement Award at the Golden Globe ceremony in Los Angeles.
Hanks spoke with Savannah Guthrie on Today this week at length about many topics, including how he felt about being the nice actor, the one everyone regards as the good guy. 
Even The New York Times noted that Steven Spielberg once said of Hanks, "If Norman Rockwell were alive today, he would paint a portrait of Tom."
Nice is as nice does. Find out what the Forrest Gump actor had to say about it to Guthrie, plus which very nice famous people Hanks is related to.
Hanks plays such nice characters
Most recently, Hanks played none other than the nicest person ever, children's television host, Fred Rogers, in A Beautiful Day in the Neighborhood. It was a perfect fit for Hanks and audiences found him believable and really the only actor on this planet that could play a man as good, kind, and nice as Fred Rogers. It was a great casting call in the end because as it turned out, Hanks is related to Fred Rogers. Not surprising at all.
"I wake up in the morning thinking: How can I make something better today?," Hanks told NPR in 2019. " … I wouldn't necessarily say I'm a nice guy, because people have suffered my wrath — and anybody who has tried to take advantage of my good nature has suffered horribly … but I feel as though I am a joyful person. And I think if I'm nice, it's because I am trying to share a sense of joy that I find a natural commodity."
Hanks is also related to one of the nicest presidents ever
A well-known fact that Hanks himself has known since he was a child, is that his family is related to one of the greatest US presidents, Abraham Lincoln. Known for being affable and conciliatory, again, it truly is not surprising that Hanks can call the 16th president a relation of his.
The Daily Mail reported Hanks as saying in 2012, "I'm related to Abraham Lincoln. His mother was called Nancy Hanks, and the members of my branch of the family are either cousins or in-laws or poor relations. So when I was at school, guess which president I was always doing essays on."
Tom Hanks would prefer not to be known as 'nice'
In his conversation with Savannah Guthrie on Today this week, Hanks was asked by the morning show anchor what he would like to see written on his epitaph after he is long gone. Hanks immediately answered, "Well, I wouldn't want the word 'nice' anywhere on it, I'll take 'kind," I'll take that. 'Thoughtful,' I'd take that."
Guthrie clearly couldn't resist and asked the Apollo 13 actor, "Why not 'nice?'
Hanks jokingly bristled, saying "'Nice' is…you know what 'nice' is? 'Nice' is the meal you had at a restaurant, not a bad restaurant, but not a good restaurant. 'Oh, how was the fish at that place? It was nice.' I want something better than that. 'It was fantastic!'  So maybe that's the epitaph, 'He was fantastic!'"
When Guthrie clarified that she felt Hanks is "nice, but better than nice," Hanks elaborated, "I think I was well-raised, despite some kookiness that went on when I was growing up…if I'm a nice guy, it's because other people have made me realize that's the type of human being I wanted to be." 
"I'm nice by option because so many people have demonstrated kindness to me."
Read more: A Few Lessons – and 1 Surprise – Tom Hanks Learned From Making 'A Beautiful Day in the Neighborhood'