What Was BTS' Debut Song? Here's How This Song Connects to 'Map of the Soul: 7' and the K-Pop Idols Today
It's been seven years since this K-pop group debuted. Since then, they've broken a few records with their album sales and even their Grammy Award performance with Lil Nas X. What was BTS' debut song? Here's what we know about this award-winning K-pop group and how they started out. 
The K-pop group, BTS, debuted over 7 years ago
It's been a few years since fans first met RM, Jin, Suga, J-Hope, Jimin, V, and Jungkook. Together, they formed the K-pop group BTS, bursting into pop culture and mainstream media with songs like "Boy With Love" and "Black Swan."
Before they were international pop stars, though, the BTS members performed somewhat dark and edgy songs. Released during June 2013, the debut song of BTS was the title "No More Dream."
This song also appeared on the album 2 Cool 4 Skool, the first album featuring the BTS members. Since then, BTS created a number of albums and "eras," including the Love Yourself series and the Map of the Soul series.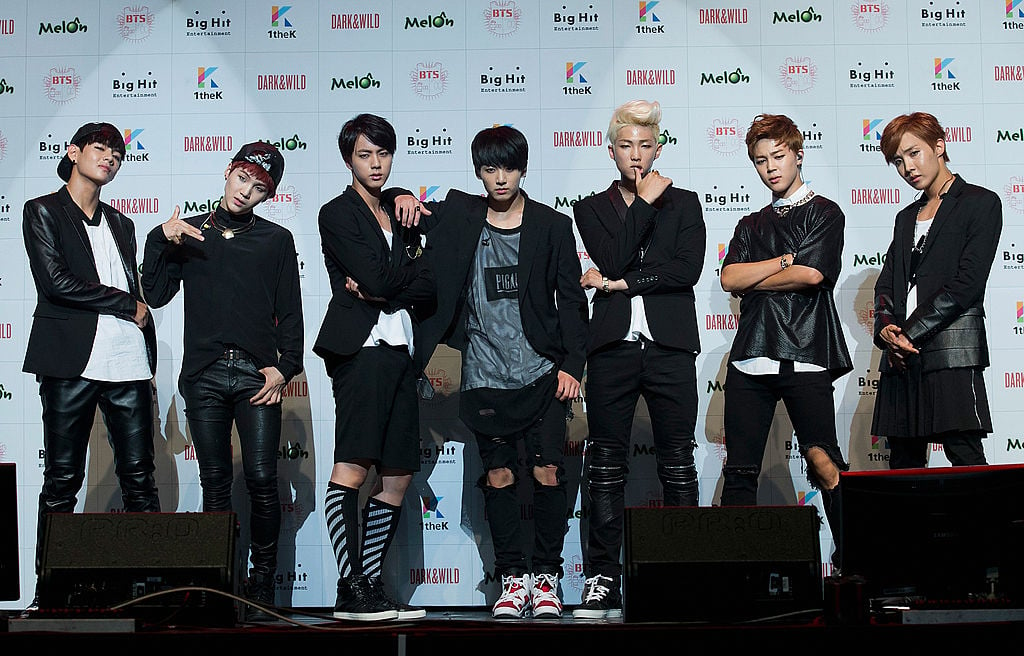 The BTS members played a hand in creating their own music
The songwriters behind "No More Dream" include Pdogg, "Hitman" Bang, RM, Suga, J-Hope, Supreme Boi, which was a pretty big deal to have the idols play a role in the songwriting process. RM and Suga, as well as the other members, went on to create a few other songs for this K-pop group and their solo projects. 
That includes their album, Map of the Soul: 7, where rappers RM and Suga teamed up to write, record, and perform their subunit song, titled "Respect." RM even shared a snippet of himself jamming out to his demo of "Serendipity" during a live stream. As solo artists, BTS members like V wrote and released their own songs.
Another one of their first songs was 'N.O.'
Recently, BTS linked songs from their original era to songs of this Map of the Soul era. One of their first songs and music videos released included "We Are Bulletproof Pt. 2." On their most recently released album, the group performed the song "We Are Bulletproof: The Eternal."
During one interview on The Late Show Starring Jimmy Fallon, RM explained the meaning behind their single from Map of the Soul: 7, "On." The artist shared that the title means "bring it on," saying that they admit their shadows but embrace them at the same time. This single even connected to one of their first releases, the song "No."
"The lead single is 'On' [and] we've been having our reboots so our second single was 'N.O.' You know what I mean? So it's like a reverse of 'N.O.,' RM said during the segment. ARMYs can see BTS perform live at their now-postponed Map of the Soul world tour. Music by BTS, including their recently released album, Map of the Soul: 7, is available for streaming on Spotify.