What Year Does 'Downton Abbey: A New Era' Take Place?
The Crawley family and their staff are back in 'Downton Abbey: A New Era' and in the new film will follow some of them to the South of France.
Downton Abbey: A New Era premiered this week, and the film's first few minutes set two plots in motion. One includes Violet, the Dowager Countess (Maggie Smith), inheriting a villa in the south of France. While the other features a Hollywood film crew descending on the abbey. There's a lot going in this highly-anticipated sequel, and the first thing fans want to know is — what year does this "new era" take place?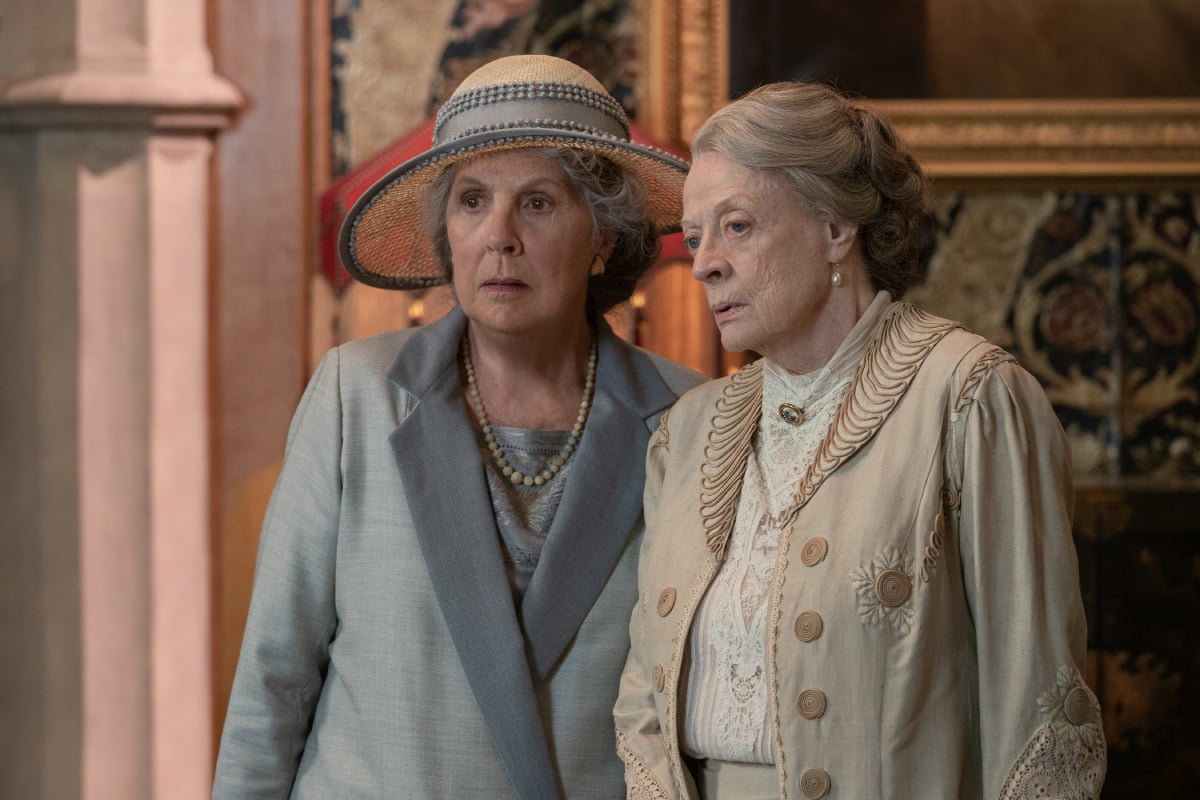 Yes, the Dowager Countess is still alive in 'Downton Abbey: A New Era'
Fans will recall that the first Downton Abbey film ended on a bit of a cliffhanger when Violet — the Dowager Countess — was told she didn't have long to live. This led many fans to believe that the character wouldn't be part of the sequel, but that's not the case. Smith is back once again to reprise her role, and her plotline drives half of the story.
In the sequel, family matriarch Violet inherits a villa located in the French Riviera. This surprising turn of events leads to Robert (Hugh Bonneville) and his wife Cora (Elizabeth McGovern) — plus some other family members and staff — traveling to France to assume ownership.
There's an interesting story behind Violet's inheritance, as it's revealed that the man who bequeathed the home was her French lover from more than 60 years earlier.
When does the sequel take place?
It's been three years since the first film was released in theaters, but that gap doesn't line up with the timeline in Downton Abbey: A New Era. Instead, the sequel takes place in 1928, just nine months after the first movie.
In the France storyline, the trip is dubbed "the grandest escape of the year." And the Crawley family spends a lot of time attending extravagant parties, experiencing the gorgeous coastline in speedboats, and connecting with new lovers. But for grumpy butler Mr. Carson (Jim Carter), the getaway isn't much fun.
"Carson can't cope with electricity or a fridge, never mind the French. So going to France, which is full of French people with dubious eating habits, is tricky for him," Carter told The Daily Mail.
"He's appalled at what they eat because he's old-fashioned in that way. There's a bedroom scene with Mrs Hughes (Phyllis Logan) before he goes, where she's starting to fall asleep and I'm reading – in horror – a travel guide to France. That's about as sexy as we get."
'Downton Abbey: A New Era' features a movie within a movie
While some of the characters are in France, the other major plot thread takes place back in England. Downton Abbey needs some roof repairs because it's leaking. In order to pay for the repair work, the family agrees to let a Hollywood studio use the abbey to shoot a movie.
Both Lady Mary (Michelle Dockery) and Mrs. Hughes (Phyllis Logan) stay behind to hold down the fort while a film crew makes one of the first "talkies" of the silent movie era. Lady Mary finds herself drawn to the film crew while her husband is AWOL, while Mrs. Hughes is "quietly entertained by the whole spectacle.
"It's lovely for Mrs. Hughes to see the delight of the downstairs staff," Logan shared. "It's a bit out of their comfort zone but they get to be so involved."
Downton Abbey: A New Era is now playing in theaters.