What's BTS' Starbucks Order?
Writing, recording, and performing chart-topping and record-breaking music is pretty tiring. As a result, some of the BTS members shared their love for coffee, especially one of the rappers in the group, Suga. 
Here's what we know about these performers and their go-to coffee orders while home and overseas. 
The BTS members sometimes share their favorite foods and drinks
Whether it be Shake Shack, Panda Express, or In-N-Out Burger, these performers often share their favorite fast foods and snacks with their fans. RM, Jin, Suga, J-Hope, Jimin, V, and Jungkook also share their love for certain drinks. 
When RM and the other members spent time at a deli with Jimmy Fallon, he said fried chicken and beer is a classic late-night snack in Korea. When it comes to the drinks to wake them up, these members often share their love for coffee and espresso.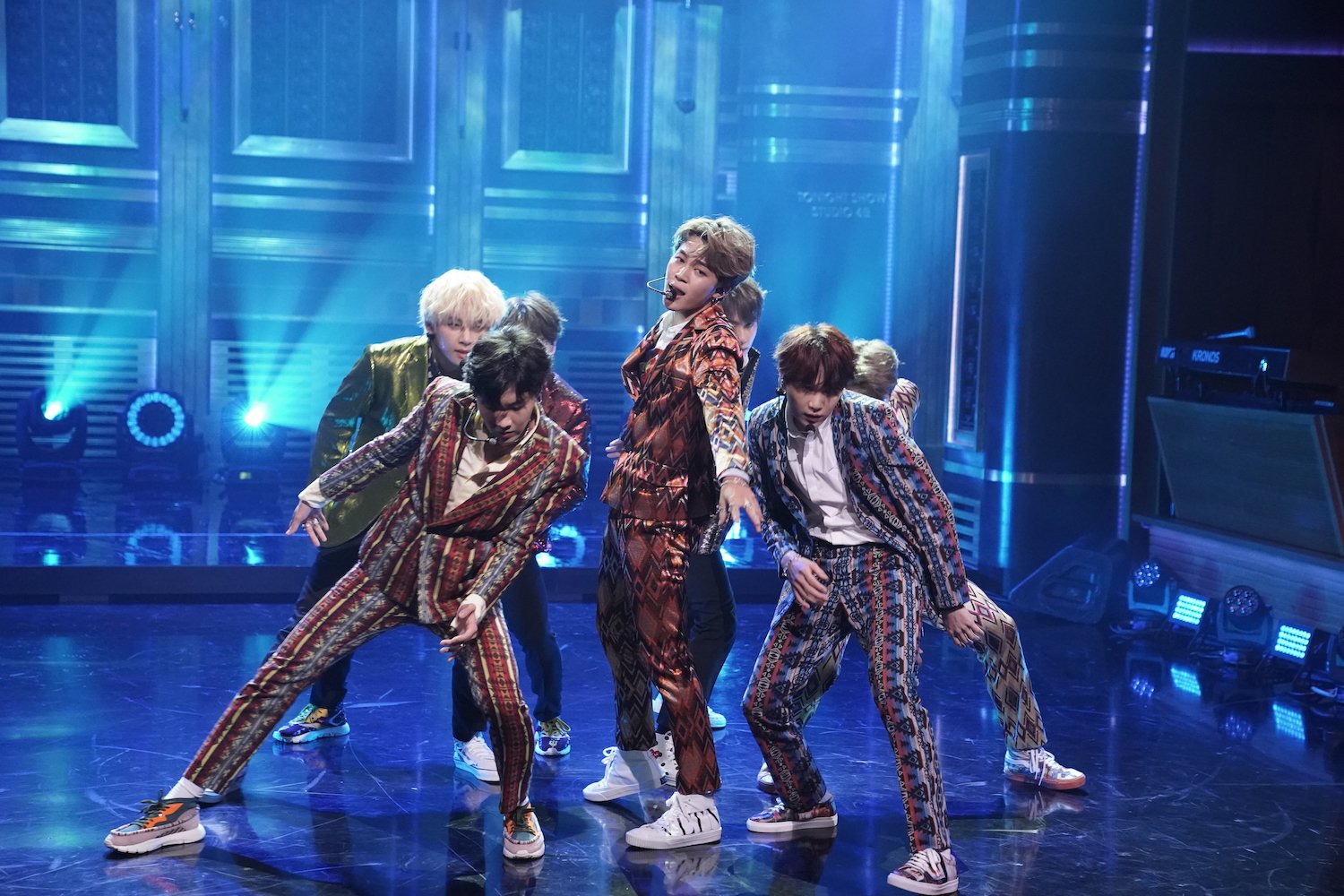 Do the BTS members drink coffee?
When it comes to their coffee orders, some of the BTS members shared their favorite beverages. During one interview, J-Hope shared that he drinks espresso, while some of the other members boo'ed the drink. Jimin and RM featured one of their own coffee recipes in a live stream on their official V-Live account. 
The two BTS superstars participated in the massively popular quarantine trend of making Dalgona coffee. (The "Dalgona" coffee is a South Korean specialty which includes coffee, milk, sugar, topped with whipped cream.)
For Suga, his favorite coffee drink is an iced americano, which is cold water on ice with shots of espresso During one V Live with fans, Suga read out a list of the small pieces of happiness in his life. Of course, coffee made the list.
"Drinking an iced americano on an empty stomach," Suga said during the stream. "Although it's bad for you, I really like it."
J-Hope even sent a coffee truck to Suga's music video set
When Suga was working on solo music, J-Hope was sure to surprise him with one of his favorite things — coffee. The rapper sent a pink coffee truck to the "Daechwita" set. Reportedly, one of the photos shows the truck decorated with a banner that reads, "I came to boost my hyung's confidence. Min Suga jjang jjang man! Sope's maknae, Hope."
BTS even had their own partnership with Starbucks, the "Be the Brightest Stars" campaign, which will include limited-edition beverages, food, and merchandise exclusively in South Korea.
Of course, these products featured hues of purple, representing their love for the BTS ARMY. Even when they're overseas, these performers can often be seen with coffees in their hands. 
Music by BTS, including their recently released album, Map of the Soul: 7, is available for streaming on Spotify, Apple Music, and most major platforms.