What's With All The Fruit References in Harry Styles' Music?
Harry Styles released his second album in December, and fans still can't get over it. But did you ever wonder why he has several fruit references?
Even though Harry Styles' sophomore album came out in December, his fans still can't get enough of it today. And with his "Watermelon Sugar" music video coming out in May, it brought a whole new fervor for his fans. But when you look back at this album and even a song off of his first one, there are a few fruit references. Why? The short answer: it's an accident. But the songs do all carry some sort of meaning that isn't actually fruit-related anyway.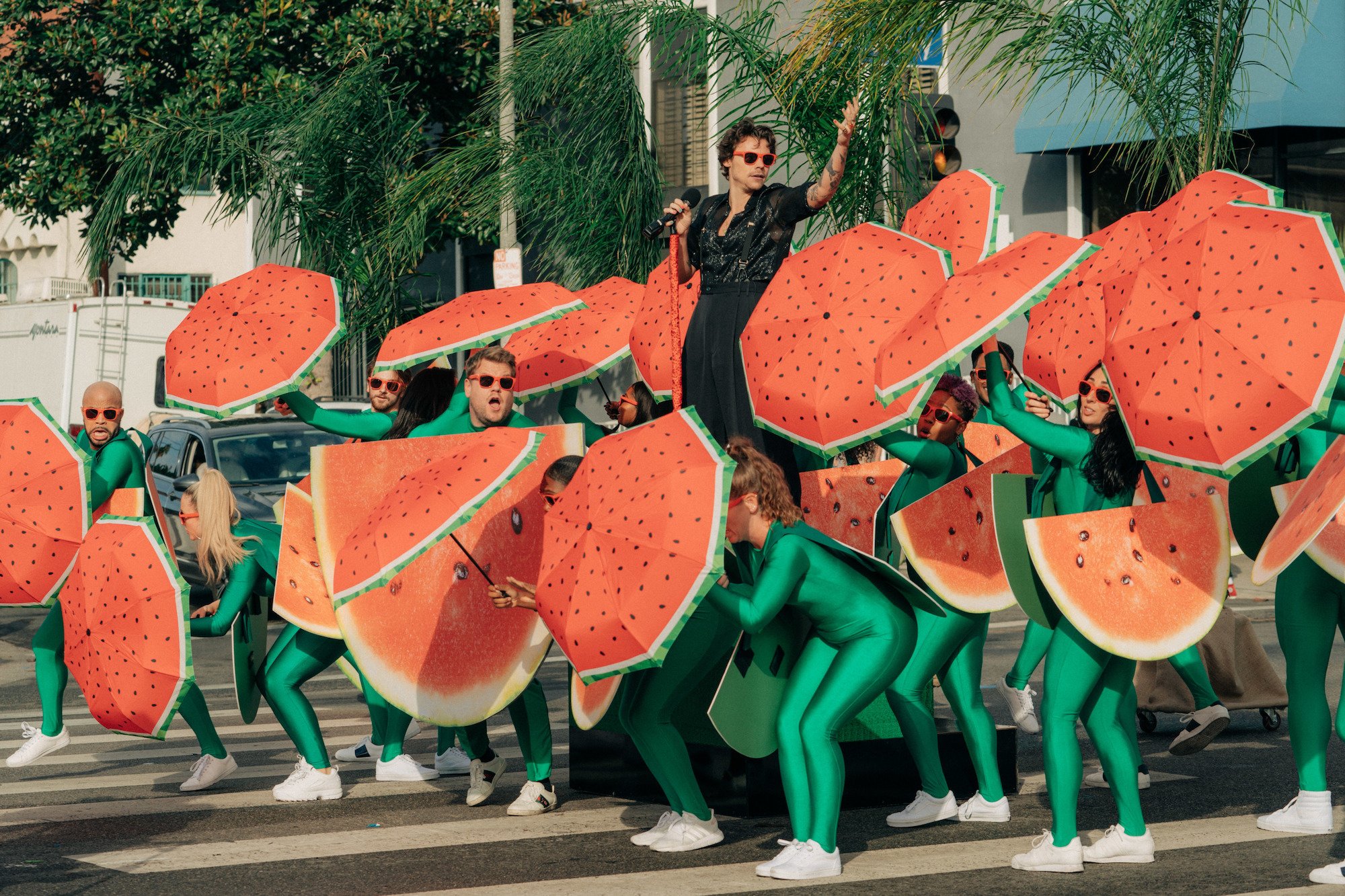 The references to fruit in Styles' music is on accident
Just like Styles probably goes into his writing sessions wanting to make the best album he can, he probably doesn't set out to include several fruit references either. However, they happened, and he acknowledged that funny coincidence. 
"They seem to be happening by accident, then when I kind of put the album together at the end, I realized there is a lot of fruit on this album," Styles told Capital FM when the album came out.
Overall, there are three songs named after fruit: "Watermelon Sugar," "Cherry," and "Kiwi," from his first album. 
When speaking to Rolling Stone, Styles talked more in-depth about what Fine Line, his second album, had to say about his changing idea around success.
 "The overall arc is just that I tried to redefine what success means to me. I tried to rewire what I thought about it," Styles said in December. "A lot changes in two years, especially after coming out of the band and just working out what life is now. I feel so much freer, making this album — you get to a place where you feel happy even if the song is about the time when you weren't that happy."
The songs aren't even about fruit, anyway
And if it wasn't obvious, these songs aren't actually about fruit. "Kiwi," from Harry Styles, roughly tells the story of rumors, sex, and how fame has impacted his love life. He also doesn't say the word, "kiwi" in the song, so many also take this to mean that whoever the song is about might be from New Zealand.
"This kind of started out as a joke but now it's one of my favorite songs," Styles told BBC Radio 1 when the first album came out. "It was one of the first ones I wrote on the album when I was getting out a lot of energy.
From Fine Line, there's "Watermelon Sugar," mentioned above, which is definitely (probably) about oral sex, although Styles won't explicitly admit that. In his interview with Zane Lowe, when Lowe tried to ask him about that meaning, point-blank, Styles just replied with, "Is that what it's about? I don't know."
He later told PopBuzz, "It's kind of about that initial, I guess, euphoria of when you start seeing someone or sleeping with someone or just like being around someone and you have that kind of excitement about them." 
Then that brings us to "Cherry," which is about jealousy. In the song, he describes feeling that sort of way when thinking about who his ex-girlfriend is seeing now. Just like "Kiwi, the word "cherry" isn't in the song. That's because, as Vulture pointed out, this is in reference to the ex it's about, Camille Rowe; it's a mix of their names, Harry and Camille. Charry.
But, with a song like 'Watermelon Sugar,' it was easy to incorporate the fruit into the music video
Even with a song like "Adore You," which isn't titled with fruit, there are still references to it. Styles sings about "strawberry-lipstick state of mind" and "Brown skin and lemon over ice." And these might be the most fruit-based lyrics to come from the British singer, even though that song is, overall, just about being madly in love with someone. 
Even though fruit isn't what his songs are about, it didn't stop Styles from fully leaning into it for the "Watermelon Sugar" music video.
The video premiered after COVID-19 spread and shut the world down, essentially, and so it was an ode to touching, and for good reason. It showed Styles sensually eating and touching a watermelon and all but confirmed it was about oral sex. It was also bright and fun and what the Harry Styles fans needed at a time like this. 
With one fruit song on his first album and two on his second, here's to hoping he has three on his third album.